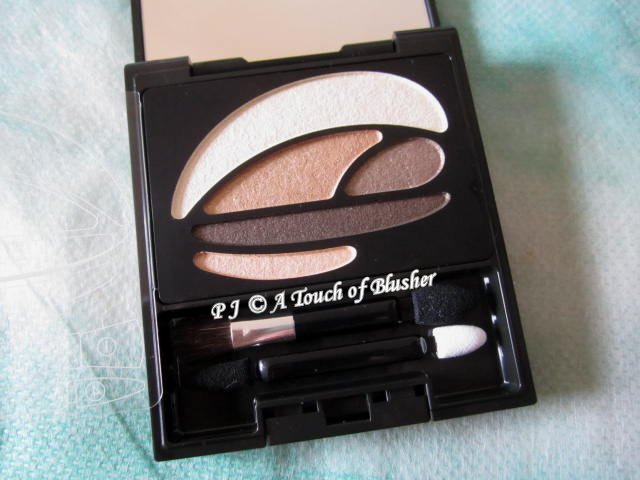 In my own little world of makeup discovery, 2012 is probably the year of Sofina Aube Couture. Designing Impression Eyes in 553 Purple is the first item I purchased from the line since its revamp from the original Aube. I have then picked up three more variations, one of which is the limited-edition 561 Purple from fall 2012, and today I am sharing my thoughts on my second purchase, 555 Brown (released in spring 2012).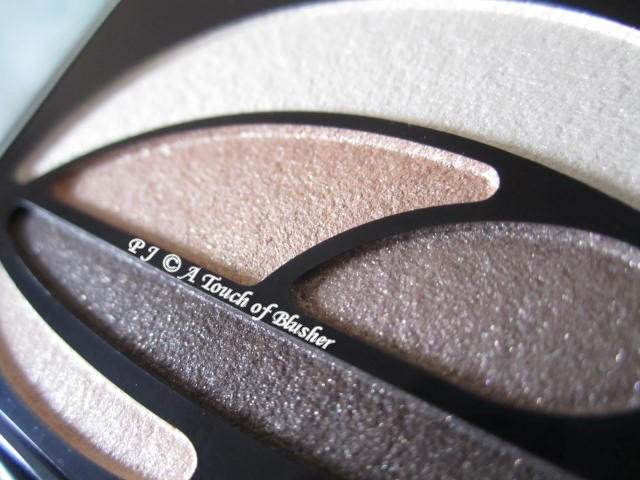 The five colors in this palette are (from the lightest to the darkest and then the shade at the bottom):
1. off-white cream, moderately pigmented, highly pearly and glowy
2. light-to-medium golden brown, moderately pigmented, pearly with shimmer
3. dark brown, moderately-to-well pigmented, softly pearly with fine sparkles
4. soft brown black, moderately-to-well pigmented, velvety with fine sparkles
5. pale peach (cream-t0-powder consistency), moderately pigmented, softly pearly and glowy
All the colors have multi-hued light-reflective particles. They all have a smooth texture and a good staying power.
(Please see my review of 553 Purple to see Aube Couture's suggested placement of each color.)
Like I do with the off-white pink in 553 Purple, I need to be slightly careful with the off-white cream, which can look frosty if I am heavy-handed with it. Used light-handedly with a fluffy eyeshadow brush, it creates a flattering finish.
My favorite shade in this palette is the light-to-medium golden brown. (It shows up lighter and peachier in the second photo.) It has a nice amount of warmth to suit my skin tone and I like its shimmery finish.
The dark brown is dark enough to be a soft eye-lining shade. While it certainly adds definition to the eyes very effectively, I think it is too similar to the soft brown black in terms of color depth. I think the palette would be more versatile if the dark brown were lighter. Also, just to be a little picky, I would prefer it to be slightly warmer as well.
On the whole, I do like this palette, as it creates a natural yet defined look for the eyes. Also, like 553 Purple, I like the varied finishes of the shades and the dimensional look they create. But if I have to compare the two, I think I slightly prefer 553 Purple as its color gradation is slightly better coordinated.
Based on my experience with this palette, I decided to try 552 Brown, which is overall warmer. I will be reviewing this palette later on. Do check back later!
Related posts:
Aube Couture Spring 2013 Makeup Collection
(featuring Designing Impression Eyes in 565, 566, 567 & 568)
Aube Couture Summer 2012 Makeup Collection
(featuring Designing Impression Eyes in 558 & 559)