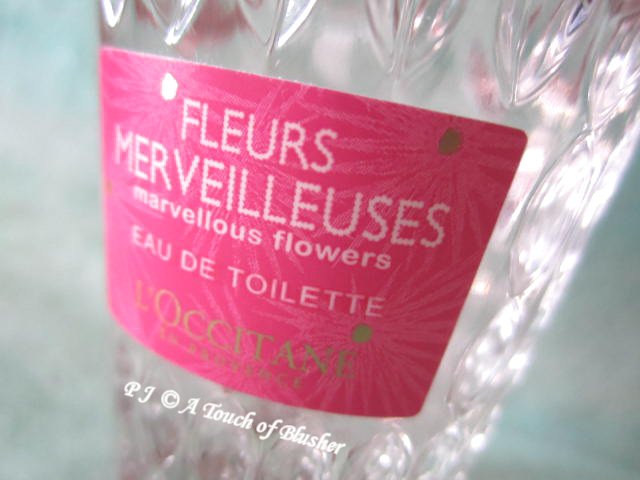 For holiday 2012, L'Occitane has released two limited-edition fragrance ranges, Fleurs Merveilleuses (Marvellous Flowers) and Feuilles Magiques (Magical Leaves). Today I am featuring Fleurs Merveilleuses Eau de Toilette.
Top notes: pink grapefruit, red berries
Middle notes: rose, peony
Base notes: light wood, white musk
Fleurs Merveilleuses is a light fruity floral. The fragrance opens with a fresh and juicy fruitiness from the grapefruit and berry notes. Then, very quickly, it settles down to the gentle florals. For me, the peony is more obvious than the rose. White musk emerges almost at the same time as the floral notes do, and it then forms most of the drydown. The woody note is minimal. The scent starts off very cool-toned but warms up during the course of wear.
Cananga odorata (ylang ylang) flower oil is on the ingredient list of the product, and it provides another dimension for the scent.
The fragrance is very soft and subtle, and the strength of the scent resembles that of a cologne. However, the light scent does sustain overtime and have a decent staying power.
This is yet another pleasant fruity floral from L'Occitane. It is very easy to wear and it is not overly sweet or flowery. It is generally a good all-year-round fragrance, although it might not be intense enough for some people during wintertime.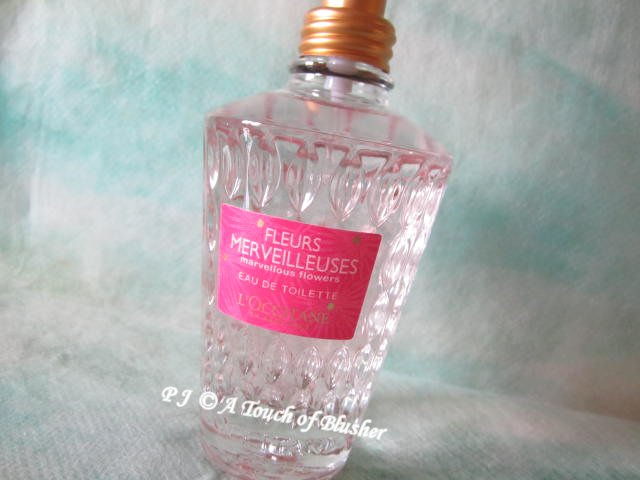 I like the design of the bottle. The prism patterns around the bottle reflect light and create a chandelier effect. The bottle sparkles prettily and has a festive look.
Fleurs Merveilleuses Eau de Toilette is available in 75ml (£35) and 10ml (£14.50). The range also includes Shower Gel (250ml, £13), Body Cream (250ml, £27), Shimmering Oil (75ml, £22), Hand Cream (30ml, £8), and Perfumed Soap (50g, £3.50).
(The product featured in this article is provided by L'Occitane.)
Related posts:
L'Occitane Eau Universelle Cologne Fraîche
L'Occitane Paeonia (Pivoine Flora)