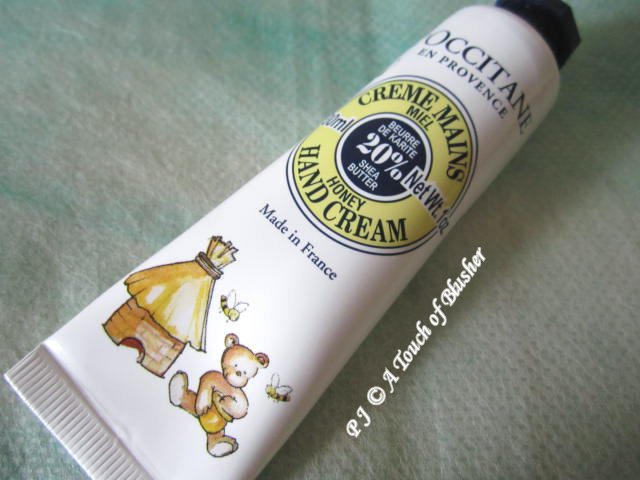 For spring 2013, L'Occitane has released a limited-edition Shea Honey bodycare collection featuring a warm-toned honey fragrance. Today I am highlighting one of the items in the collection, the Shea Honey Hand Cream.
Shea Honey Hand Cream (30ml, £8) has virtually the same densely creamy consistency as that of L'Occitane's popular Shea Butter Hand Cream. (Both contain 20% shea butter.) Some of the main moisturizing ingredients in this product are shea butter, glycerin, cetearyl alcohol, glyceryl stearate, coconut oil, and sunflower seed oil.
The product also contains honey extract, which is an antioxidant and an anti-irritant. (For your reference, the Shea Butter Hand Cream also contains honey extract.)
The product does not contain alcohol or parabens.
The cream feels very emollient on the skin and it is absorbed fairly well. However, even though it doesn't feel slippery or oily, I occasionally feel that it is not reaching where emolliency is really needed.
I like the warm and comforting honey fragrance in this product. There is also a hint of sharpness very similar to the sharpness from the smell of natural honey, and it prevents the scent from being overly sweet.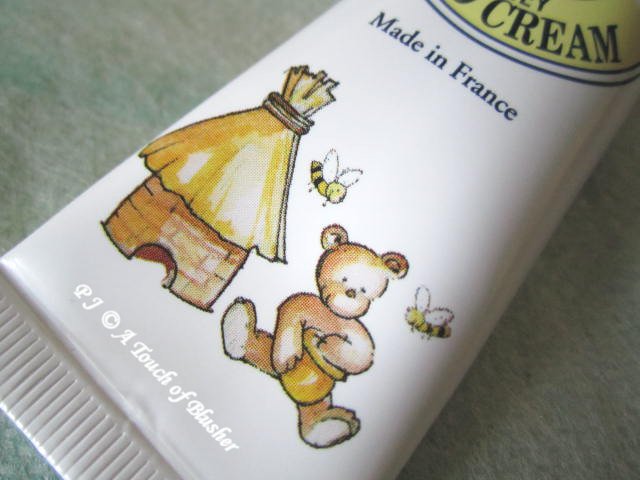 I generally dislike cartoon drawings on beauty products, but I find the bear and the bees on the packaging quite adorable.
L'Occitane's Shea Honey range also includes Foaming Gel (250ml, £13), Whipped Body Cream (125ml, £16), and Shea Honey Butter (8ml, £7).
(Some ingredient information is from Paula Begoun's Cosmetic Ingredient Dictionary.)
(The product featured in this article is provided by L'Occitane.)
Related posts:
L'Occitane Pivoine Flora Hand Cream
Cath Kidston Wild Rose Hand Cream & Honeysuckle Hand Cream