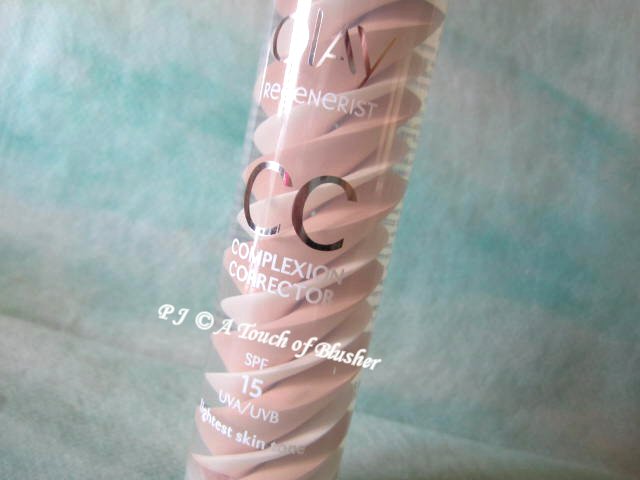 While many beauty brands are still bringing out their versions of BB creams, there are now CC creams and even DD creams. "CC" usually stands for "Color Correction/Corrector" or "Color Control", while "DD" usually stands for "Daily Defense". Chanel and Clinique are two major beauty brands that carry CC creams (Complete Correction SPF 30/ PA+++ and Moisture Surge CC Cream Hydrating Colour Corrector SPF30, respectively), and, today, I am focusing on Olay's Regenerist CC Complexion Corrector SPF 15 UVA/ UVB in Lightest Skin Tone, which was launched in the UK last month.
Olay Regenerist CC Complexion Corrector SPF 15 UVA/ UVB in Lightest Skin Tone (50ml, £24.99) is designed to combine a moisturizer with sun protection (the white phase), a serum (the clear phase), and a sheer foundation (the beige phase), and it is supposed to even out the skin tone while offering hydrating and UVA/UVB-protecting benefits.
The product has a light gel consistency and it is fairly easily absorbed into the skin. Some of the main moisturizing ingredients in this product are glycerin, acetyl glucosamine, cetyl alcohol, stearyl alcohol, and cetearyl alcohol.
It uses octocrylene and ethylhexyl salicylate as anti-UVB ingredients and butyl methoxydibenzoylmethane as the anti-UVA ingredient. (Octocrylene also helps stabilize butyl methoxydibenzoylmethane.) It also contains titanium dioxide, which protects the skin against both UVA and UVB. Overall, it offers sufficient full-spectrum sun protection for general daytime use.
It contains tocopheryl acetate (vitamin E) as an antioxidant. It also contains niacinamide (vitamin B3), which is a cell-communicating ingredient. See a note on this skin-benefiting ingredient in my review of Olay Regenerist 3-Point Treatment Cream Fragrance Free.
It doesn't contain alcohol (ethanol), fragrance (parfum), or other scenting agents. It contains benzyl alcohol, which in itself can be irritating, but it is towards the end of the ingredient list and unlikely to cause irritation.
It has a light gray-beige tone. When it is being applied onto the skin, it seems to offer a light coverage. However, as it sinks into the skin, the coverage seems to disappear almost completely. It leaves a luminous sheen on the skin, which might appeal to some people.
As a skincare product, this is another well-formulated one from Olay. It should suit those with normal, normal-to-oily, or oily skin, although those with oily skin might not like the sheen it leaves on the skin. As a product formulated to even out the skin tone, I find it quite disappointing since it doesn't seem to have any noticeable color-correcting efficacy at all.
(The product featured in this article is provided by Olay.)
Related posts:
Olay Total Effects Sensitive Protection SPF 15
Olay Total Effects Moisturiser + Serum Duo SPF 20