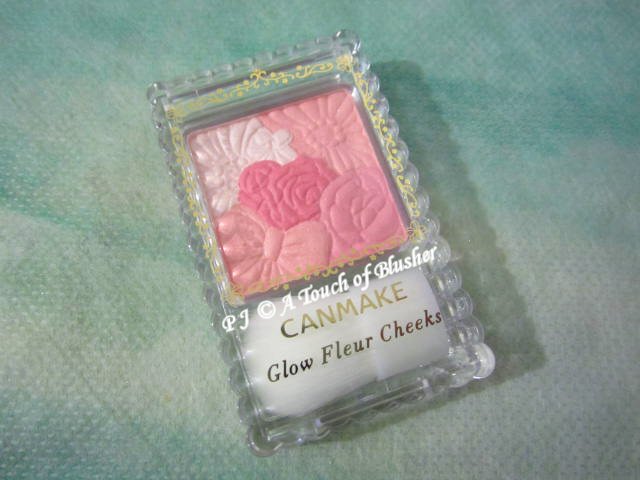 Over the last couple of years, I have been paying more and more attention to Canmake. I have tried the brand's Cheek Gradation in 06 Candy Stripe and Cheek & Cheek in 02 Rose Tiara, and today let's look at Glow Fleur Cheeks in 04 Strawberry Fleur.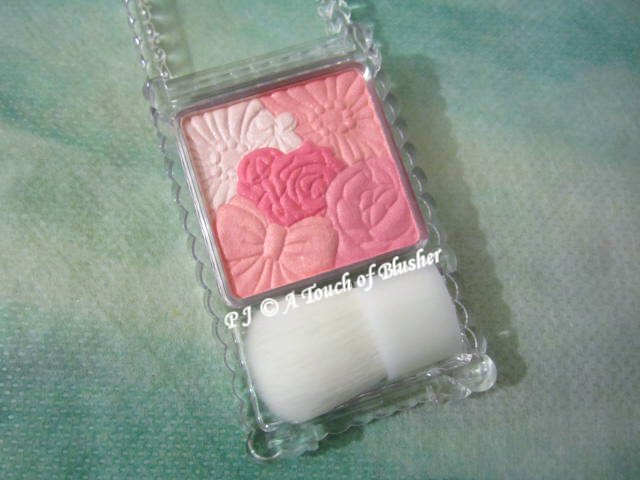 Canmake Glow Fleur Cheeks (キャンメイク グロウフルールチークス/ Canmake 花漾戀愛修容組, ¥800) was released in Japan in fall 2013, and 04 Strawberry Fleur (04 ストロベリーフルール) is one of the four variations released at the time. (05 Wedding Fleur was released in spring 2014, and 06 Milky Red Fleur was released in spring 2015 as a limited edition. Also, Glow Fleur Highlighter was released in fall 2014.) The floral embossment reminds me of Anna Sui's Rose Cheek Color and Rose Cheek Color N.
Tone-wise, 04 Strawberry Fleur is the coolest among the four variations from fall 2013. It features a medium-to-cool pink in the center as the main blusher shade, two light pinks, and an off-white pink on the upper left as a highlighting shade. (The pinks on the upper right and lower left are identical.)
The medium-to-cool pink is moderately pigmented with a velvety finish and a hint of glow. The light pinks are lightly-to-moderately pigmented with a subtly glowy finish and subtle (mainly gold-toned) shimmer. (The lighter one of the two is slightly more shimmery than the other.) The off-white pink is lightly-to-moderately pigmented with a softly glowy finish.
According to the application instructions printed on the back of the case, the three blusher shades are designed to be mixed together, and the highlighting shade is used underneath the outer corners of the eyes.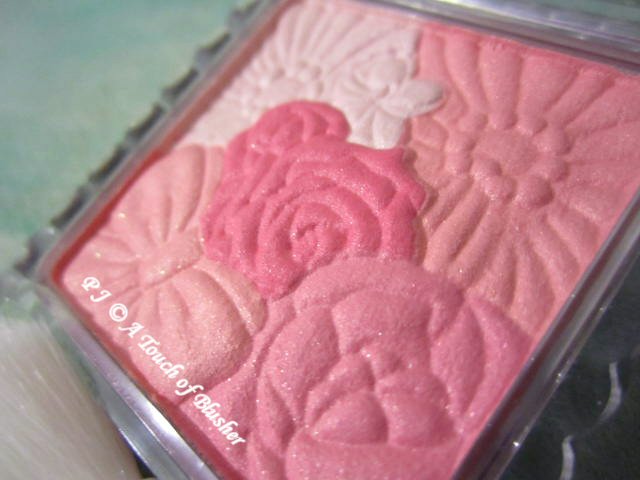 The pigmentation levels of these shades are just right for me. The colors show up nicely (but not too intensely) with a couple of layers, and I don't have to worry too much about over-application. The medium-to-cool pink suits my complexion, and none of the shades is too glowy, shimmery or sparkly. (No chunky glitter here.) Overall, this is a very easy-to-use blusher palette that creates a natural look for everyday use.
I am now looking forward to trying Canmake's Mat Fleur Cheeks!
Updated on May 31st, 2015:
Read Mina's review of this item on Citrine's Blog.
Related posts:
Canmake Summer 2015 Makeup Collection
Muji Cheek Color Mix Type in Pink