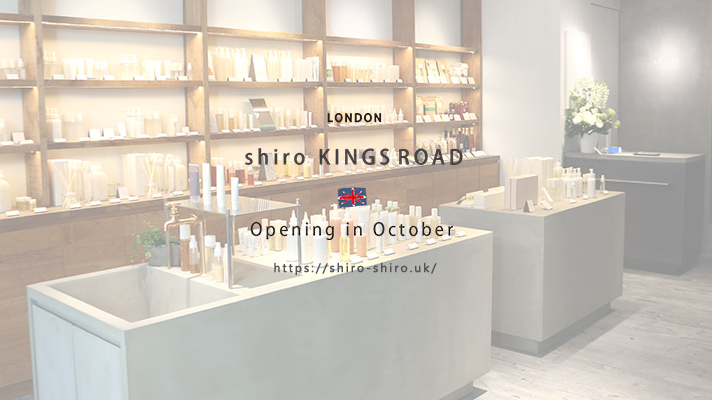 (image from shiro-shiro.jp,
info from shiro-shiro.jp, shiro-shiro.uk
& blog.livedoor.jp/laurelshop-shiro_uk)
Japanese beauty brand Shiro (official UK website here) is now available in the UK. (There are notes on product prices in the UK below.)
Shiro opened its first overseas store in London on October 5th, 2016. According to Shiro's official UK website, the brand's UK store carries skincare, bodycare, haircare, fragrance and home fragrance items.
Last July, I wrote about my purchases from Laurel (Shiro's former brand name). I like all the items I got, and it is great to have Shiro in the UK.
The brand launched its point (color) makeup range and released additional base makeup items in Japan this month. I hope we will get to see them here.
However, based on the images from this blog post from Queens of Hackney (you can click on the images and click on "view full size" to see the prices clearly), there are some substantial price markups in the UK. For example (based on the exchange rate today):
Sake Lees Skin Serum (60ml): ¥5800 (approx. £42) in Japan, £75 in the UK
Savon Body Cologne (100ml): ¥1800 (approx. £13) in Japan, £32 in the UK
Savon Room Fragrance (reed diffuser, 160ml): ¥3500 (approx. £25) in Japan, £85 in the UK
In Japan, Shiro is a reasonably affordable brand, and it seems that, in the UK, it is marketed as an exotic luxury brand. Even though it might not be entirely fair to, I can't help but contrast Shiro's price markups in the UK with the fact that, at the moment, most products from SUQQU cost slightly less in the UK than they do in Japan.
Related posts:
Loving Japanese Cosmetics series
Muji Skincare Available in the UK Again