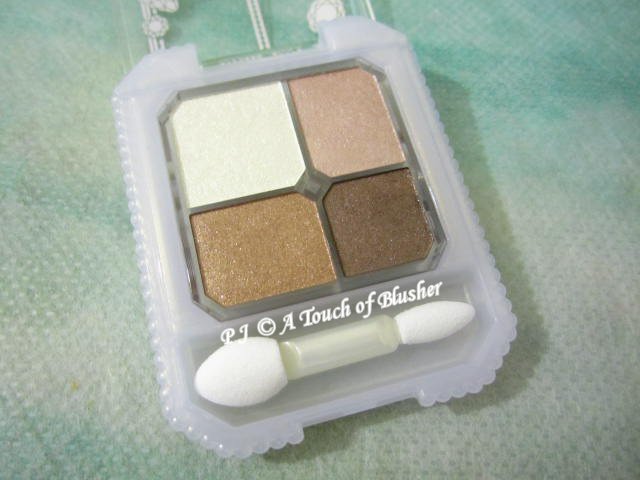 I purchased Shiseido Majolica Majorca's Jeweling Eyes palettes in GD886 and BR792 at about the same time. I first tried GD886 and I was quite disappointed with it. I am pleased (and relieved) to say that it is a very different story with BR792.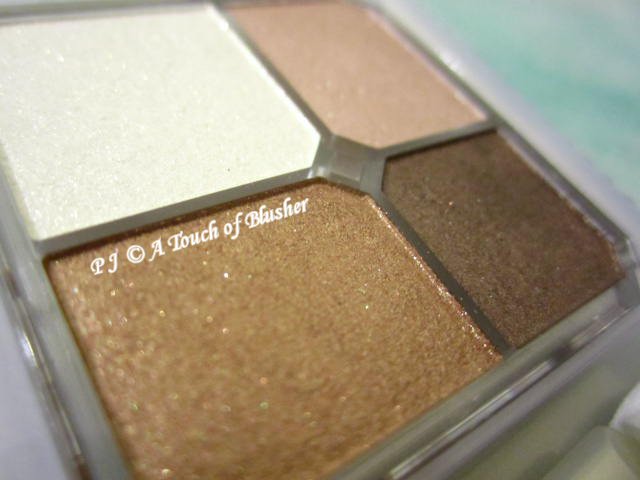 Shiseido Majolica Majorca Jeweling Eyes in BR792 (資生堂 マジョリカ マジョルカ ジュエリングアイズ BR792 玉の輿/ 資生堂 戀愛魔鏡 魔幻流光眼影盒 BR792 豪門名媛, ¥1500) was released in Japan as part of the line's fall 2010 makeup collection. It is a regular item and is still available. The four shades in this palette are (clockwise from top left):
cream white, lightly pigmented, softly sparkly
mauve beige, moderately pigmented, shimmery
caramel bronze, moderately pigmented, with pearly shimmer
medium-to-dark brown, moderately pigmented, with a pearly glow
All the shades have multi-hued light-reflective particles. They are all easy to apply and blend, and they all have a good staying power.
The cream white is designed to be used as a highlighter for the brow bones and the inner corners of the eyes, and the mauve beige is designed to be used as a base shade. However, because the mauve beige is not light enough to work as a base shade for me (I use it as a light shadowing shade), I use the cream white as a base shade.
It doesn't look excessively pearly, frosty or metallic, and it works well with the shimmery mauve beige. As long as I am not heavy-handed with it, it doesn't look too sparkly as a base shade. (With GD886, I use the off-white yellow as the base shade and I use the cream white on the middle parts of the upper eyelids (as a top coat).)
I was worried that the mauve beige might not suit me since mauve-toned beiges could sometimes look a little unnaturally reddish on me. I was also unsure whether it would work well with the caramel brown. My worries were gone when I applied the shade for the first time. It has a soft warmth to it, and it doesn't look reddish on me. Also, it coordinates very well with the caramel brown.
I really like the caramel brown as it suits my warm-toned complexion very well. It suits me much more than the brown gray in GD886. (In the pans, the two shades look quite similar. (The brown gray looks very slightly more yellow-toned.) However, the caramel brown in this palette does not turn gray on me.) It is a competent shadowing shade without looking too dark, and I like its beautiful pearly shimmer.
The medium-to-dark brown is quite creamy and it is easy to apply and blend. It is not a very dark brown, but it is dark enough to work as an eyelining shade. Also, because the caramel brown already adds a good deal of depth and dimension to the eyes, I am fine with the fact that the medium-to-dark brown is not as dark as how I want it to be for an eyelining shade.
Overall I am very pleased with this palette. The shades work very well together, and I like how they create a seamless warm-toned beige-bronze-brown gradation. Among the neutral-toned eyeshadow palettes I have tried recently, it is certainly among my favorites.
Related posts:
Majolica Majorca Fall/Winter 2016 Makeup, Base Makeup & Bodycare Collection
Stash Debut 2012 (6): Majolica Majorca Majolook (Illuminator) in BR788
Stash Focus: Majolica Majorca Cream de Cheek in PK312 Shell Pink Cream