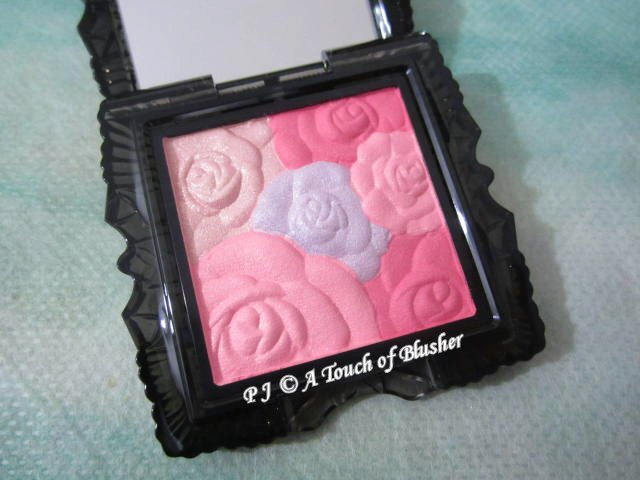 I have reviewed Anna Sui's Rose Cheek Colors in 100, 300, 301, 302, 600 and 601. Today I will be moving on to Rose Cheek Color N and I will be sharing my thoughts on 303.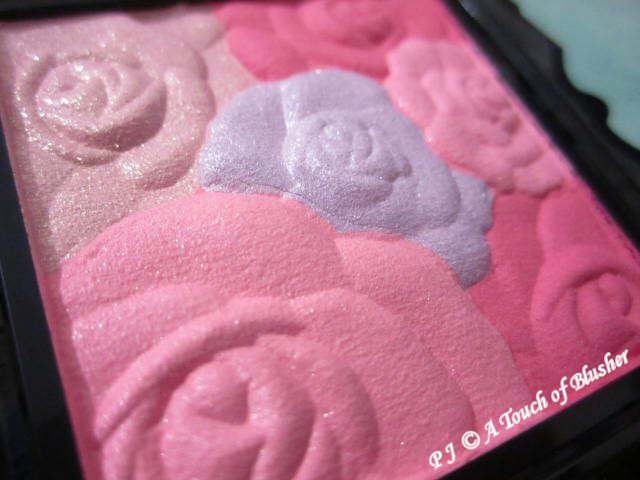 Anna Sui Rose Cheek Color N in 303 (アナ スイ ローズ チーク カラー N 303/ 安娜蘇 魔顏精靈薔薇頰彩 N 303, ¥3500) was released in Japan in summer 2014. The four shades in this variation are:
light-to-medium medium-to-cool pink, with an above-medium pigmentation level, with a velvety-to-satiny finish with a hint of glow
medium-depth cool-toned rose, with an above-medium pigmentation level, with a velvety-to-satiny finish
light lilac, with a light-to-medium (towards light) pigmentation level, pearly
pale pink, lightly pigmented, softly shimmery
The medium-to-cool pink and the cool-toned rose are the two main blusher shades in this variation. They are both easy to apply and blend, and they both have a good staying power. (Between the two, the cool-toned pink is slightly more shimmery.) I really like the cool-toned rose, which is a very elegant and feminine shade. The medium-to-cool pink looks fairly light in the pan but it turns darker on me. (This is not really a bad thing as I was worried that it would be slightly too pale for me.) When mixed, they show up as a rose-toned pink. I like this mixed shade very much as well.
The light lilac and the pale pink are mainly for highlighting. The light lilac is more pigmented than most of the highlighting shades in the variations of Rose Cheek Color I reviewed, and it does show up as a lilac (not just as a veil of light-reflective particles). It also has quite a pronounced pearly finish. The pale pink is fairly sheer, and the shimmery particles look mostly gold-toned under natural light and they look more multi-hued under some artificial lightings.
I said before that I didn't like the cut-glass design of Rose Cheek Color N, and I am still not keen on it now. For me, it is overly ornate and fussy. I prefer the simpler case of Rose Cheek Color.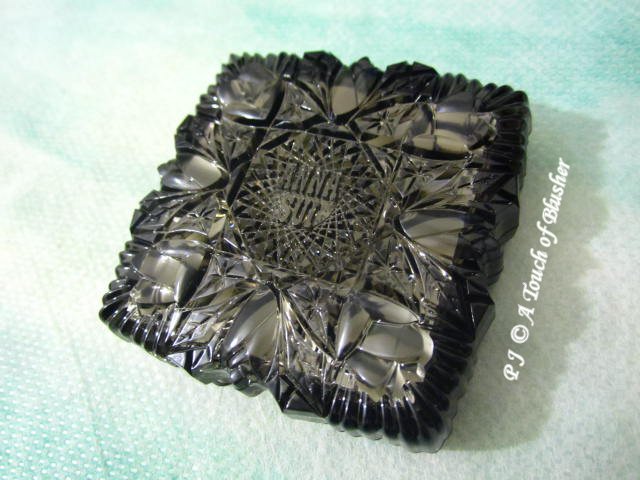 Overall I like this variation very much. The two main blusher shades work very well for me both separately and together, and I like the fact that they are both cool-toned. I also like the fact that neither of the main blusher shades has an overly pearly or shimmery finish. (This is a common trait across all the variations of Rose Cheek Color I reviewed as well.) This variation is also fairly versatile, as it creates both natural everyday looks and more color-saturated looks.
Related posts:
Anna Sui Summer 2017 Makeup & Base Makeup Collection
Stash Focus: Maquillage Dramatic Mood Veil in PK200