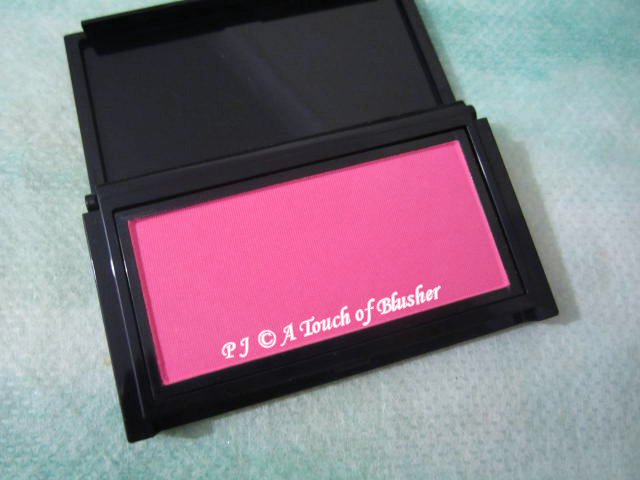 Cheek Stick in 14 Damask Rose is my first blusher item from Addiction. (I was choosing between 07 Amazing and 14 Damask Rose.) Later on, when I decided to try the Blush range, I went for 04 Amazing. (Across the brand's blusher ranges, items with the same shade names have virtually the same colors.)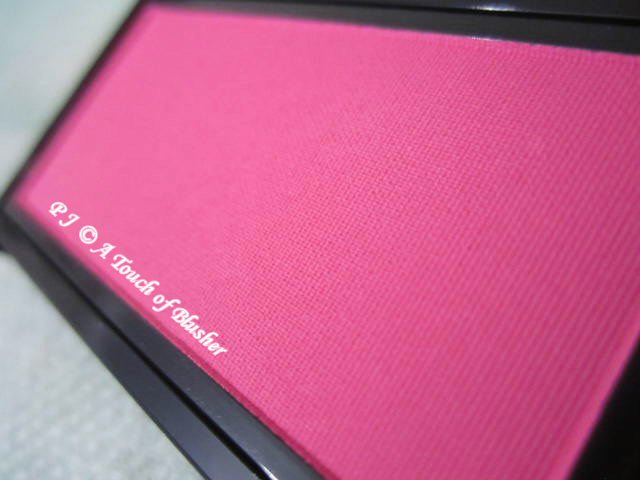 Addiction Blush in 04 Amazing (アディクション ブラッシュ 04 アメージング/ 奧可玹 癮色美人單色頰彩 04, ¥2800) was released in Japan in fall 2009 as part of the brand's launch lineup. (The shade is still available.) It is a medium-depth cherry pink with a moderate pigmentation level and a velvety matte finish (with no shimmer). It is easy to apply and blend, and it has a good staying power. The cool tone of the shade lasts well on me. (It only turns minimally warmer over the course of wear.)
Even though the shade looks very vibrant, it is possible to create a soft look with it. The powder is quite firmly pressed and not too intensely pigmented, and it is fairly easy to start with a soft veil of color and build up the color intensity gradually. You can also create a more intense look with this shade.
Addiction's Cheek Stick in 14 Damask Rose is slightly deeper and slightly rosier than Blush in 04 Amazing. Color-wise, both Damask Rose and Amazing suit me well, but I prefer the powder-based Amazing. (I find the cream-based Cheek Stick to be on the thick and dense side. It can be quite time-consuming to apply and blend.)
04 Amazing is one of the most cool-toned shades in the Blush range, and overall I like it very much. I like its velvety matte finish and cool-toned hue, and I like the fact that I can create both natural and bold looks with it.
(If you prefer Cheek Stick to Blush, the Cheek Stick range also carries a shade called Amazing (07 Amazing). If you are looking for a shade similar to Cheek Stick in 14 Damask Rose (which has been discontinued), Cheek Stick in 07 Amazing and Blush in 04 Amazing could be possible options.)
Related posts:
Addiction Summer 2017 Makeup Collection
Stash Focus: THREE Cheeky Chic Blush in 04 Gift from Time
Stash Debut (19): Sweets Sweets Silky Chiffon Cheeks in 01 Cranberry Chiffon