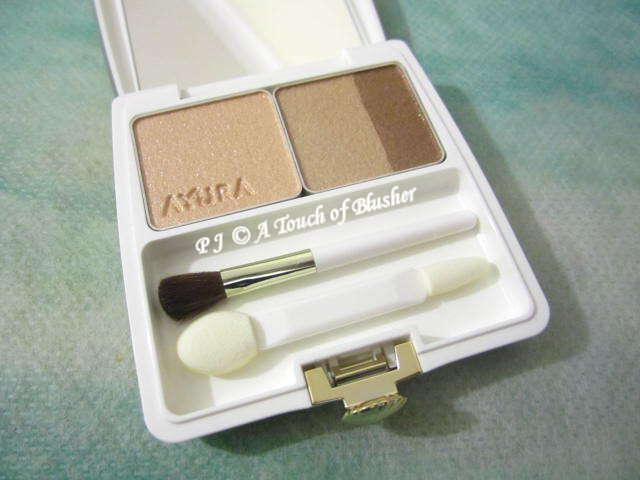 Ayura started a major renewal of its makeup range earlier this year, and the new range marks the beginning of a new era for the brand. One of the new makeup items I was particularly excited about is Bouquet Color Eyes, and today we will be looking at BE01.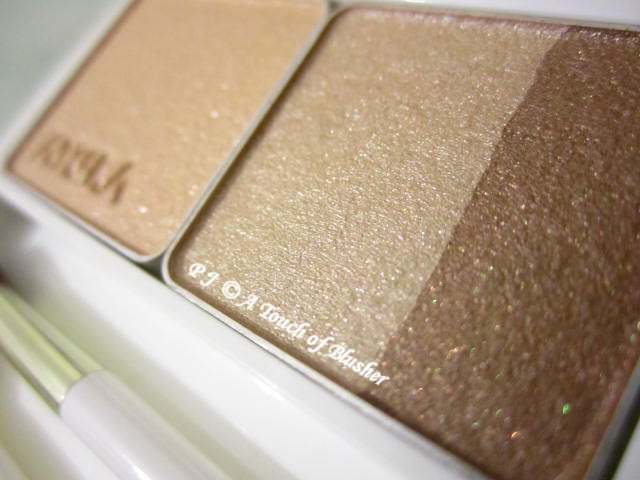 Ayura Bouquet Color Eyes in BE01 (アユーラ ブーケカラーアイズ BE01/ Ayura 繽紛花束漸層眼影 BE01, ¥3500) was released in Japan in spring 2017. The three shades in this palette are:
light peachy beige, lightly pigmented, softly shimmery
medium-toned beige brown with a slight taupe tone, lightly-to-moderately pigmented, with soft pearly shimmer
medium-to-dark warm brown, moderately-to-intensely pigmented, with a pearly glow
All the three shades have multi-hued light-reflective particles. They are all very easy to apply and blend, and they all have a good staying power.
The light peachy beige works well for me both as an all-over base shade and as a lightening shade, and I like its softly shimmery finish.
The medium-toned beige brown is lighter than most of the shadowing shades in the eyeshadow palettes I have. It creates soft shadows that don't look overly subtle. Over the course of wear, it turns a little warmer. This is possibly because it gradually merges with the light peachy beige underneath it.
The medium-to-dark brown is also lighter than most of the eyelining shades in the eyeshadow palettes I have, and it lines the eyes quite gently. It is my favorite shade in this palette mainly because of its subtle copper-toned warmth.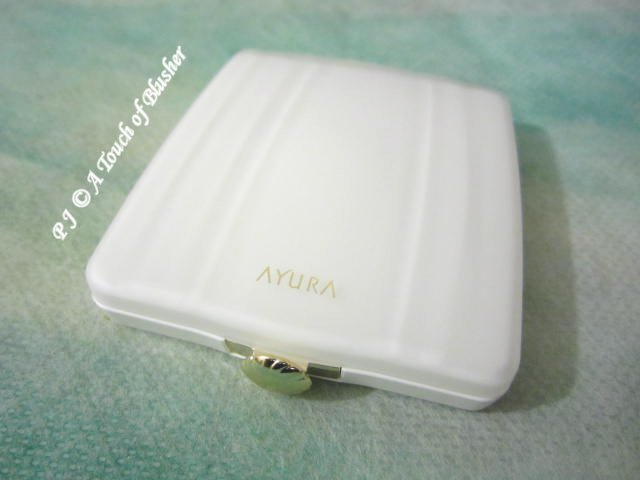 The case of the palette features soft and gentle curves. They look more toned-down than those on some of the older packaging. (See my post on Aura Veil α in PK-11 Sweet Pink.) For me, these elegant curves are a big part of the aesthetic appeal of the brand.
Another thing I like about the design of the case (that doesn't seem obvious from many of the photos of this eyeshadow palette series I have come across on-line) is that the lid has a semi-translucent outer panel with a matte finish (seen in the photo below). I like both how it looks and how it feels.
The gold button (also with gentle curves) echoes the brand logo printed in gold. It is a nice accent that contrasts the soft translucency and the matte finish of the lid.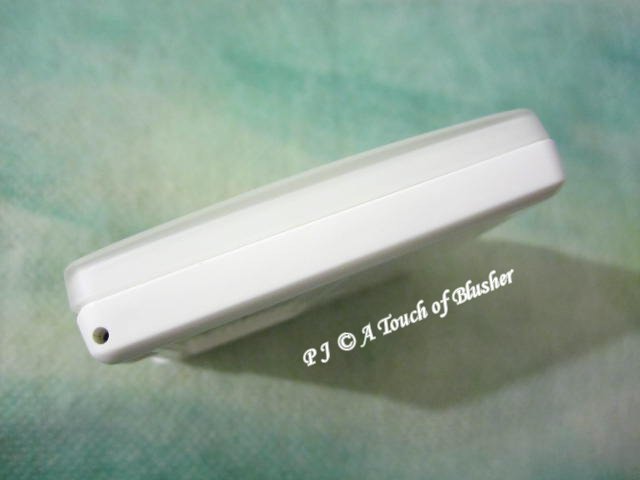 Even though I wouldn't say that this palette is among my favorites, I do like the subtle, gentle and seamless gradation and the soft, natural and elegant looks it creates. (They match the image of the brand.) It certainly works well for daytime, and it can also go with vibrant and intense looks for the lips (which seem to be popular at the moment). I think I would like this palette more if the main shadowing shade were a little warmer and didn't have the taupe tone.
Related posts:
Loving Japanese Cosmetics (1 of 7) : Ayura
Ayura Fall 2017 Makeup Collection