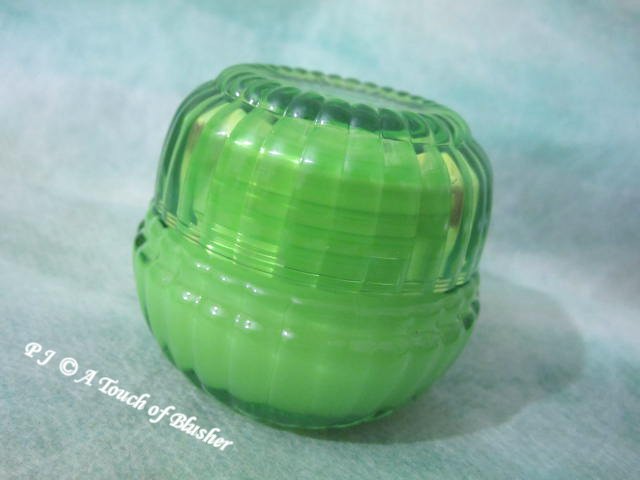 Ayura's Spirit of Ayura and the fragrance from the Meditation bodycare range are two of the best fragrances I have ever come across. I have talked about Spirit of Ayura in my posts on my three favorite fragrances and Ayura's Night Meditation, and the most detailed description of the scent I have given so far is in my reply to a reader's comment.
As for the fragrance of the Meditation range, I very briefly described it in my post on Ayura's 15th Anniversary Memories Coffret, and today I will talk more about it as I share my thoughts on Meditation Body Balm.
Ayura Meditation Body Balm (アユーラ メディテーションボディバーム/ Ayura 冥想甦活漾體膏, 46g, ¥3500) was released for the holiday 2012 season in Japan. It is a regular item, not a limited edition.
Some of the moisturizing ingredients in this product are caprylic/capric triglyceride, hydrogenated polyisobutene, mineral oil, beeswax and macadamia nut oil. The product contains licorice root extract, which has skin-soothing properties.
The product does not contain alcohol or parabens.
It contains fragrance (parfum) and rosemary oil. Rosemary oil is presumably used as a scenting ingredient in this product, and it can be a skin irritant.
At fingertips, the product melts very quickly from a balm consistency to a soft ointment consistency. It spreads quite easily and forms an emollient and occlusive layer on the skin. It can feel a little oily, but I expect this from a very emollient balm for the body.
I had tried a couple of items from Ayura's Meditation range before purchasing this product, and I find the fresh green-toned herbaceous fragrance from this range extremely appealing. According to the brand's official websites (in Japanese and Mandarin), the key elements of the fragrance blend are lavender, rosemary, camomile and rosewood, and the blend also includes lemon, lime, apple, tarragon, eucalyptus, rose, orange blossom, jasmine and cedarwood.
The blend is beautifully and seamlessly crafted in the sense that there is no particular note that stands out from the rest. All the notes are woven together to form a scent that exudes a sense of harmony and purity and manages to be uplifting and soothing at the same time. There is also an otherworldly quality to to this soft and ethereal scent, and this quality aptly echoes the meditation theme of the product range.
So far, the product has been working well for me mainly as a nail and cuticle cream for bedtime. (It is too emollient for the hands for any other time of the day.) Whenever I use it, I almost automatically take a few deep breaths to take in the fragrance. (In this particular product, the scent is reasonably long-lasting.)
With its weighty fresh-green jar that sits comfortably in the palm of my hand and its invigorating and relaxing fragrance that clears and resets my mind, this richly emollient body balm is simply a treat to the senses.
Note: I don't think Ayura has released a fragrance in the Meditation range as a regular item. Below are past limited-edition fragrance items from the Meditation range (which I am aware of):
(Some ingredient information is from Paula Begoun's Cosmetic Ingredient Dictionary.)
Related posts:
Ayura Holiday 2016 Bodycare & Handcare Collection
(featuring Meditation Relax Night Coffret)
Ayura Spring 2017 Makeup Collection
Ayura 20th Anniversary Collection for Spring/Summer 2015
My Beauty Weakness: Cute Cuticle Oils