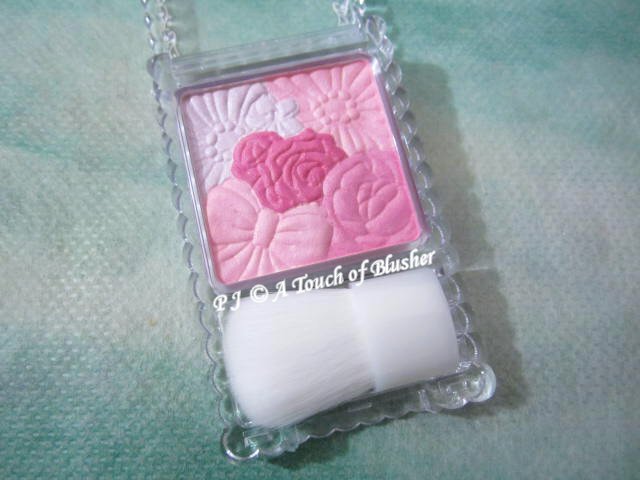 Canmake's Glow Fleur Cheeks range was launched in Japan in fall 2013, and I reviewed 04 Strawberry Fleur in 2015. I wasn't sure if I would pick up another variation, but the release of o8 Fuchsia Berry Fleur eventually changed my mind.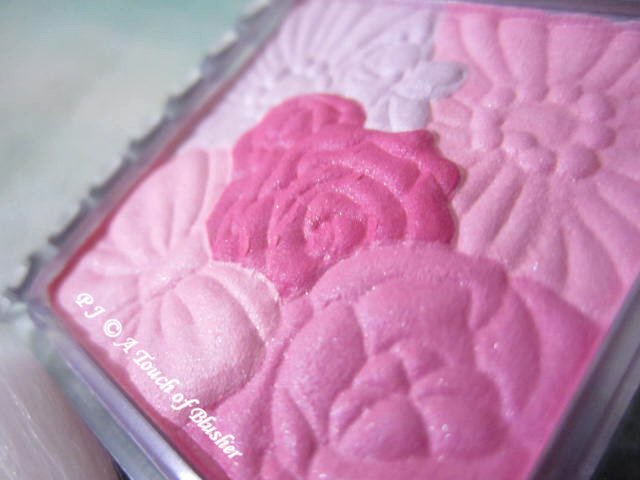 Canmake Glow Fleur Cheeks in 08 Fuchsia Berry Fleur (キャンメイク グロウフルールチークス 08 フューシャベリーフルール/ Canmake 花漾戀愛修容組 08, limited edition, ¥800) was released in Japan in spring 2017. It includes a fuchsia pink (middle), a cool-toned light-to-medium pink (bottom right), a cool-toned pale pink (top right and bottom left) and an off-white pink with a blue overtone. All the four shades are easy to apply and blend.
The fuchsia pink, the light-to-medium pink and the pale pink are blusher shades that are designed to be mixed together, and the off-white pink is designed to be a highlighting shade for the areas underneath the outer corners of the eyes.
When mixed, the three blusher shades show up as a medium-depth fuchsia-toned cool pink with a subtly glowy finish and a subtle veil of fine shimmer. They (when mixed) have a moderate pigmentation level and a good staying power. The finish is not too glowy or shimmery, and it doesn't exaggerate the appearance of pores.
The off-white pink (the highlighting shade) is lightly pigmented and has a glowy finish with soft shimmer. It has a decent staying power. The finish of the shade is not overly glowy for me, but I would still prefer it to be slightly less glowy. I don't particularly like the blue overtone of the shade as it can look a little unnatural on my warm-toned skin tone.
Overall, I do like this variation very much. It can create a girlie and bouncy look that is suitable for spring and summer. You can also create a softer look by mixing in less of the fuchsia pink. On the whole, it looks more vibrant than 04 Strawberry Fleur, which generally works as an everyday blusher palette. It also looks slightly more vibrant than Canmake's Mat Fleur Cheeks in 02 Mat Girlie Rose (the most cool-toned variation in the Mat Fleur Cheeks range).
Related posts:
Canmake Fall 2017 Makeup Collection
Stash Focus: Canmake Cheek & Cheek in 02 Rose Tiara
Stash Focus: Jill Stuart Layer Blush Compact in 01 Baby Berry