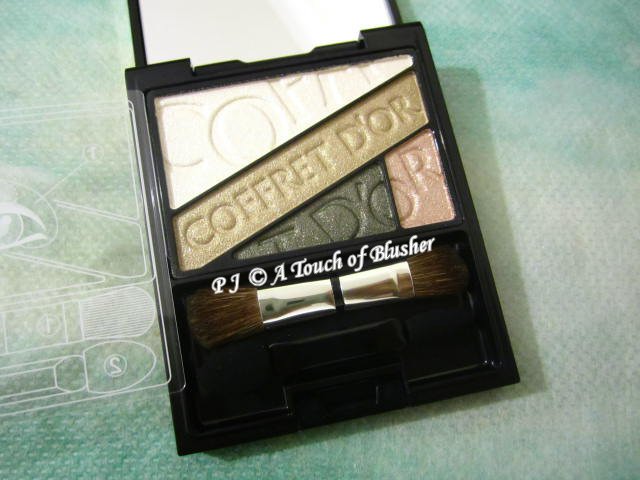 In July, I reviewed Kanebo Coffret d'Or's Beauty Aura Eyes in 01 Yellow Brown, and today I will be sharing my thoughts on 03 Khaki.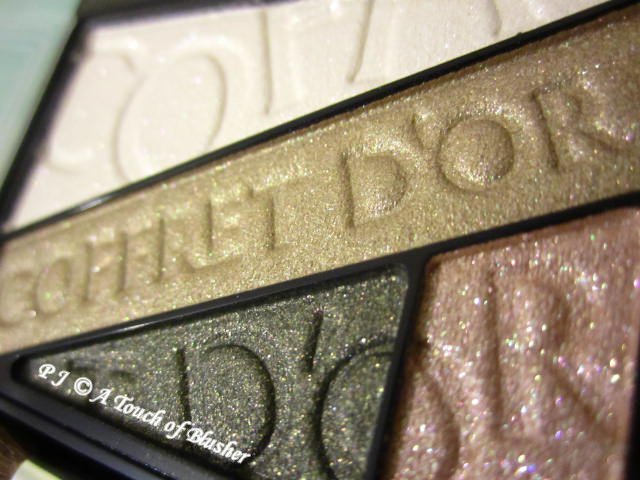 Kanebo Coffret d'Or Beauty Aura Eyes in 03 Khaki (カネボウ コフレドール ビューティオーラアイズ 01 カーキ / 佳麗寶 金炫光燦 光透色眼影盒 03 軍綠, ¥3500) was released in Japan for the holiday 2016 season. (It is a regular variation and not a limited edition.) The four shades in this palette are:
cream white, lightly pigmented, with high-toned pearly shimmer
khaki gold, moderately pigmented, with pearly shimmer
deep forest green with an olive tone, moderately-to-intensely pigmented, with a pearly glow
off-white pink beige, mostly sparkles with little pigment, softly sparkly
All the four shades in this palette have multi-hued light-reflective particles. They are all very easy to apply and blend, and they all have a very good staying power.
The cream white works well as a base. It is fairly shimmery as a base shade but it is not overly so for me. (It can look quite shimmery with a heavy-handed application.)
The khaki gold works very well for me as a shadowing shade. The depth of the shade is just right for me, and the beautiful shimmer adds dimension to the eyes. Also, the yellow nuance of the shade suits me well. (The shade doesn't go towards orange or red on the warm side and it doesn't go towards taupe or gray on the cool side.)
The deep forest green works competently as an eyelining shade. The application of the shade is efficient with an eyelining brush, but it takes more time to layer the shade to create the same intensity with the sponge applicator included in the palette. The shade turns warmer (to a deep olive green) over the course of wear.
The off-white pink beige is designed to be used as a sparkle top coat on the middle parts of the upper eyelids, and it works just like the off-white yellow in 01 Yellow Brown. It adds a beautiful veil of sparkles and additional dimension to the eyes.
I do like 01 Yellow Brown but I like 03 Khaki even more. The main reason is that I prefer the khaki gold in 03 to the bronze-toned brown in 01. The khaki gold creates a bright and fresh look while adding depth and dimension to the eyes. The bronze-toned brown would probably create a similar look if it were more bronze-toned and less brownish.
Related posts:
Coffret d'Or Summer 2017 Makeup Collection
Stash Focus: Coffret d'Or Soft Glamorous Eyes in 01 Beige Variation
Stash Focus: Coffret d'Or Full Smile Eyes in 03 Bronze Brown