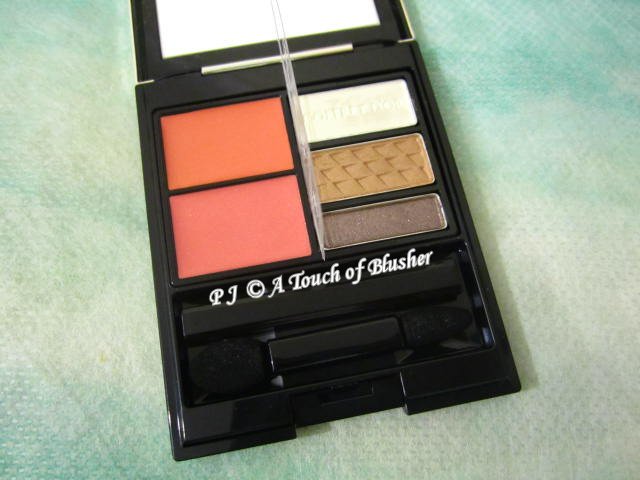 Kanebo Coffret d'Or released Beauty Summer Palette in summer 2016. Each of the five variations featured both eyeshadows and lip colors, and I decided to go for 03 Coconut Brown. (I haven't used the lip colors, so this is a review of the eyeshadows only.)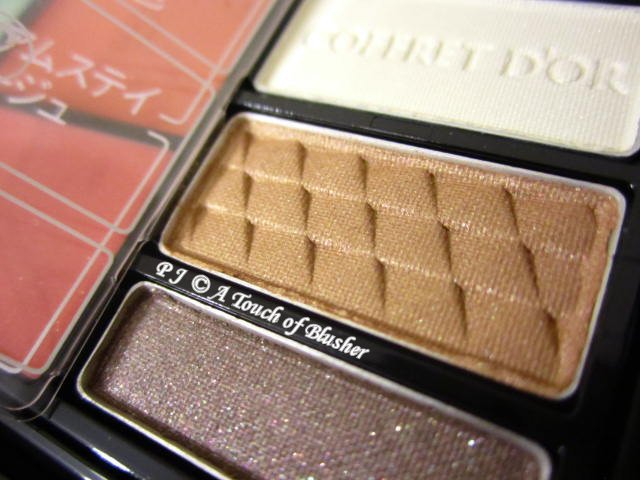 Kanebo Coffret d'Or Beauty Summer Palette in 03 Coconut Brown (カネボウ コフレドール ビューティサマーパレット 03 ココナッツブラウン/ 佳麗寶 金炫光燦 戀陽夏色眼唇盤 03, limited edition, ¥3500) features three eyeshadow shades. They are:
cream white, lightly pigmented, glowy with soft pearly shimmer
medium-depth bronze brown, lightly-to-moderately (towards moderately) pigmented, with subtle pearly shimmer
medium-to-dark brown, moderately pigmented, with a subtle pearly glow
All the three shades have multi-hued light-reflective particles. They are all easy to apply and blend, and they all have a good staying power.
The cream white works well as a base shade. It brightens the eye areas without looking too shimmery or sparkly. It doesn't look too glowy as long as I am not too heavy-handed with it.
The medium-depth bronze brown is dark enough to work as a shadowing shade. Its warm bronze tone works very well for me, and I also like its subtle pearly shimmer. (The shade doesn't look too orange-toned or too red-toned on me.)
The medium-to-dark brown is a soft eyelining shade. Because it is not particularly dark or pigmented, a little bit of layering is required for the shade to have a decent eye-defining effect.
The slim case features a tropical print.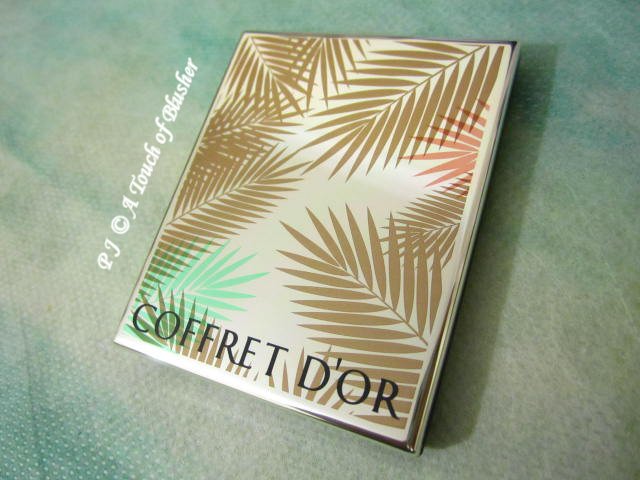 Overall, I am very happy with the three eyeshadows in this palette. As I can sometimes be a little heavy-handed with eyeshadows, these three shades, in items of both color depth and pigmentation level, are essentially mistake-proof for me (without looking too sheer or washed-out). Even though the eyelining shade requires a little bit of layering, the application of the three shades is, on the whole, straightforward and fuss-free. The slim and multi-purposed Beauty Summer Palette is designed to be travel-friendly, and the eyeshadow shades in 03 can certainly create natural looks without too much time or effort.
(The palette features two shades of Premium Stay Rouge. The one on the top is exclusive to the palette, and the one on the bottom is an existing shade (in PK-286).)
Related posts:
Coffret d'Or Holiday 2017 Makeup Collection
Stash Focus: Coffret d'Or Beauty Aura Eyes in 03 Khaki
Stash Focus: Coffret d'Or Soft Glamorous Eyes in 01 Beige Variation