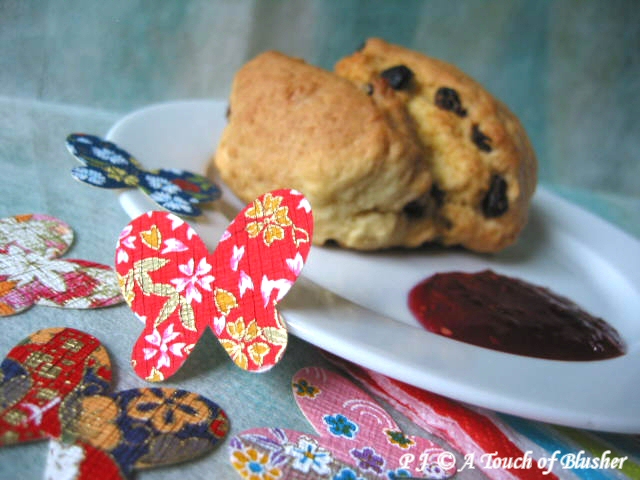 (A home-baked scone with raspberry jam.
Would you like some tea as well?)
Another year has just passed by, and my blog is now four years old.
This year is the year of migration to the new .com domain. While the look of the blog didn't really change very much (I deliberately keep it mostly as it was without introducing too many changes), it is good to have more control of the overall running of the blog and more flexibility in the blog design. There are still many things to learn, but on the whole I am enjoying the process.
Let's take a look back at the last twelve months of A Touch of Blusher:
November 2009
Cristal Boréal is definitely one of my favorite items from Dior.
December
I spotted makeup from Thierry Mugler in Selfridges.
January 2010
Odd Couple was my first MAC purchase in a long time.
February
One of my favorite Japanese beauty brands celebrated its 15th anniversary.
March
I started the Natural Makeup Recommendations mini-series.
April
Purple and Coffret D'Or are a good combination.
May
I tried Spring Modern Eyes in Orangy Brown from RMK.
June
I rediscovered Paul Smith Rose.
July
Welcome to the new A Touch of Blusher.
August
I reviewed the third  Lavshuca Eye Color Select that I got.
September
Blushers don't get much better than SUQQU's Powdery Cheeks.
October
Aurorize Eyes in Light Variation is my first neutral-toned eyeshadow palette from Lunasol.
Stepping into the fifth year of A Touch of Blusher, I will be adding new posts to series such as From My Treasure Chest, Japanese Brand Profile and I Love Colors as well as sequels to a few of my blog posts . There will be more topic-based discussion, and I am also thinking about writing a few more posts on fashion.
Thank you all for your support and feedback in the past year, and hopefully you will check back often in the coming year to see all my new posts!