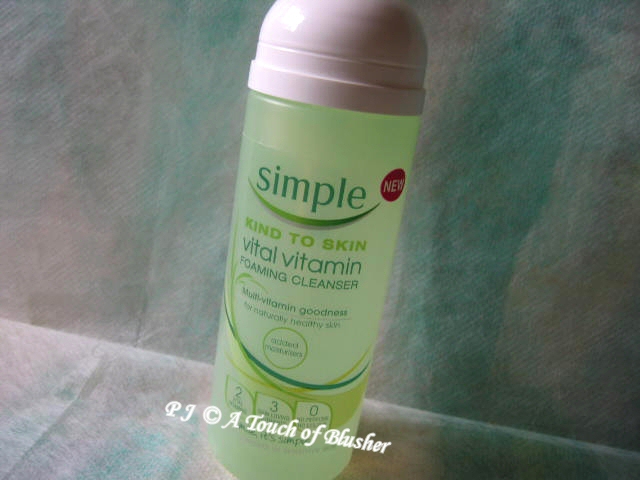 Simple's Moisturising Foaming Facial Wash (now Kind to Skin Moisturising Foaming Facial Wash) has been my choice of face wash for about three years now. Today I am reviewing a new face wash from the brand.
Simple Kind to Skin Vital Vitamin Foaming Cleanser comes in a clear liquid form and uses a foaming pump dispenser. The foam is soft and frothy, not dense and creamy (even after working it on the palms).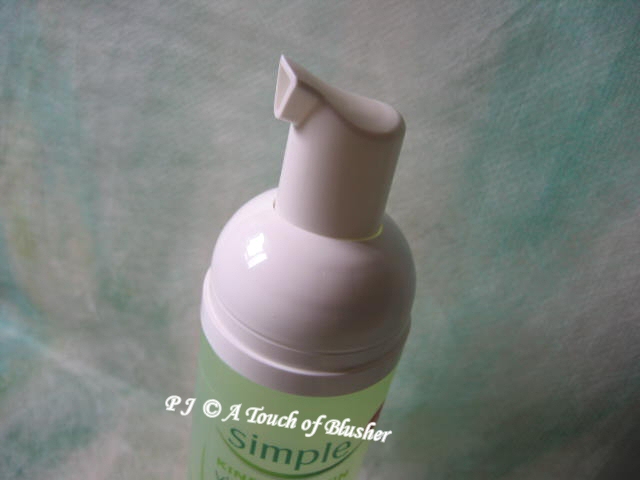 The main cleansing agents in this product are sodium laureth sulfate, cocamide DEA, and cocamidopropyl betaine. It contains pelargonium graveolens (geranium) oil, which can be a skin-irritant for some people. But it is the last ingredient on the ingredient list and it is likely to be washed off before it has a chance to have negative effects on the skin.
The product contains panthenol (vitamin B5) and tocopheryl acetate (vitamin E), to justify the name of the product. It does not contain fragrance (parfum).
At first, I found its lather to be too light and frothy because I was so used to the densely creamy lather that Moisturising Foaming Facial Wash produced. I was also worried that it would not cleanse effectively because it was not very foamy and it felt very gentle on the skin. But after a few days, I got slightly more accustomed to the frothy foam and I did feel that the product cleansed effectively. (My face can develop breakouts when I over-cleanse or under-cleanse. I finished the entire product and it did not cause breakouts for me.)
Compared with Moisturising Foaming Facial Wash, which leaves the skin relatively squeaky-clean (without leaving the skin tight or stripped), it leaves the skin feeling hydrated and conditioned (without feeling filmy).
Even though the product suggests two pumps per use, I needed four pumps for my oily skin. (Only after I took my makeup off with a cleansing oil could I just use two pumps.) For me, the 150ml bottle lasted for about 4 weeks, which is substantially shorter than how long Moisturising Foaming Facial Wash (also 150ml but cheaper) lasts (nearly 7 weeks). However, if Moisturising Foaming Facial Wash ever gets discontinued, I may consider switching to this one.
Overall, even though the frothy foam can take a bit of getting used to for those who like creamy lather, I find this product to be a decently formulated, effective and gentle face wash. I think it should suit most skin types except ultra-dry skin. It may also appeal to those who tend to find foaming cleansers to be too stripping.
(The product featured in this article is provided by Simple.)
Related posts:
Can't Live Without: RMK Cleansing Oil