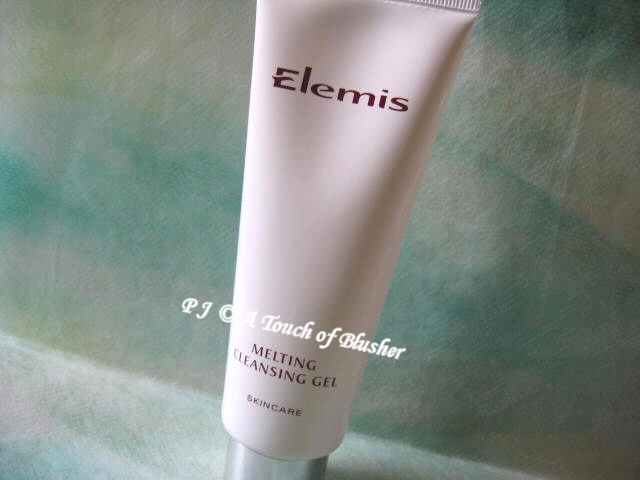 Over the years, I have tried quite a few cleansing oils (and variations of them, such as Clinique's Take The Day Off Cleansing Balm) from both Japanese and western brands. Overall, except Boots' Botanics Essential Oil Wash Off Cleanser (which was discontinued), I have not come across a cleansing oil from a western brand that is as good as any of the better ones from Japanese brands.
Launched last month, Melting Cleansing Gel from Elemis is yet another variation of an emulsifying cleansing oil (although it is marketed as a morning/evening cleanser, not a makeup remover).
Containing sunflower seed oil (second on the ingredient list), orange peel oil and argan oil (argania spinosa kernel oil), the product comes in a gel form instead of an oil form but it is used like a cleansing oil. (Apply it with dry hands onto dry face, gently massage it over the face, emulsify it with wet fingers, and rinse it off.)
The major issue I have with this product is that the gel has a very thick consistency and that I find it difficult to manoeuvre on the face. (The product does not turn into a more malleable oil.) There is a lot of pulling involved just to spread the product evenly on the skin (and to dissolve makeup), and my sensitive skin doesn't react well to this.
(One of the things I love about using a cleansing oil is that there is virtually no tugging involved, and this product doesn't have this attribute.)
Also, the product doesn't emulsify as well as some of the other cleansing oils I have tried and it leaves an oily residue on the skin. Using a face wash to remove the residue is a must for me.
Ingredient-wise, the orange peel oil in this product may be a skin irritant for some people.
I would only recommend this product to those with very dry skin (which can perhaps benefit from the residual emolliency from the product) who can tolerate the pulling of the skin while applying the product.
(The product featured in this article is provided by Elemis.)
Other cleansing oils:
RMK Cleansing Oil
(one of the best cleansing oils I have come across)
Muji Cleansing Oil
(my recent favorite)
Crème de la Mer The Cleansing Fluid
Nude Skincare Cleansing Facial Oil
Other products from Elemis:
Pro-Collagen Marine Cream & Oxygenating Night Cream