(continued from Part 1 & Part 2)
3rd: Magie Deco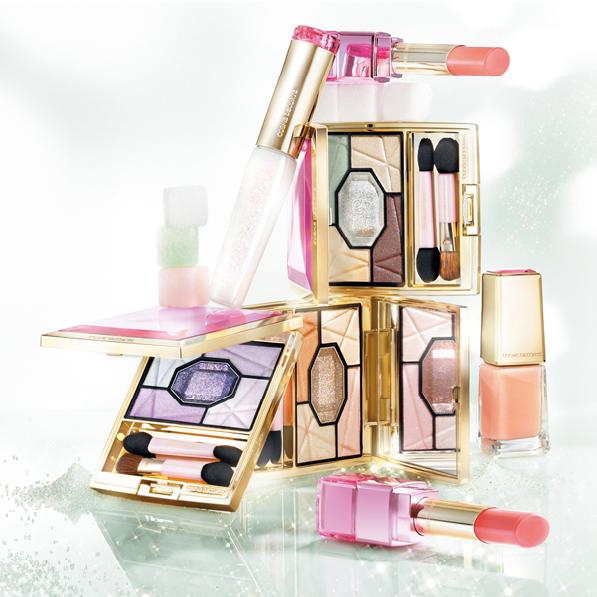 (image from www.cosmedecorte.com/magiedeco)
Magie Deco's spring 2011 Sugar Magic makeup collection features light lilacs and neutrals with a touch of green. The color combinations of Magie Deco's eyeshadow palettes are usually slightly more unusual and unpredictable (see Magie Deco's fall 2009 makeup collection), but the wearability of this collection and the soft looks that it can create are certainly appealing to me.
2nd: Coffret D'Or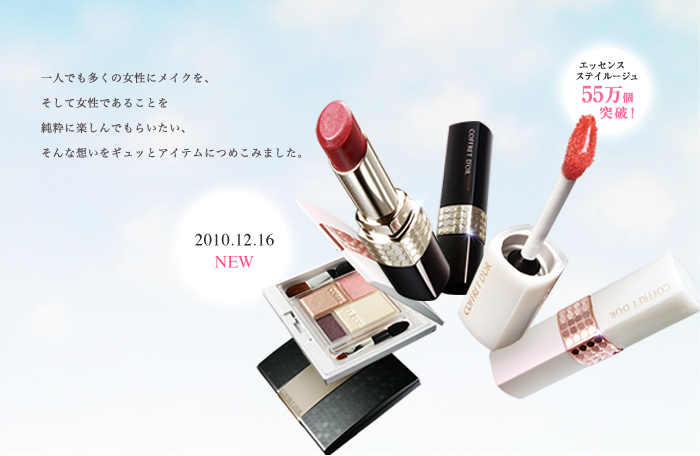 (image from www.kanebo-cosmetics.jp/coffretdor)
As the main makeup line of one of the largest beauty companies in Japan, Coffret D'Or gets continuous magazine coverage. Partly because of this, I have been getting used to its new look. (But I still much prefer the previous one.)
It seems that the shift to a more friendly and approachable brand image has paid off. According to Coffret D'Or's website (as you can see in the photo above), the new Essence Stay Rouge (a liquid lipstick), the key item in the collection, has sold more than 550,000 since the launch of the collection last December. (That is about 5,500 sold every single day since its launch.) Liquid lipsticks are not the type of product I usually go for, but I do like my Eyes Appeal Shadow in 01 Sweet Brown.
1st: Lunasol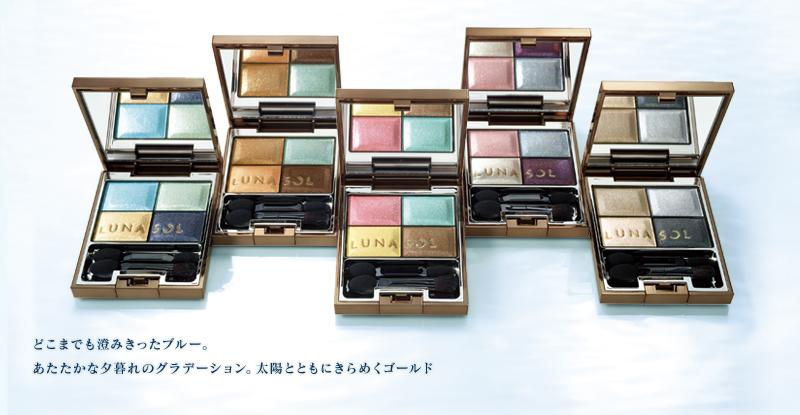 (image from www.kanebo-cosmetics.jp/lunasol)
For its spring 2011 makeup collection, Lunasol manages to do three things at the same time: staying true to its aesthetics and philosophy (with another purification-themed collection), coming up with beautifully fresh, vivid but wearable shades, and staying on-trend (with the grey-toned Ocean Scene Eyes in 04 Smoky Ocean).
The Aquatic Purification theme is reflected not only on colors but also on product designs. Non-powder water-based items such as Shining Ocean Eyes (limited edition), Cream Cheeks (limited edition) and Full Glamour Liquid Lips are all brand new products from Lunasol. All these attributes make this collection a winner for me.
Related posts:
Magie Deco Shadow Brilliance II in DC025 Foxy Lady
Coffret D'Or Summer 2011 Makeup Collection