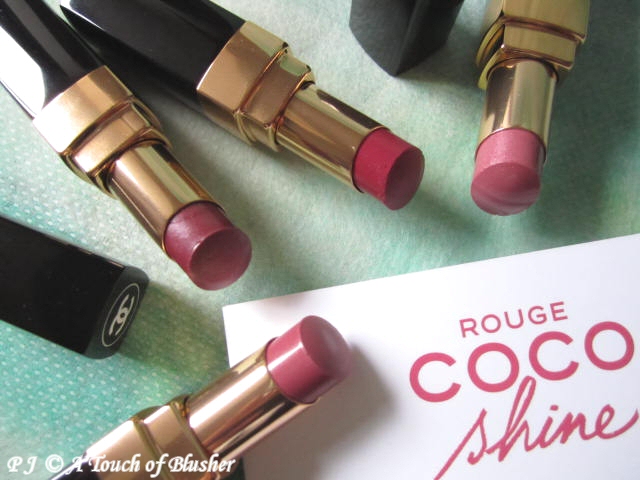 (Chanel Rouge Coco Shine in (clockwise from bottom)
52 Fétiche, 66 Bel-Ami, 60 Antigone, and 54 Boy)
In the last few years, Chanel has been regularly releasing new lip items, such as Rouge Allure, Rouge Coco, Rouge Allure Laque, and Rouge Allure Extrait de Gloss. Launched this spring, Rouge Coco Shine Hydrating Sheer Lipshine is the latest addition. As I personally prefer semi-sheer lip items, I am quite excited about this new product.
Rouge Coco Shine comes in a slimmer case than that of Rouge Coco. (The lengths are the same and the gold bands are placed in the same position.) I like Rouge Allure's substantial case but Rouge Coco Shine's sleeker look also appeals to me.
It glides effortlessly and imparts a soft color on the lips. The finish is more of a healthy glowy sheen (with a hint of shimmer) than a full-on watery or glossy shine. Even though the colors are generally quite sheer, they can still be layered for slightly more intensity.
It diffuses the appearance of lip lines decently well, and the color and the finish last well (as far as sheerer lipsticks are concerned).
There are currently 18 shades available in the UK. Because the semi-transparent color blends in with the natural lip color, I think the various shades are very likely to show up differently on different people and that most people will probably find that they can wear quite a few different shades from this range. Here I am highlighting four colors.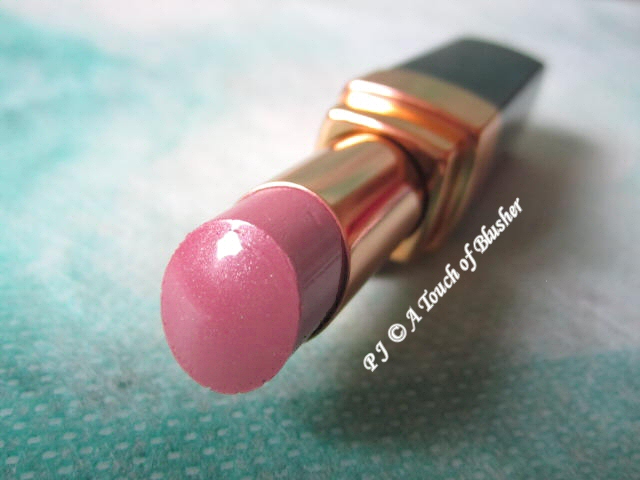 54 Boy seems to be one of the more promoted shades. I can understand why, since it can really showcase how appealing Rouge Coco Shine can be. It is a very natural semi-warm muted soft pink, and it is marginally the sheerest among the four. (Perhaps it looks particularly sheer to me partly because it is the closest to my natural lip color.) It has a relaxed and airy feel to it. I think it should suit most skin tones, and it is a particularly beautiful shade to wear for spring and summer.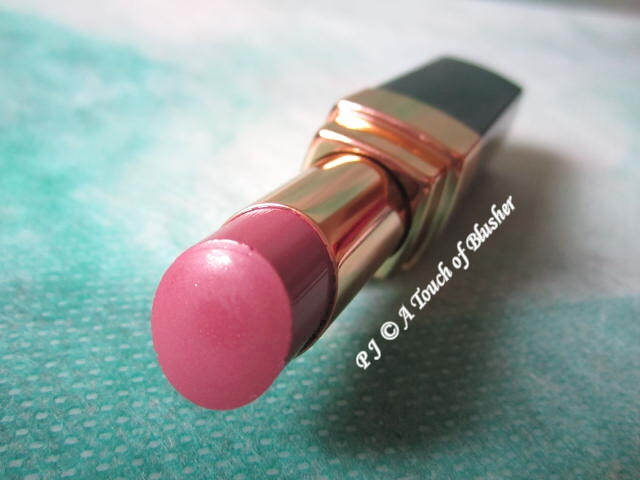 52 Fétiche is quite similar to Boy but it is slightly darker, cooler, and rosier. It is an elegant rosy pink that should also be very wearable for most people. I usually go for rosy pinks because they are easy to wear and they suit my complexion, and Fétiche is certainly very appealing to me in this respect. (Between Boy and Fétiche, I personally like Fétiche just a little bit more, but I do think  Boy is perhaps more universally wearable.)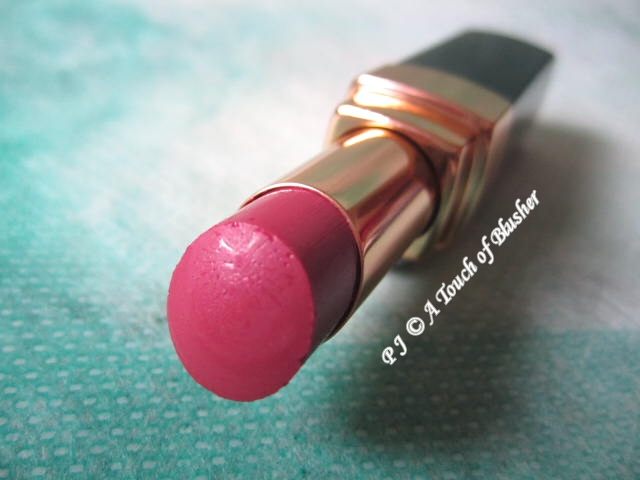 60 Antigone is marginally the most pigmented among the four, but it still has the same semi-transparent quality. One of the deeper and more vibrant shades in the range, it is a rosy cherry-red that carries more drama than the two shades above. For me, this relatively rich and vivid shade is more suitable as an evening color.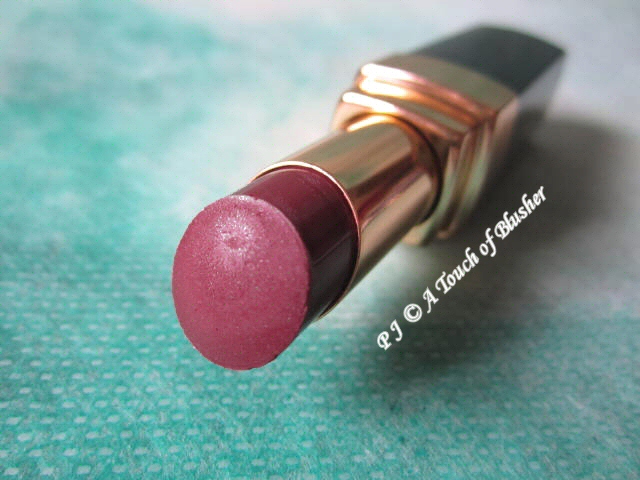 66 Bel-Ami is a little tricky to describe. It is essentially a cross between copper brown and deep grape, but it has different nuances regarding undertones and warmth. In the tube, it looks like a deep grape with a hint of warmth. On the back of my hand, it is a semi-warm beige-brown with a hint of soft mauve. On the lips, it is a cool brown with a noticeable grape undertone. As I mentioned, all these colors are very likely to show up differently on different people, and I think this may be particularly the case with Bel-Ami.
Glossy semi-sheer lipsticks are often seen in Japanese cosmetics, and I was curious to see how Rouge Coco Shine would compare with them. After trying these four shades, I think they fare well in comparison. Even though they don't have the glossy watery-shine that I love about some of the Japanese lipsticks that I have tried (such as Coffret d'Or's Full Styling Rouge (Glow), which I will feature later), I like their flattering and subtle gloss, which does not look overly shimmery or pearly.
I also feel that they will be particularly popular in East Asia, where many people go for a natural look for the lips. I wouldn't be surprised to see the range featured in the "readers' favorites of the year" list in Biteki next year.
If you are interested in Rouge Coco Shine, I think Boy and Fétiche are good shades to start with. They should be wearable for most people, and there are lighter, darker, and more vibrant shades in the range if you want something different.
Karla Sugar has great swatches of the shades.
(The products featured in this article are provided by Chanel.)
Related posts:
Coffret d'Or Full Styling Rouge (Color) in RS-241 & RS-242
Lavshuca Jewelry Lips in PK-1 & RS-1
Estée Lauder Pure Color Long Lasting Lipsticks for Spring 2011