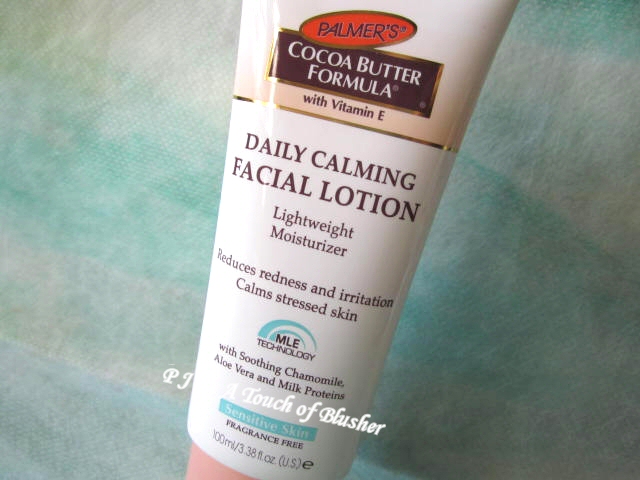 I have featured a few Palmer's bodycare products (such as Cocoa Butter Formula Body Lotion SPF 15 and some of the Body Butters) since early last year, and I am pleased with all of them. Some of the things that have impressed me about them are the absence of irritating fragrant floral oils, their smooth and luxurious texture, and their ability to moisturize the skin effectively.
A few months ago, Palmer's launched its first facial care range in the UK, and I was eager to see if the products still carry these attributes. Today I am focusing on two facial moisturizers, Daily Calming Facial Lotion and Night Renewal Cream.
The name, Daily Calming Facial Lotion, seems to suggest that it might have a light gel-cream or watery lotion consistency, but it turns out to have more of a velvety cream consistency, which is a lot thicker than what I had expected.
Some of its main moisturizing ingredients are ethylhexyl palmitate, C12-15 alkyl benzoate, cetearyl alcohol, hydrogenated palm glycerides, cocoa seed butter, shea butter, propylene glycol, and glycerin. (Hydrogenated palm glycerides, cocoa seed butter, and shea butter also have antioxidant properties.)
The product also includes the following skin-benefiting ingredients:
Antioxidants: cocoa extract, tocopheryl acetate (vitamin E), and chamomile extract
Anti-irritants: aloe vera, epilobium angustifolium (fireweed) extract, and evening primrose extract
Cell-communicating agents: palmitoyl oligopeptide and palmitoyl tetrapeptide-7
The product doesn't contain alcohol, fragrance (parfum) or other scenting agents. (It still has a light aquatic scent.)
It should suit those with dry skin as a night-time moisturizer.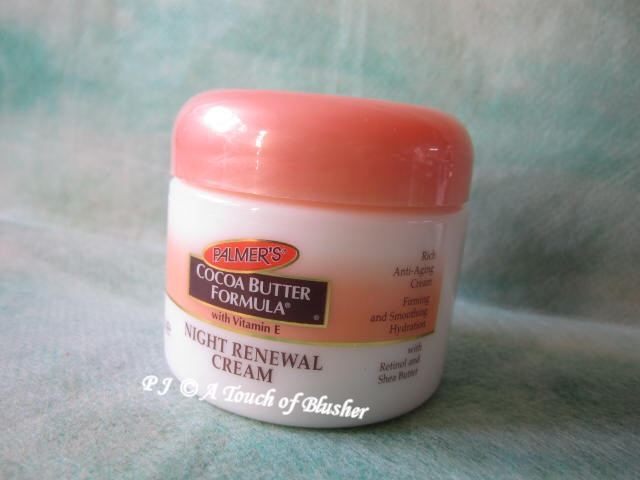 While both Daily Calming Facial Lotion and Night Renewal Cream feel luxurious on the skin, Night Renewal Cream has a thicker consistency and feels slightly more emollient. It should suit those with dry or very dry skin.
Some of its main moisturizing ingredients are cetearyl alcohol, glyceryl stearate, PEG-100 stearate, cocoa seed butter, glycereth-26, shea butter, glycerin, coconut oil, and caprylic/capric triglyceride. (As mentioned above, cocoa seed butter and shea butter also have antioxidant properties.)
The product also includes the following ingredients:
Antioxidants: cocoa extract and tocopheryl acetate (vitamin E)
Anti-irritants: aloe vera and evening primrose extract
Cell-communicating agents: palmitoyl oligopeptide, palmitoyl tetrapeptide-7, and retinol (vitamin A)
The product doesn't contain alcohol. It contains fragrance (parfum) and very small amounts of other scenting agents. (The outer box of the product says it has a "fresh white lily fragrance", but, for me, the scent is much more nutty than floral.)
Overall, both products are very well-formulated and they have lived up to my expectation. (Again, these products don't contain volatile fragrant plant oils (that are often wrongly claimed to have skincare benefits) that can be potentially very irritating.) They should appeal to those with drier skin types. (Those with oilier skin types are likely to find them to be too emollient.)
Palmer's facial care range also includes Daily Cleansing Gel, Gentle Exfoliating Facial Scrub, and Line Smoothing Eye Cream. (In the US, the range also features Gentle Daily Cleanser, Rejuvenating Facial Serum, Purifying Mask, and Daily Facial Lotion SPF 15.)
(Some of the ingredient information is from Paula Begoun's Cosmetic Ingredient Dictionary.)
(The products featured in this article are provided by Palmer's.)
Related posts:
Palmer's Cocoa Butter Formula Body Lotion
Palmer's Olive Butter Formula Body Lotion & Concentrated Cream