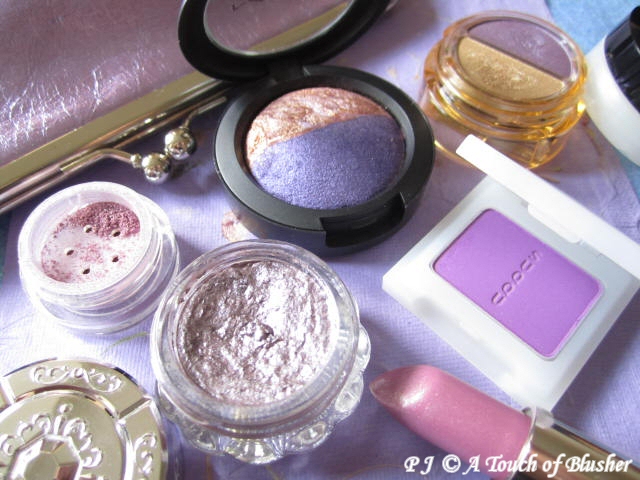 It has been a very long time since I brought you the last A Splash of Color post (Sensuous Plum). Today I am finally back with more, and of course it has to be lilac.
My More Lilting Lilac was back in May 2008. In the last year or so, I have been in my warm-neutral phase and one of my only new purple purchases is the new 3D Glossy Eyes in 04 Pink Violet from Coffret d'Or (which I will review later). But I have got quite a few purple items in the last three years. Here are some of the new additions of lilac, mauve, and violet:
Clockwise from left:
– MAC Pigment in Lovely Lily (decant from a generous friend)
– MAC Mineralize Eye Shadow Duo in Odd Couple
– Maquillage Forming Shiny Eyes in 52
– SUQQU Powder Eyeshadow in 26 Shoubuiro
– Givenchy Rouge Interdit Satin Lipstick in 35 Mauve Fetish (from a lilac-loving friend)
– Jill Stuart Jelly Eye Color N in 08 Crystal Sky
"Surely there are more…," you might think, especially if you are a regular reader. You are right. A Splash of Color: Lilting Lilac Palette Edition is coming up later this year. It will feature a couple of palettes previously unseen on my blog. Do stay tuned!
More splashes of colors: