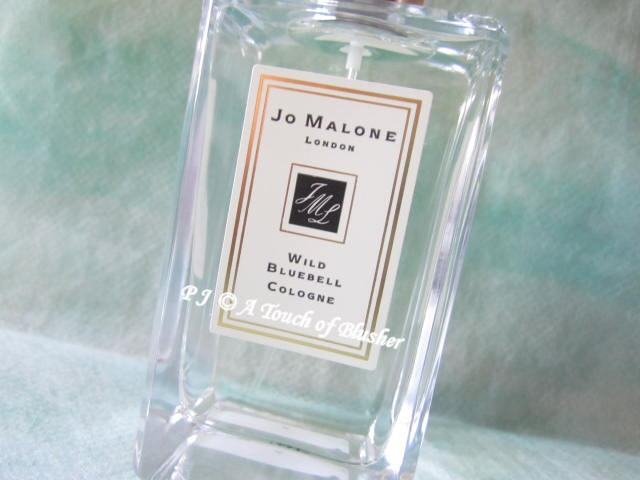 From the crisp and zesty Lime Basil & Mandarin to the soft and romantic Red Roses, Jo Malone shows that clean and uncomplicated fragrances don't have to be one-dimensional. Launched a few weeks ago, Wild Bluebell is another great example of seamless scent craftsmanship.
Top notes: bluebell, clove
Middle notes: lily of the valley, eglantine, jasmine
Base notes: amber, musk
I would describe Wild Bluebell as a light floral. The scent opens with a fresh and almost aquatic feel. The cool-toned flavor of the opening carries a touch of crispness, and its hint of jasmine forecasts what is about to come.
The scent then deepens gently and beautifully as the jasmine note starts to shine. Despite the name of the scent, I feel that the predominant note of the entire composition is jasmine. It adds delicate warmth and depth to the scent without making it heavy. The other floral notes (bluebell, lily of the valley and eglantine) surround jasmine and support it unassumingly.
This phase of the scent development reminds me a little bit of Marc Jacob's Blush, which is one of my favorite fall/winter scents. However, while both scents put jasmine center stage and showcase its beauty successfully, Blush is warmer, milkier and woodier.
The drydown is light and not particularly musky. In a way, the scent development seems to come full circle as the drydown has the clear and clean quality that the opening has.
As a cologne, it is decently long-lasting. If you would like the scent to last all day, you may need to reapply it a couple of times throughout the day.
Wild Bluebell is another well-crafted scent from Jo Malone. I like the fact that it is a light floral that is not sweet or powdery, and I think it exudes an air of romantic innocence. Suitable for spring, summer, and early fall, it is likely to have a fairly wide appeal across people of various ages.
Wild Bluebell Cologne is available in 30ml and 100ml. The range also includes Body & Hand Wash, Body Crème, and Home Candle.
(There is still time to support Jo Malone's Breast Cancer Awareness Month campaign. Throughout October 2011, for every sale of Red Roses Body & Hand Wash in the UK, Jo Malone will donate £5 to The Breast Cancer Research Foundation's UK research grants.)
(The product featured in this article is provided by Jo Malone.)
Related posts: