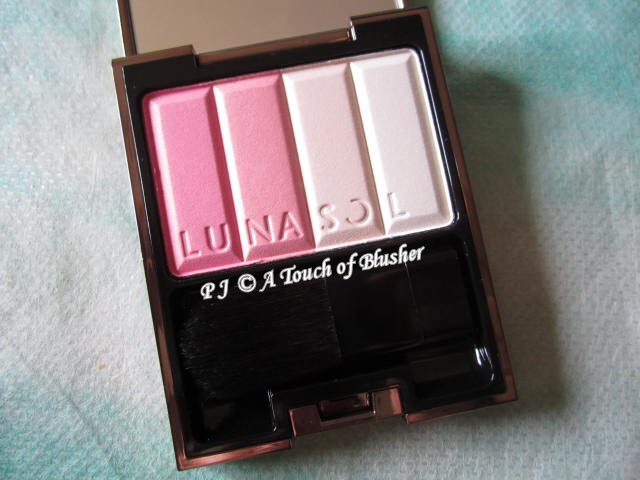 Most of the time, the products from Lunasol's seasonal collections that attract most of my attention are the eyeshadow palettes. However, for fall 2011, I found the Three-Dimensional Eyes palettes a little too muted for my liking and I was much more drawn to the two limited-edition variations of Modeling Cheeks (EX01 Soft Pink and EX02 Soft Coral). Since I tend to prefer cool-toned blushers and I already have Lunasol's Contrasting Cheeks in 03 Light Orange, which is a very warm-toned shade, I decided to pick up EX01 Soft Pink.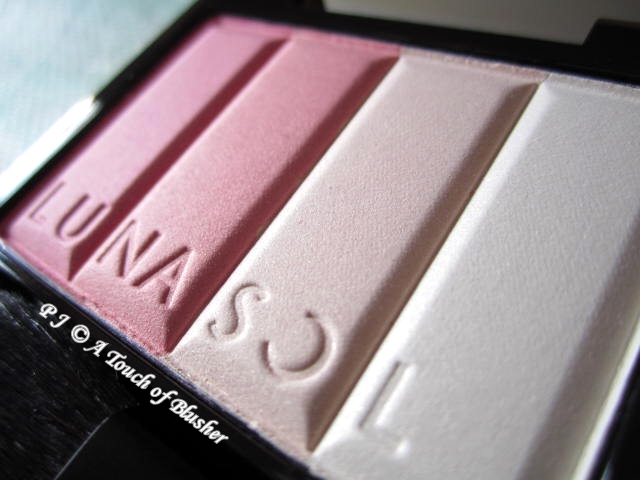 Like EX02 Soft Coral, EX01 Soft Pink is a gradational blusher with four shades, each of which has a different finish. The four shades in this variation are (from left to right):
– cool pink with subtle iridescence
– light medium-to-warm pink with glowy iridescence
– light yellow gold with pearlescence and soft semi-sparse shimmer
– cream white with pearlescence and shimmer
Finish-wise, it gets more glowy and shimmery from left (the cool pink) to right (the cream white). The shimmering particles are fine and multi-hued. The powder is soft and smooth, and the lasting power is decently good (particularly the shimmer).
When I combine the four shades, the overall look is a sheer light pink with a warm-toned glow. The glow is made up of soft veils of iridescence, pearlescence, and fine shimmer. Even though I generally prefer matte blushers, the glowy finish from this product (which doesn't look frosty or flat) actually appeals to me to some extent. I think it is because everything (iridescence, pearlescence, and shimmer) is in moderation. But note that pores may be exaggerated if you over-layer the two pearlier shades.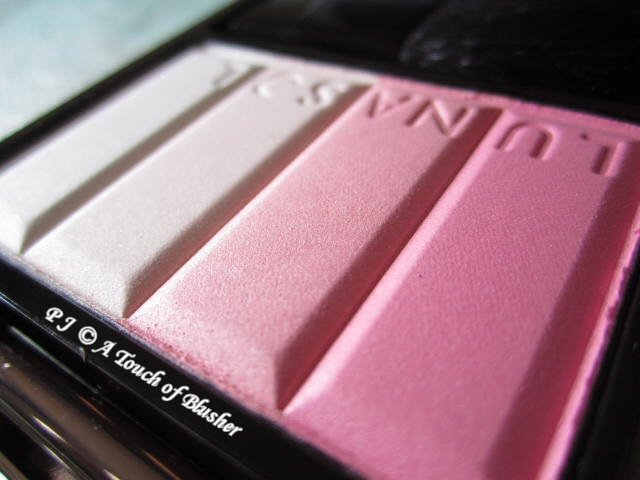 My favorite way to wear the product is to go for the two pinks only, since I love the fresh and feminine light-to-moderately-pigmented cool-toned pink that the two shades create (and I can avoid the shimmer). The color suits my light-to-medium complexion, as it is not too pale or too rosy. It is essentially a default PK blusher shade in Japanese cosmetics that almost always suits me. (Another nice default pink that I like very much is Lavshuca's Cheek Color in PK-1).
Another gradational blusher that I have is Jill Stuart's Mix Blush Compact in 01 Baby Blush. 01 Baby Blush has a glowy finish while EX01 Soft Pink is also glowy but with more shimmer.
Overall I really like this product. I love how the two pinks flatter my complexion and I can more than live with the pearlescence and the shimmer when I use all four shades together. Plus the gradation in the pan is very pretty to look at.
It can also be quite a versatile product, as the light yellow gold and the cream white can be used as highlighters. (For me personally, I think the combined shade from the two is a little too yellowy as a highlighter, but I still think it will be appealing to some people.)
(Do bear in mind that, with Lunasol, the blusher refill, the brush, and the case are sold separately. I tend to like a complete set so I got all three. The brush has a fairly good quality as it is dense and soft.)
(For holiday 2011, Lunasol has another limited-edition blusher (Modeling Cheeks in EX03 Coral Pink Red), which is released in Japan today. At the moment, I don't think I will get it, but I can't say I am not tempted. I am waiting to see more photos of it…)
Related posts:
Stash Focus: Lunasol Ocean Scene Eyes in EX01 Shelly Ocean