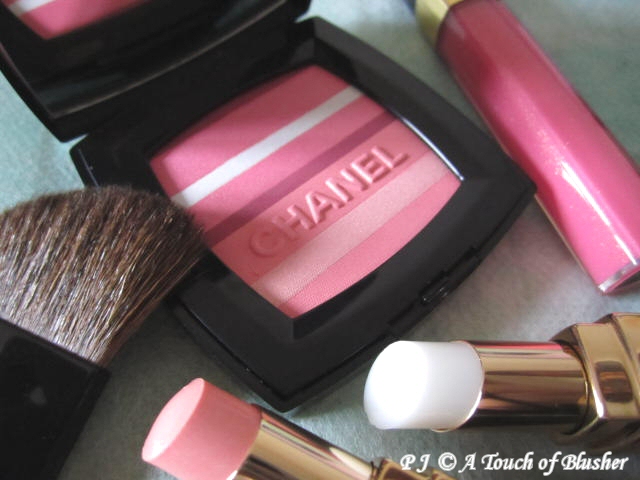 Soft and feminine, Chanel's spring 2012 makeup collection showcases pinks and peaches and is truly spring-like. Today I am highlighting four items from the collection: Blush Horizon de Chanel, Rouge Coco Shine in 68 Candeur, Lèvres Scintillantes in 181 Bagatelle, and Rouge Coco Baume.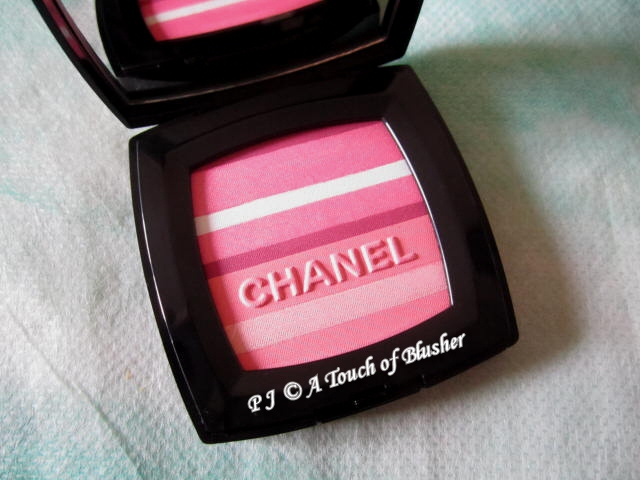 Blush Horizon de Chanel Soft Glow Blush is one of the two limited-edition items in this collection (along with Poudre Universelle Compacte). The product includes several medium-to-warm hues, including blush pink, peachy pink, cinnamon pink, and plum. All the shades contain fine shimmer.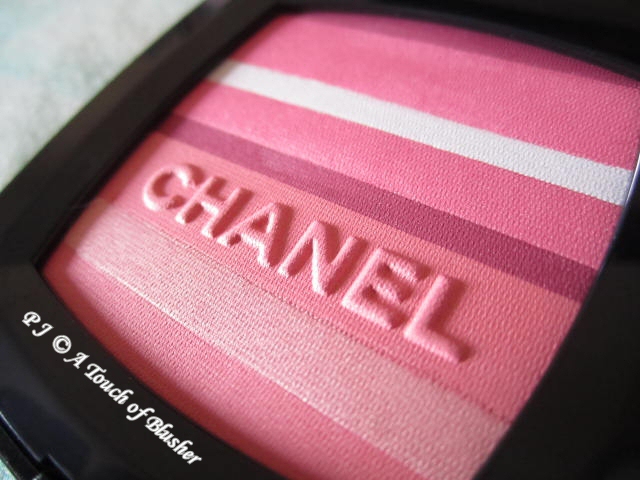 Used together, the shades create a semi-sheer veil of warm-toned red-pink with a softly glowy finish. I like the fact that it is not a very pigmented blusher and that I can slowly layer it to the level of color intensity I want. I personally prefer matte blushers but this product is not overly glowy or shimmery for me.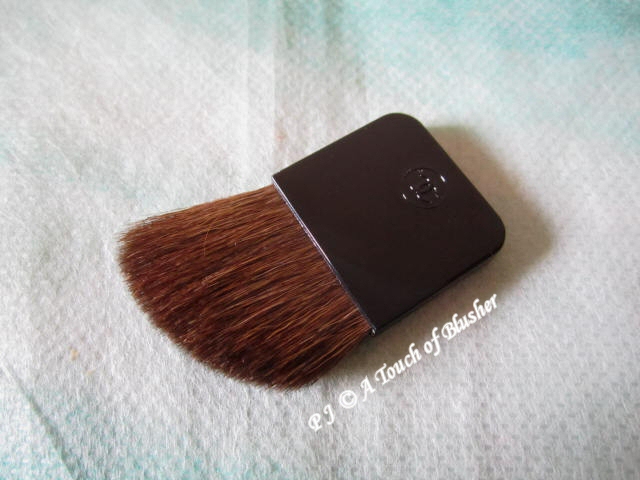 The product comes with a flat angled brush which is soft and easy to use. The blusher compact and the brush have their own velvet pouches.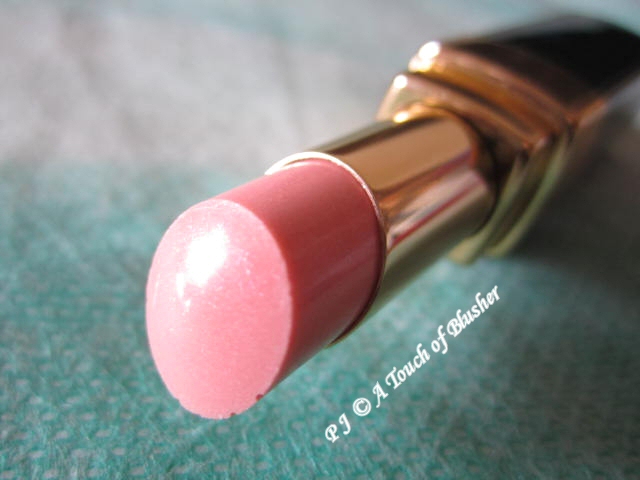 Launched last spring, Rouge Coco Shine Hydrating Sheer Lipshine has been a big success. (As I predicted in my review of Rouge Coco Shine last year, it has been popular in Japan. It is currently ranked second on Cosme.Net's lipstick category (as voted by website visitors) and the shade in 58 Royallieu is second on the list of Biteki readers' favorite lipsticks in 2011 (Biteki, February 2012, p.59).) For spring 2012, 68 Candeur and 69 Flirt are added to the lineup.
68 Candeur (above) is a sheer light peach. As with the four Rouge Coco Shine shades I reviewed, it glides very easily and imparts a soft veil of color on the lips that can be layered slightly. It creates a glossy sheen with a hint of shimmer. This is quite a pale color and should appeal to those who like the nude-lip look. Note that it can appear white-ish on those with naturally rosier lips.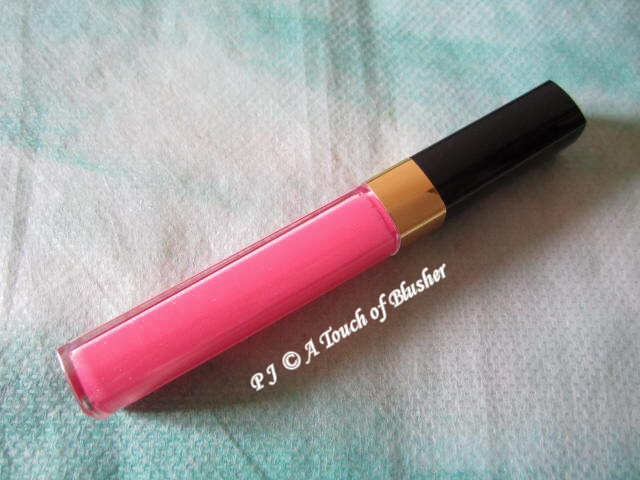 Lèvres Scintillantes in 181 Bagatelle is a semi-sheer light pink with a subtle milky undertone and predominantly gold-toned shimmer. It creates a glossy shine, which is what we expect from Lèvres Scintillantes. The shimmer is soft and not overly intense. Perhaps some might think that its consistency is too thick, but I personally like densely syrupy lip glosses.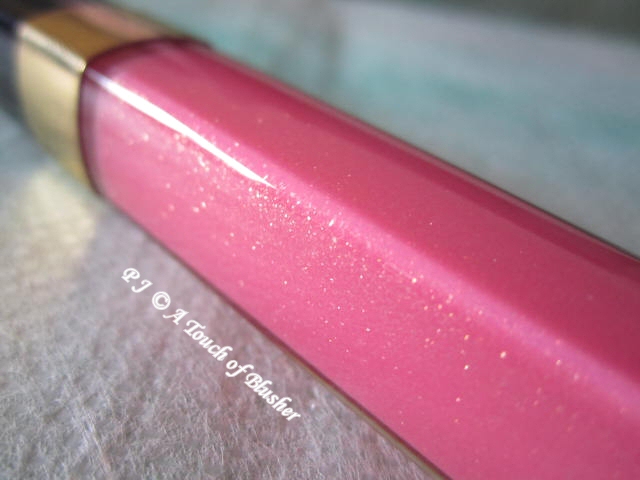 It is a girlie and very spring-like color. I think the milky tone makes the shade slightly on the pale side for me, but I do think it will be one of the most popular items in this collection.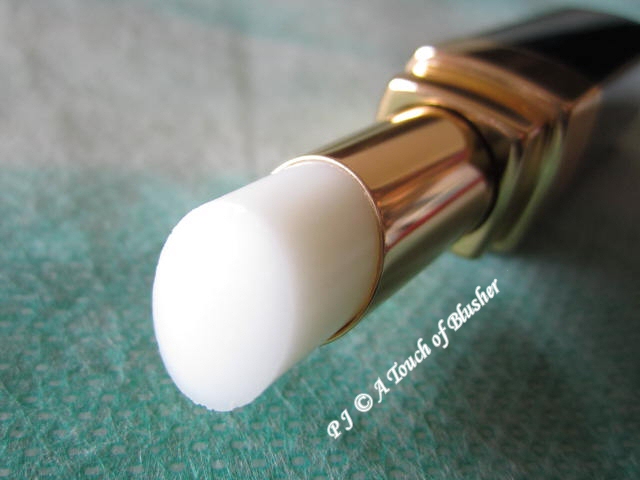 Rouge Coco Baume Hydrating Conditioning Lip Balm is not a makeup product but it is part of Chanel's spring 2012 makeup lineup. It is packaged in the same case as that of Rouge Coco Shine. Some of its main moisturizing ingredients are bis-behenyl/isostearyl/phytosteryl dimer dilinoleyl dimer dilinoleate, phytosteryl/octyldodecyl lauroyl glutamate, pentaerythrityl tetraethylhexanoate, diisostearyl malate, caprylic/capric triglyceride, and squalane. It contains fragrance (parfum) but it is extremely faint. It is paraben-free.
It reminds me of Chanel's Soin Tendre Lèvres SPF 15 in all the good ways. It feels hydrating and conditioning, and it doesn't feel heavy or greasy. I also like the fact that it leaves a natural moist sheen on the lips and doesn't create a shiny or glossy finish. (Even though I like very glossy lip glosses, I don't like pronounced shine or gloss in lip balms.) Overall this is a successful non-SPF version of Soin Tendre Lèvres SPF 15.
(The products featured in this article are provided by Chanel.)
Related posts:
From My Treasure Chest (3): Chanel Lèvres Scintillantes Glossimer in 387 Wish
Review: Chanel Fall 2011 Makeup Collection (Illusion d'Ombre in 83 Illusoire & 84 Épatant and Joues Contraste in 68 Rose Écrin)
Review: Chanel Holiday 2011 Makeup Collection (Rouge Allure in 197 Enivrée, Rouge Allure Laque in 707 Empire & Rouge Allure Extrait de Gloss in 517 Triomphal)