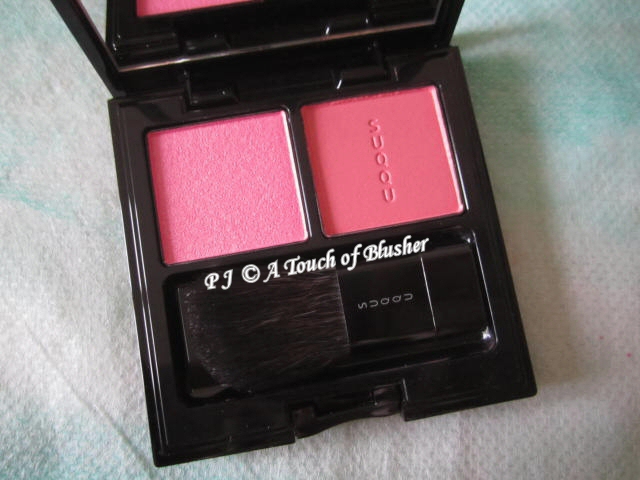 Featuring items for the eyes, cheeks, lips, and face, SUQQU's spring 2012 makeup collection is now available in the UK. Today I am highlighting two of the limited-edition items, Nuancing Cheeks in EX-03 Akanemizu and Bright Veil Face Color in EX-01. (In a later post, I will review Blend Color Eyeshadow in 10 Kozuecha and Creamy Glow Lipstick Moist in 01 Haruoto. (Updated: see the review here.))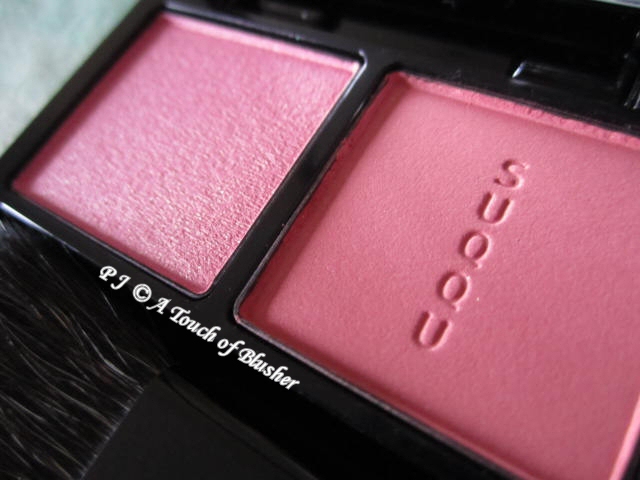 Available in three variations (all limited editions), Nuancing Cheeks features two shades in each variation with slightly different finishes. EX-03 Akanemizu includes a cooler cherry pink and a warmer reddish pink. When worn, the cherry pink has a slightly more glowy finish while the reddish pink is slightly more matte with a sparse veil of shimmery particles, which are larger than those in the cherry pink. Neither shade looks too shimmery or sparkly on the cheeks.
Both shades are more than moderately pigmented, and they are noticeably more pigmented than most of the blushers from Japanese beauty brands that I have come across. I have to be a little more careful with these two shades because I am used to and prefer slightly sheerer blushers. (But they are still smooth and blendable.) If you like the general quality of blushers from Japanese brands but think they can be too sheer for you, then Nuancing Cheeks is certainly worth a look.
According to SUQQU's website, the two shades are layered to create the perfect color and finish. The shade on the left is worn first on the cheek bones and the shade on the right is applied on top of it and on the general cheek areas. But of course you can wear the two shades separately and in any other way you want. I personally prefer the cherry pink on the left as I tend to go for cooler pinks for the cheeks.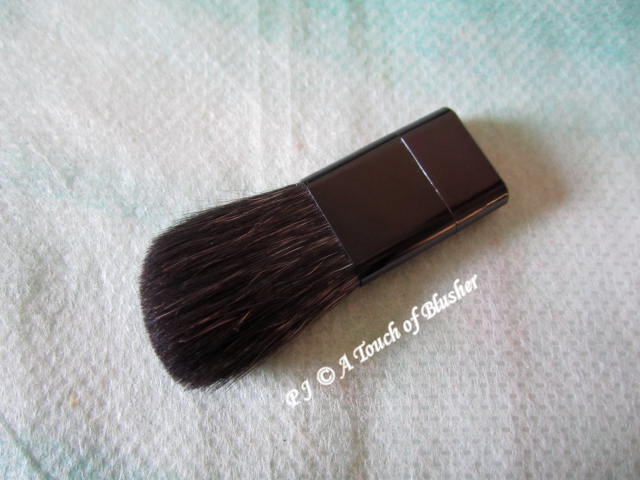 The product comes with a slightly angled brush. It feels beautifully soft on the skin but I actually wish the hair were slightly shorter and had slightly more resistance for even easier blending.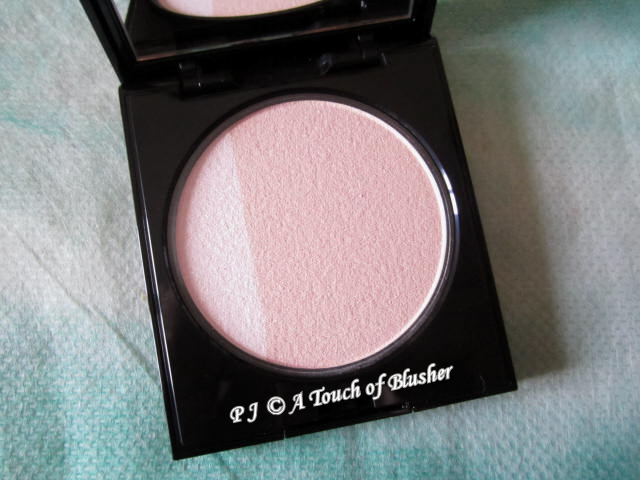 SUQQU has released several limited-edition pressed finishing powders within the seasonal color makeup collections (Polish Face Color from fall 2009, Noble Nuance Face Color from spring 2010, and Face Color Palette from fall 2011), and, as far as I can remember, all of them sold out in the UK very quickly. For spring 2012, we have Bright Veil Face Color in EX-01.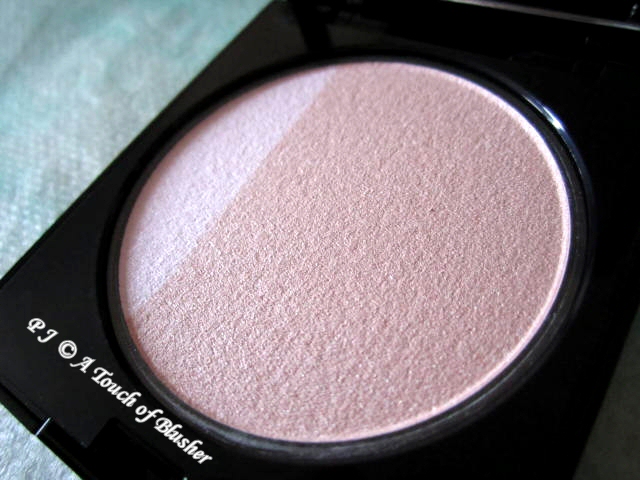 The product features two shades. In the pan, the right shade (Veil Color) is more flesh-toned and the left shade (Bright Color) is an off-white pink. When worn, they differ more in finish than in color. The right shade goes on as very fine shimmer and gives the skin a luminous sheen. The left shade goes on more pearly and glowy and has more off-white pigment, and, according to SUQQU's website, it is used to highlight the T-zone and the under-eye areas. Those who have concerns over oily skin and/or large pores should be very strategic with both shades.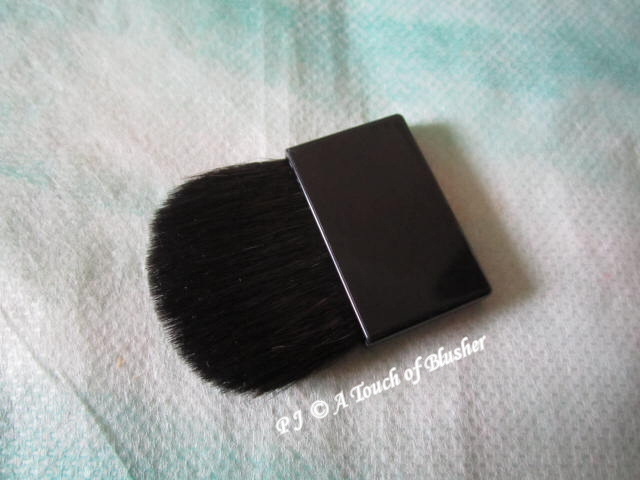 The product comes with a flat brush. It is soft and easy to use, and it works well with Veil Color all over the face and Bright Color on areas you want to highlight.
(These two items together remind me of the limited-edition Face Color Palette (link above), which includes two shades of blushers and three shades of finishing powders. It is almost as if this quickly sold-out item from just a few months ago (from SUQQU's fall 2011 collection) were reincarnated as two products, both of which are again limited editions.)
Stay tuned for Part 2 of my SUQQU spring 2012 makeup review!
(The products featured in this article are provided by SUQQU.)
Related posts:
Japanese Beauty Brand Profile: SUQQU
SUQQU 2011 Christmas Makeup Kit B