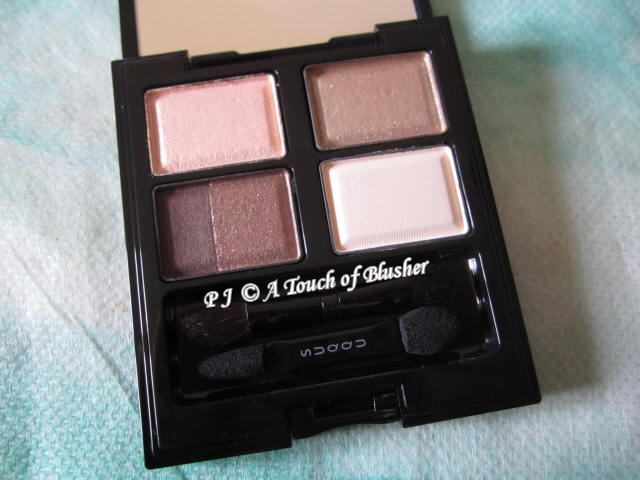 A few weeks ago, I reviewed two of the limited-edition items from SUQQU's spring 2012 makeup collection (Nuancing Cheeks in EX-03 Akanemizu and Bright Veil Face Color in EX-01). Today, I am featuring two regular items from the collection, Blend Color Eyeshadow in 10 Kozuecha and Creamy Glow Lipstick Moist in 01 Haruoto.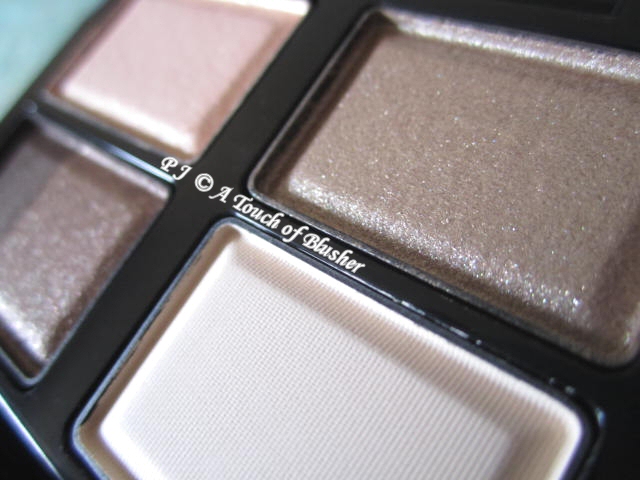 In recent seasons, a few of the eyeshadow palettes from Kanebo-owned brands seem to be featuring more shades than usual in order to offer more versatility (without increasing prices) and to remain competitive. For fall 2011, Lunasol's Three-Dimensional Eyes palettes technically have eight shades. For spring 2012, Coffret d'Or's Wide Gradation Eyes palettes have five shades (though the line's 3D Lighting Eyes palettes (for spring 2008) technically have five shades as well), Chicca's Mystique Powder Eye Shadow palettes have three shades, and the three new variations of SUQQU's Blend Color Eyeshadow for spring 2012 feature five shades.
The five shades in Blend Color Eyeshadow in 10 Kozuecha are (anti-clockwise from bottom right):
– ivory white, softly pigmented, velvety matte with no shimmer
– light-to-medium taupe, moderately pigmented, with pearly shimmer
– light peachy gold, moderately pigmented, with high-toned pearly shimmer
– dark brown, well-pigmented, matte with a hint of shimmer
– dark brown, well-pigmented, softly shimmery

All the shimmer is subtly multi-hued, and all the shades have a good staying power.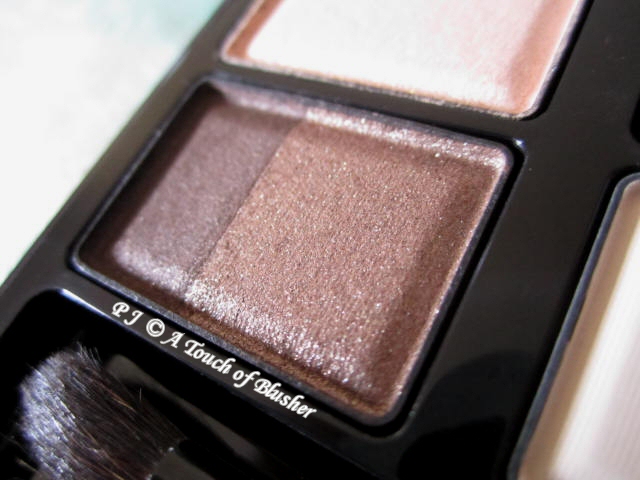 This neutral palette has elements of warmth and coolness. The warm-gold tone in the pale peachy gold on the top left is a lot more pronounced when worn. On the other hand, the main shade, the taupe on the top right, has a slight gray tone and looks cooler when worn. I also find that the two dark browns look cooler on my eyes than they do in the pan.
The two dark browns differ mainly in finish. The one on the right is more light-reflective while the one on the left is predominantly matte. (This is mainly why the right one appears considerably lighter than the left (matte) one in the pan). Another difference is that the texture of the matte one is slightly drier. (It is slightly less silky than all the other shades, which are all very smooth and creamy.)
Even though I personally like warm-toned neutral palettes, I do think this palette has a well-coordinated contrast between subtly warm-toned and cool-toned hues. For me, it is the light peachy gold that makes the palette wearable for me and prevents the overall look from being too cool or grayish on me. Overall, I think this easy-to-wear palette should work well for most people (but perhaps for quite different reasons).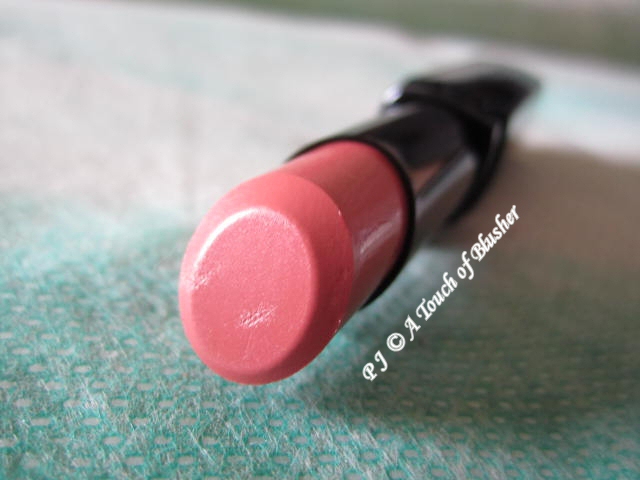 After Creamy Glow Lipstick was released as part of SUQQU's brand revamp in fall 2010, I was looking forward to another range of lipsticks that would be sheerer and glossier. The waiting was over with the arrival of Creamy Glow Lipstick Moist. After first three limited-edition shades from fall 2011, we now have two regular shades (and another limited-edition shade) for spring 2012.
01 Haruoto is one of the two regular shades. It is a soft nude beige with a slight warm-pink undertone. The pigmentation level and the finish are what I was waiting for. It is much sheerer than Creamy Glow Lipstick but it is not overly sheer. A couple of light layers give the lips a nice wash of color and it can be layered for more intensity. Its glossy finish is close to a watery shine but it is more of a lacquered shine. (Its finish is glossier than that of Chanel Rouge Coco Shine.) Both the color and the finish last well. As with all of SUQQU's other lipsticks, it glides on easily and feels comfortable and emollient on the lips.
I prefer wearing just a couple of light layers of it for a natural look. (I like how the soft nude look doesn't take away too much of the rosy tone of my lips.) The gentle layers are enough to give the lips a good deal of shine, which I really like. If I apply a few more layers, the look can be too nude for me. (Personally I am not keen on nude lips.) Generally, I think this shade will appeal to those who like nude lipsticks (that are not too pale) and that it will work for those who like bolder looks for the eyes.
(The products featured in this article are provided by SUQQU.)
Related posts:
Review: SUQQU Blend Color Eyeshadow in 01 Kakitsubata
Review: SUQQU Blend Color Eyeshadow in 08 Mizuaoi