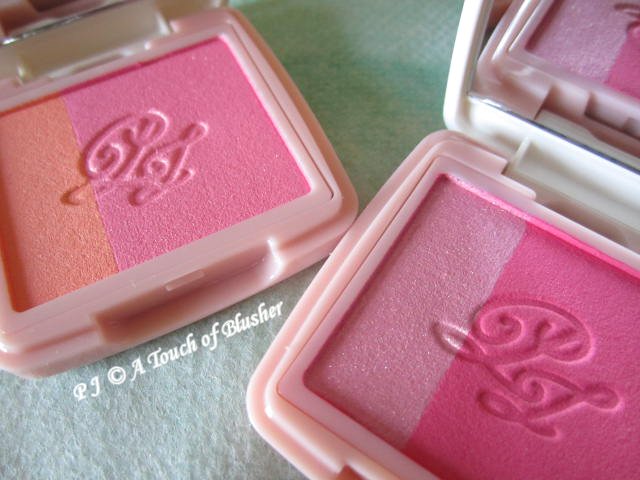 Since last year (when the brand celebrated its 10th anniversary), Paul & Joe has been revamping some of its makeup items. Last fall, the lipstick range was relaunched, and the packaging features peach bases and white caps with more pronounced chrysanthemum motifs and the new PJ logo. This spring, the blusher range (Cheek Color) was renewed and it features the same style of packaging. I really like the new case and many of the color variations, and I decided to pick up 03 Gigi and 08 Candy.
Like the previous Face Color, each Cheek Color variation includes two shades. However, with Cheek Color, the refill and the case are sold separately (£12.50 and £6.00, respectively). The refill fits into the case magnetically. Ten variations are currently available.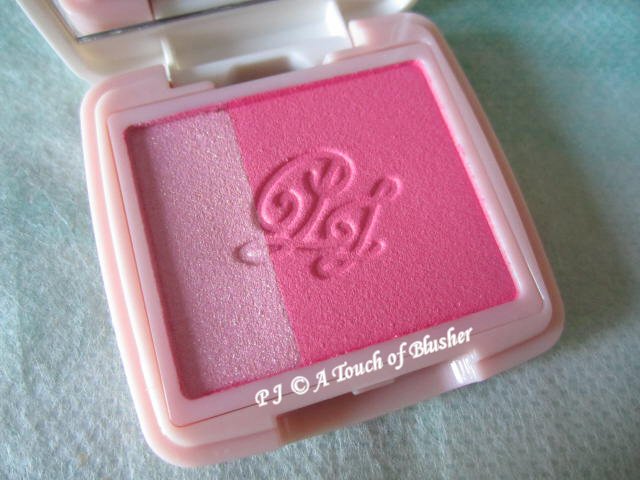 03 Gigi includes a moderately-to-intensely pigmented deep fuchsia pink with a matte finish and a lightly-to-moderately pigmented light-to-medium cool-toned pink with a shimmery finish.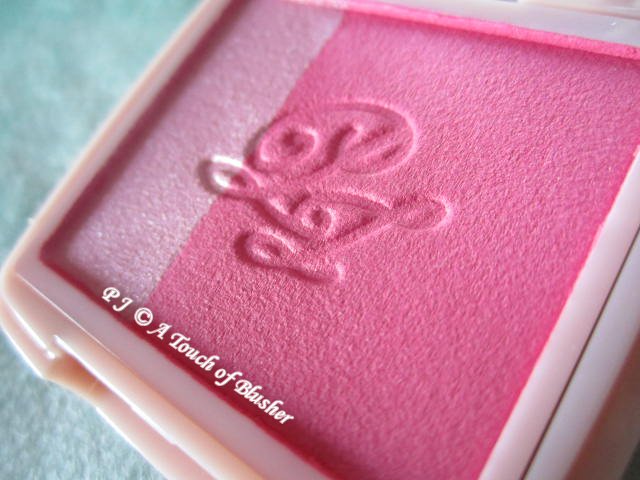 The light pink on the left may appear to be innocently light and sheer and many may assume that it is a highlighting shade, but it is a fairly pigmented cool pink. (The high level of shimmer and iridescence makes the shade look much lighter in the pan.) When it is layered on top of the fuchsia pink, it intensifies the color of the fuchsia as well as adds a shimmery glow to the complexion. I like the cool tones of these two shades, but, since they are both quite pigmented, I use them light-handedly. (I use the shimmery pink only on top of the cheekbones to add dimension and additional color.)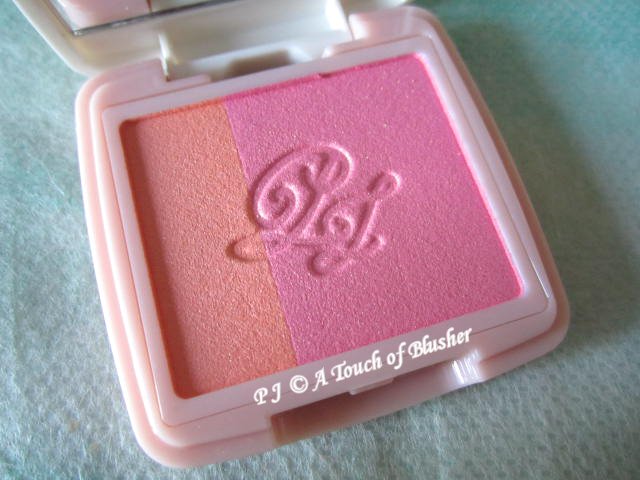 08 Candy includes a moderately-pigmented light-to-medium medium-toned pink with soft shimmer and a lightly-pigmented light peachy orange with a hint of shimmer.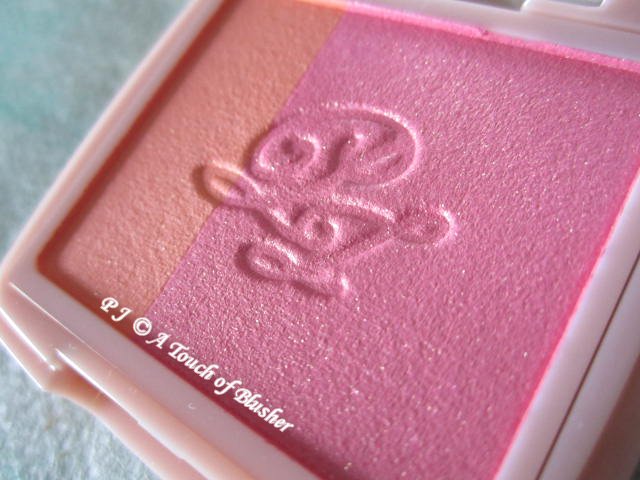 The shimmer in both shades is relatively subtle and doesn't look overly glowy. I chose this variation mainly because I liked the look of the pink on the right, as orange blushers didn't usually appeal to me. (I only have a couple of orange-toned blushers, such as Lunasol Contrasting Cheeks in 03 Light Orange.) However, after using the orange section for several times, I actually like it quite a lot now. When applied lightly, it lifts up the complexion and creates a cheerful sun-kissed look.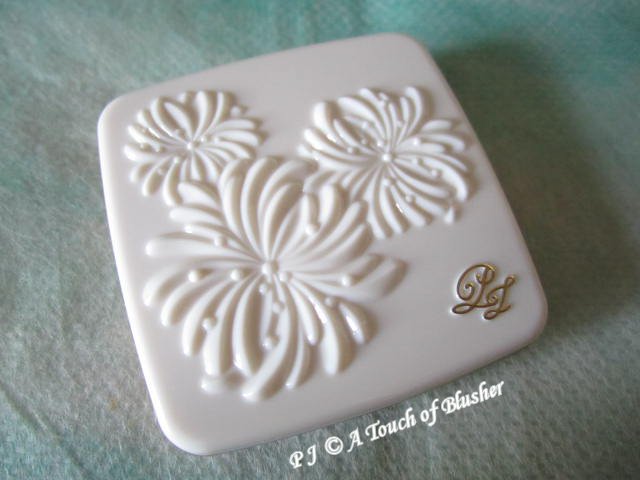 The case has a vintage and dainty look. It has a peach base and a white lid, and the chrysanthemums and the cursive PJ logo look beautifully elegant on the lid.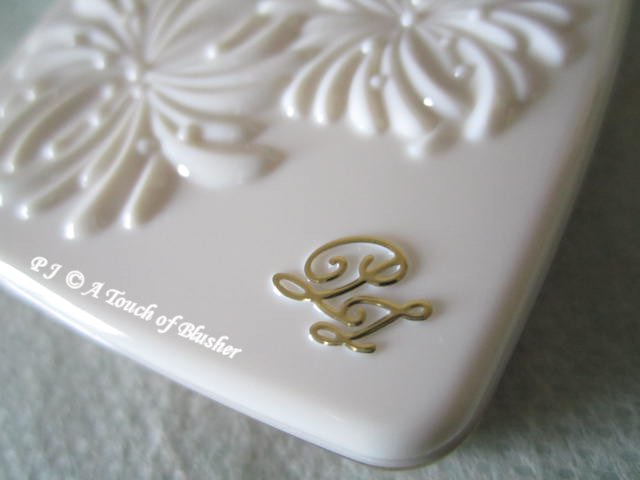 Overall, I am very happy with both blushers. 03 Gigi offers versatility in finish and 08 Candy offers versatility in color. 03 Gigi creates a more vibrant look, while the less pigmented and generally lighter 08 Candy is softer and easier to wear.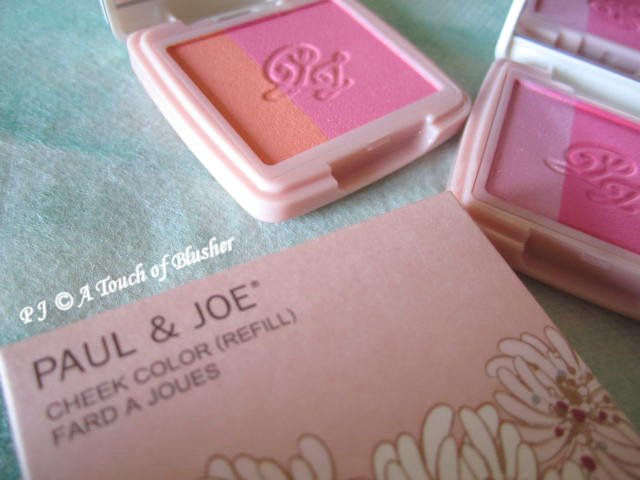 Related posts:
Paul & Joe Summer 2013 Makeup Collection
Paul & Joe Makeup Collection 2012 in 001 Frozen Lilac