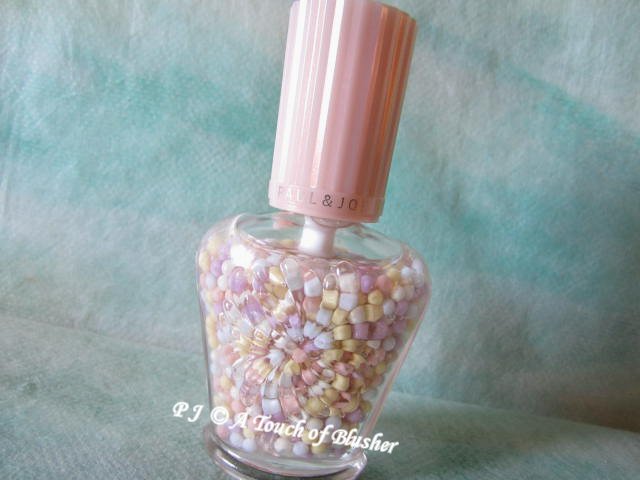 Paul & Joe's Pearl Foundation Primer was first released in spring/summer 2012 as a limited-edition item. I was planning to buy it at the time, but it seemed to sell out quite quickly and I missed out on it. A few months later, I was very pleased to see it back as part of Paul & Joe's limited-edition holiday 2012 makeup collection. I certainly didn't allow myself to miss out on it again!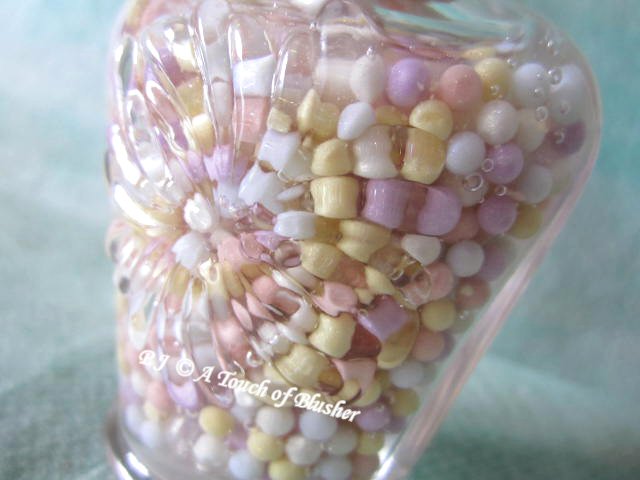 Pearl Foundation Primer (30ml, £23) is available in one variation, 001 Bonbon. It has a clear-gel base which holds small pearls of five shades (white, yellow, pink, blue, and purple). The pearls are crushed and mixed with the gel base through the pump dispenser.
Paul & Joe has always been using a formulation of fine shimmer with a predominantly champagne-gold tone with various overtones (yellow, pink, lilac, etc.) in many of its base makeup items. Paul & Joe calls this formulation "Secret d'Or", and Pearl Foundation Primer is essentially a showcase of this multi-hued formulation in a more obvious (and adorably so) way.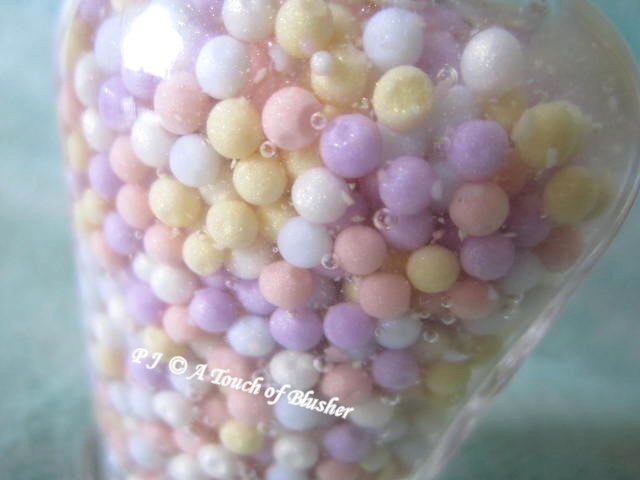 Based on the testing at the counter (on the back of my hands), the product has a good slip and imparts a veil of pale-gold-toned shimmer on the skin. I find that the finish can vary from shimmery to sparkly, depending on how much of the crushed pearl powder is dispensed in each pump (and how finely crushed it is). The finish is generally too shimmery for me, but I did purchase this mainly to add it to my Paul & Joe makeup stash.
However, one thing I do like about this product is that it is alcohol-free, which I find pleasantly surprising. This is unusual of primers from Japanese beauty brands, many of which contain a considerable amount of alcohol and should be avoided by most people.
This product is definitely one of the highlights of Paul & Joe's 10th anniversary and I think it is a lovely item to collect if you are a Paul & Joe fan. It is probably the first time for Paul & Joe to re-release an item (except perhaps a couple of GWP makeup pouches), so don't miss out (again) if you are interested!
Related posts:
Paul & Joe Spring 2013 Makeup Collection
Paul & Joe Lipstick in 104 Mademoiselle & Lipstick Case P 002 (Fall 2012)
Paul & Joe Color Powder CS in 079 Les Tourtereaux (Fall 2012)