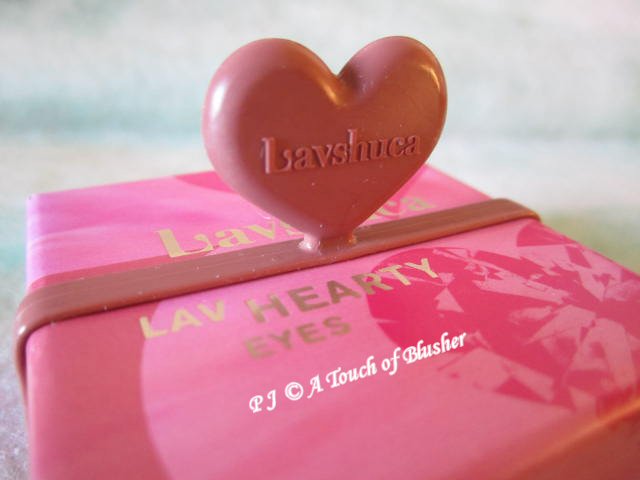 In fall 2012, Kanebo's Lavshuca started a major revamp. The new look is whimsical and there are some interesting product designs. Even though I still prefer Lavshuca's previous style of packaging (which is more elegant), I did like the look of the limited-edition Lav Hearty Eyes palettes (¥1680 each) from the fall 2012 makeup collection and I decided to go for PK-1.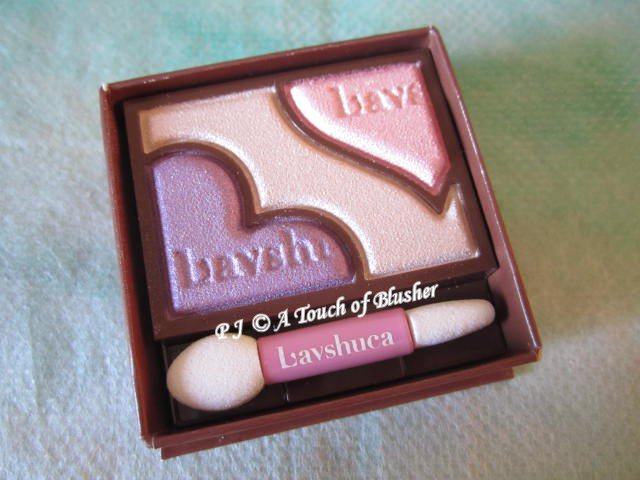 The three colors in this palette are (from the lightest to the darkest):
– pale champagne gold, lightly-to-moderately pigmented, shimmery with fine sparkles
– light warm pink, moderately pigmented, with a pearly finish
– medium-depth purple, moderately pigmented, softly pearly
All the shades have multi-colored light-reflective particles. They are very blendable and have a good staying power.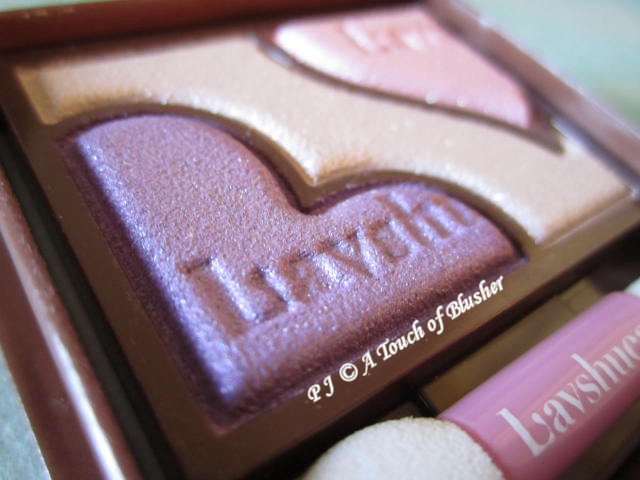 The pale gold looks natural on the skin with its subtly warm champagne tone. The shimmery finish doesn't look frosty or overly sparkly.
The light pink is fresh and easy to wear, and it doesn't create an unflattering irritated-eye look. The purple is my favorite shade in the palette. It has a medium-to-warm tone, which suits my warm-toned complexion. It also has enough depth to work effectively as a shadowing color. The two shades work well together to create a seamless gradation.
I don't usually go for palettes without an eyelining shade, and I wish this palette included a dark violet. However, the three colors in this palette have distinctively varied and well-coordinated color depths and finishes and they do create beautiful dimension for the eyes.
The elastic band that holds the lid and the palette together features a heart, which is a key motif of Lavshuca's new look. It is one of the fun and whimsical touches of the new style of packaging.
Even though this palette was released for fall and winter, it has a light and vibrant look that is perhaps more suitable for spring and summer. For me, the purple will certainly be one of the reasons for going back to this palette again and again.
Related posts:
Lavshuca Fall 2013 Makeup Collection