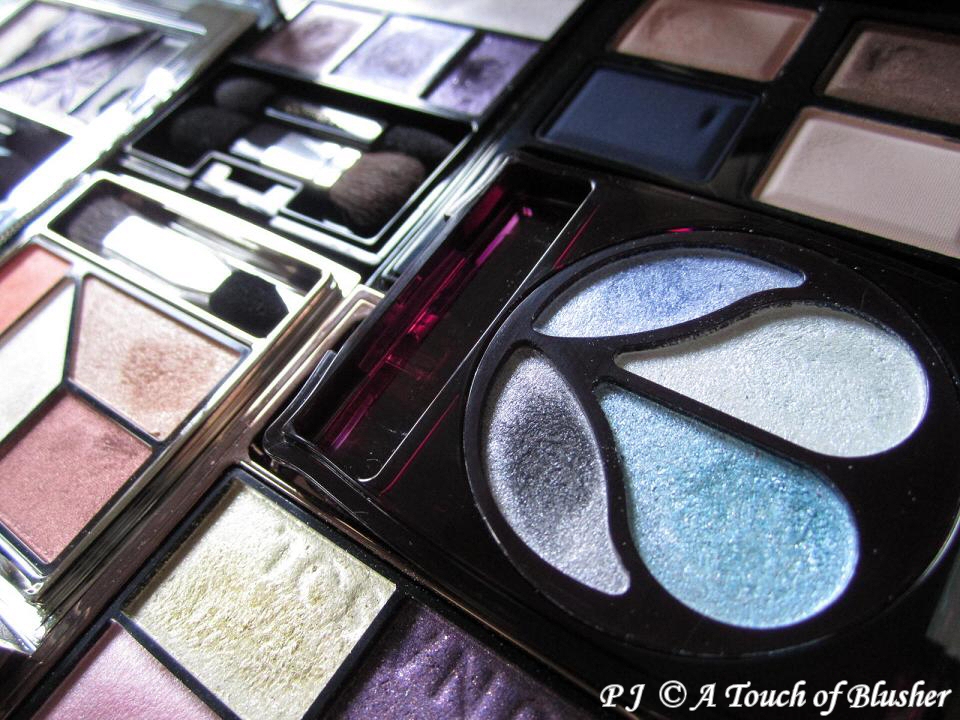 As many of you know, Kanebo (currently part of the Kao Group) is one of the largest beauty companies in Japan. It features department store brands/lines (Coffret d'Or, Blanchir, Lunasol, Impress, Chicca, etc.) as well as drugstore lines (Lavshuca, Kate, Media, etc.). In addition, it ultimately owns brands like SUQQU, RMK, and Lissage.
Over the years, I have tried eyeshadows from many Japanese brands/lines, and it seems to me that there is something common among many of the eyeshadows from Kanebo-owned brands/lines: the shimmer.
I am certainly not saying that all of Kanebo's eyeshadows have the same shimmery finish or that non-Kanebo eyeshadows (Japanese or not) look nothing like Kanebo ones, but there is a shared trait regarding the shimmery finish and that is the way the shimmer creates dimension.
Many Kanebo eyeshadows use subtly different shades, sizes, and finishes of shimmery particles. (For example, according to Biteki (Match 2009), Lunasol's Geminate Eyes in 02 Alexandrite incorporates 26 different types of shimmery particles.) When worn, these particles look as if they were floating on different layers within the pigment, almost creating a feel of cosmic depth.
Kanebo's eyeshadows can look pearly, shimmery, sparkly, metallic, or iridescent, but it is this depth that prevents all the various finishes from looking flat or frosty. It is also this depth that helps create dimension for the eyes, sometimes even with just one shade in a palette.
On a practical level, the shimmery particles of Kanebo's eyeshadows generally have a good lasting power, and I have noticed that, in the last few years, there has been further improvement. Now, even the very sparky shades such as the silver in SUQQU's Blend Color Eyeshadow in EX-01 Yukiyo (from holiday 2010) and the pale pink in Coffret d'Or's Eyes Appeal Shadow in 01 Sweet Brown (from spring 2011), which are among the most sparkly shades from the respective brand/line, have a very good adherence to the skin and very minimal (almost no) fallout.
There is no doubt that I will continue to enjoy eyeshadows from Kanebo. Apart from the various brands/lines that I already love, I also want to try those from Chicca, Lissage, and Twany Glamacy. I will continue to keep you posted on my thoughts!
Eyeshadow palettes featured in the image above (clockwise from upper left):
T'Estimo Frame Impact Eyes in 03 Purple
Coffret d'Or 3D Lighting Eyes in 04 Purple Variation
SUQQU Blend Color Eyeshadow in 01 Kakitsubata
Lavshuca Eye Color Select in BU-1
Lunasol Sheer Contrast Eyes in 02 Lavender Coral
RMK Spring Modern Eyes in 03 Orangy Brown
(The eyeshadow palettes from SUQQU and RMK featured in this article are provided by their respective companies.)
Related posts:
Lunasol Aurorize Eyes in 02 Light Variation
Lavshuca Star Decoration Eyes in BR-1
Coffret d'Or Jewelcious Eyes in 05 Purple Amethyst
Loving Japanese Cosmetics (6 of 7): Lavshuca
Loving Japanese Cosmetics (7 of 7): Lunasol