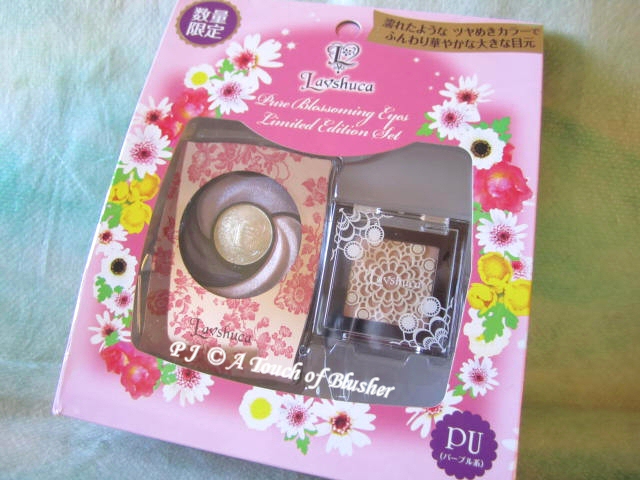 Lavshuca released two Pure Blossoming Eyes Limited Edition Sets for summer 2012. Both sets (01 Pink and 02 Purple) looked very appealing to me, but I decided to go for 02 Purple mainly because the eyeshadow palette in the set reminded me of Lavshuca's Eye Color Select in PU-1 from spring 2007 (with pale lilac, medium purple, dark blue, and pale yellow gold), a palette I regret not buying. (I have PK-1, BU-1, and PU-2.)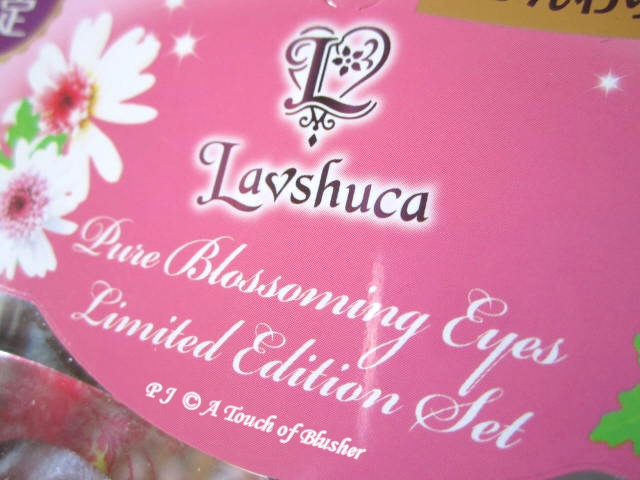 The set contains two items: Pure Blossoming Eyes in PU and Clear Stay Eye Base in BE. (They are not sold separately.) The packaging of the eyeshadow palette is slightly similar to that of Star Decoration Eyes, and the case features delicate floral patterns.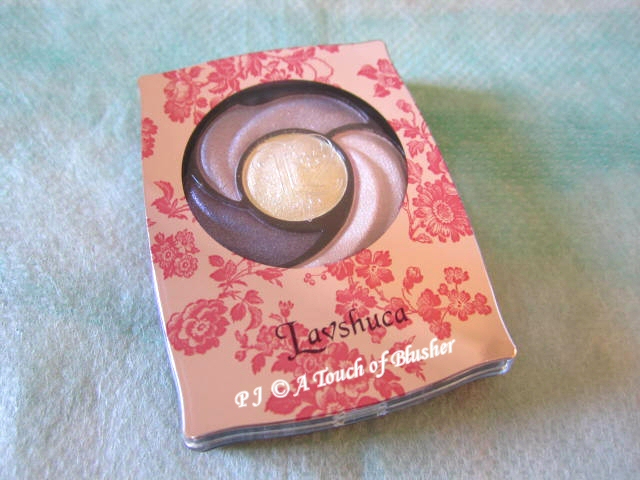 The four shades in Pure Blossoming Eyes in PU are:
– pale cool pink, softly-to-moderately pigmented, pearly with soft shimmer
– light lilac, softly-to-moderately pigmented, pearly with soft shimmer
– deep violet, pigmented, subtly pearly with semi-sparse sparkles
– pale yellow gold, softly pigmented, sparkly with predominantly yellow-gold-toned sparkles
All the four shades have multi-colored light-reflective particles. The texture of the pink, lilac, and violet is exceptionally smooth and creamy. The texture of the pale yellow gold is slightly less creamy (possibly due to the sparkles) but it is still very smooth and silky. The staying power of the colors is good.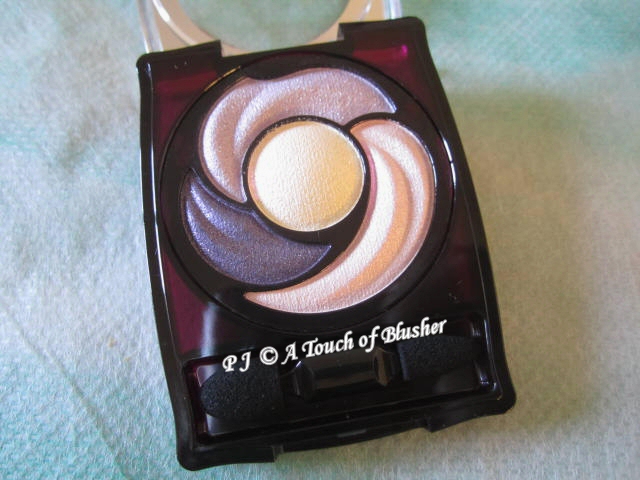 When I saw this palette on Lavshuca's website, I thought the darkest shade was a dark blue (which is why it reminded me of Eye Color Select in PU-1). However, upon seeing the palette in person, I realized that it is a deep violet.
I like the fact that the pink is pale and cool-toned and doesn't make my eyes look irritated. (Warm-toned peachy pinks can have that effect on me.) I also like the rich violet, which doesn't contain any plum tone that can look too warm on me.
The lilac looks very fresh and pretty and it suits my warm-toned complexion, but I wish it were a little darker so that the palette as a whole could be slightly more versatile.
The pale yellow gold adds a veil of sparkles on the eyes and it is applied with fingertips or a large fluffy eyeshadow brush. It can look very sparkly, so use it very strategically or avoid it altogether if you want to stay with a pearly and softly shimmery finish.
In terms of the color composition, this palette is quite similar to Lunasol's Sheer Contrast Eyes in 02 Lavender Coral. I prefer Lavender Coral (which is one of my favorite eyeshadow palettes) mainly because the lilac is darker and works effectively as a shadowing shade. (The lilac in the Lavshuca palette only creates very subtle shadowing.) Also, the beautiful wet water-like glimmer of the pink in Lavender Coral is rarely seen in other eyeshadows.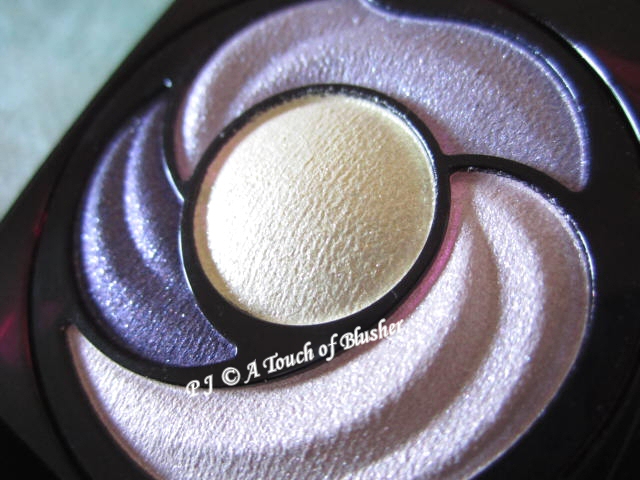 The set also comes with Clear Stay Eye Base in BE, which is a primer for the eye areas. It goes on as an off-white cream gold with fine sparkles. It is not as sparkly as the pale yellow gold in the eyeshadow palette, but it is still fairly sparkly.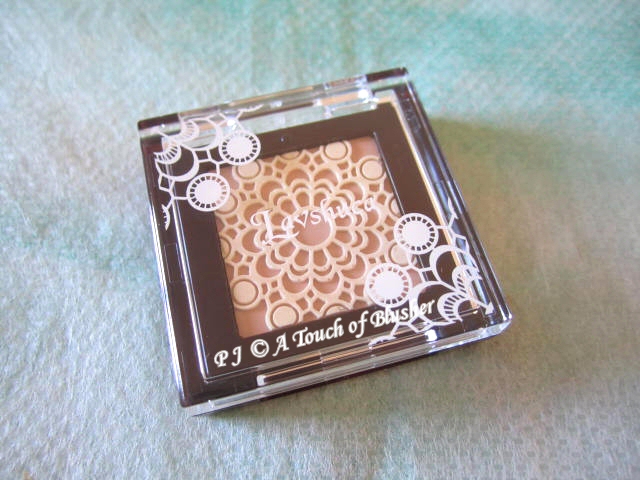 Generally, an eyeshadow base/primer brightens up the eye areas, helps eyeshadows go on smoothly, intensifies the colors of eyeshadows, and helps eyeshadows last longer. Clear Stay Eye Base in BE certainly brightens up the eye areas, but I think, as a base, the finish is a little too sparkly. It very marginally intensifies the colors of the eyeshadows and the difference is not very noticeable.
I don't think the base improves the application or the lasting power of the eyeshadows only because the eyeshadows used on their own already go on very smoothly and have a good lasting power. (If you have eyeshadows that are a little dry and chalky, this base may help with their application.)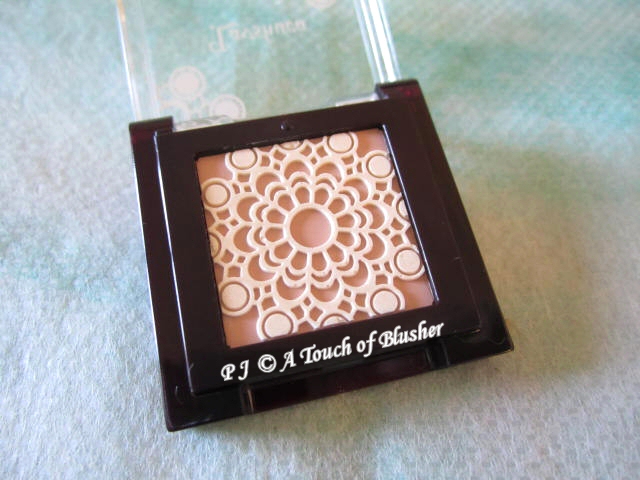 (The base has two sections. The intricate patterns in off-white cream has sparkles and the flesh-toned section underneath doesn't contain shimmer or sparkles.) When used, they are inevitably mixed together and the finish is sparkly as described above.)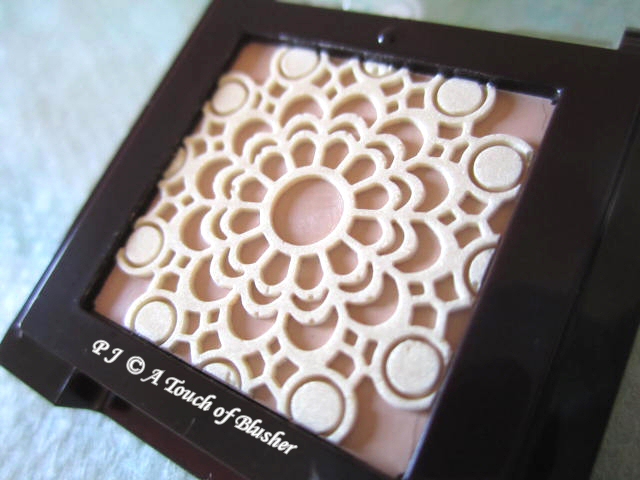 Lavshuca's summer 2012 makeup collection is the line's last collection before the image revamp. Overall I like this set, and I particularly like the eyeshadow palette. (Personally, I think that most Japanese eyeshadows are so well-made anyway that I never feel that primers are needed.) Despite the slight lack of versatility, this is a very easy-to-wear palette and I like the fresh look that it creates.
Related posts:
Lavshuca Fall 2012 Makeup Collection
Lavshuca Spring 2012 Makeup Collection