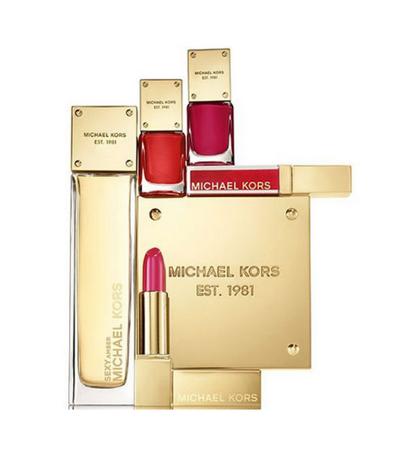 (image from House of Fraser)
I stopped by central London a couple of days ago and had a look around the Oxford Street and Bond Street areas. Here are some of my beauty sightings:
– Paul & Joe's spring 2014 makeup collection has been launched in Fenwick. All the items have been released except Eye Color Trios and Compacts for Eye Color Trios. According to the SA, they will be released in early February.
– RMK's spring 2014 makeup collection has been launched in Selfridges. The new Kaleidoscope Eyes palettes have a cream-to-powder texture. I of course tested the W Crayon & Gloss Lips in 04 (with the blue lip gloss). 02 (the other variation featured in my post) also appeals to me, as its pink lip gloss has fine blue sparkles.
– I had a look at Michael Kors' new makeup line, which was launched last month and is exclusive to House of Fraser on Oxford Street (information from House of Fraser). The Sporty Sexy Glam collection features three namesake looks with items for the lips (Lip Lacquer and Lip Luster), nails (Nail Lacquer) and body (Bronze Powder). (There are also three matching fragrances.) The gold packaging is quite chic and glamorous. I am looking forward to seeing blushers and eyeshadows in the future.
– In Debenhams, I saw Calvin Klein's CK One Color Cosmetics line. Generally I was not too impressed. I didn't love the packaging, and none of the Cream + Powder Blush Duos or the Powder Eyeshadow Quads caught my attention.
– Also in Debenhams, I came across Cargo (which is next to Calvin Klein). It seems that the Essential Eyeshadow Palettes, two of which I reviewed in 2008, are still available.
– According to one SA, SUQQU's spring 2014 makeup collection will be out in late February.
– According to one SA, Clinique's Cheek Pop will be out in late March.
– I stopped by John Lewis on Oxford Street and I really liked the refurbished beauty floor. The soft and warm ambiance has a continental feel and it reminds me of Le Bon Marché, my favorite department store in Paris.
– I was trying to find Dior's Trianon Palette in 002 Coquette but there was no success. With Dior, the UK usually gets the same color variations released in Asia, but it doesn't seem to be the case with the Trianon Palette.
Related posts:
Calvin Klein Subliminal Purity Mineral Based Loose Powder