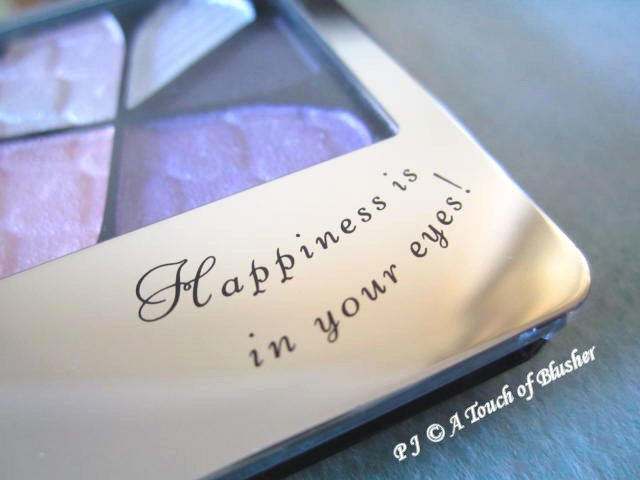 Since I tried Lunasol's Sheer Contrast Eyes in 02 Lavender Coral in 2008, it has been one of my favorite purple-toned eyeshadow palettes and the main purple shade in the palette has been my ultimate standard for purple eyeshadows. I like many of the purple eyeshadow palettes I have tried in the last few years, but very few come close to the beautiful Lavender Coral. Shiseido Integrate's Pure Big Eyes in VI221 is one of those rare few.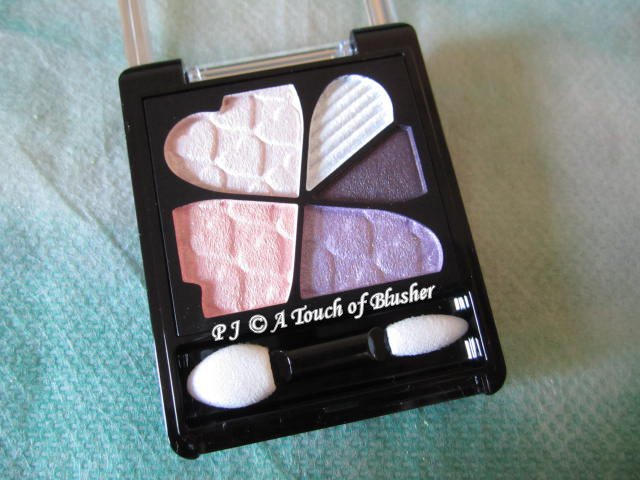 The Pure Big Eyes series (¥1500 each) was launched in Japan in summer 2012, and VI221, which was among the launch lineup, immediately caught my attention. The five shades in this palette are (clockwise from top left):
– off-white pink, moderately pigmented, with pearly shimmer
– off-white blue, lightly pigmented (mainly sparkles), very sparkly and borderline glittery
– deep aubergine,  intensely pigmented, velvety with sparse shimmer
– medium-depth purple, moderately pigmented, with pearly shimmer
– light warm pink, moderately pigmented, with pearly shimmer
All the shades have multi-hued light-reflective particles. I can't comment on the blendability or staying power of the off-white blue as I haven't used it (reason below), but all the other shades are easy to blend and have a good staying power.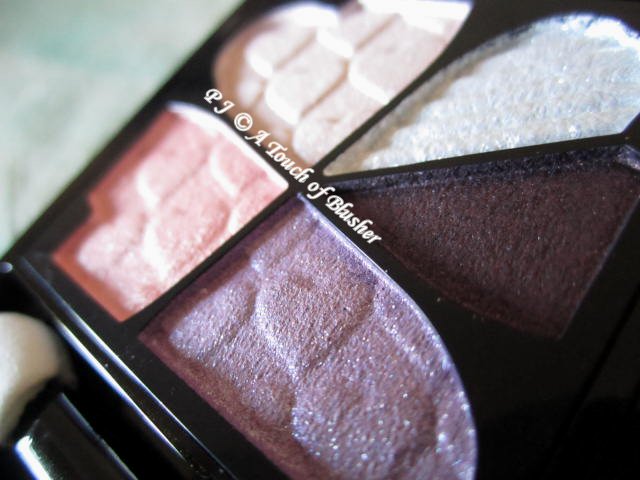 According to the application instructions (printed on the back of the outer box), the "big eyes" look is achieved by lining the upper lashlines with the darkest shade and lining the inner halves of the lower lashlines with the very sparkly shade. For me, the off-white blue in this palette is just too sparkly and I have been skipping this shade. (Its sparkly finish is similar to that of the pale pink in Integrate's Rainbow Grade Eyes in BE303.)
I do like all the other shades in this palette. The light pink looks fresh and doesn't make eyes look irritated. I also like how the smaller end of the sponge applicator works with the deep aubergine. The tip is quite pointy and I can draw a relatively fine line with this very dark shade if I want to. (It also picks up and dispenses the color very easily.)
The star of this palette is of course the purple. Compared with the purple in Lunasol's Lavender Coral, it has a very similar medium-to-cool color tone and more or less the same dimensional finish but it is deeper (without being too dark) and creates more depth for the eyes.
Even though I still prefer Lunasol's Lavender Coral (I prefer its overall color combination, with violet and gold) and its main purple shade (its color and finish are just so beautiful), I do love Pure Big Eyes in VI221 a lot. I am now thinking about trying another variation. Maybe a neutral-toned one……
Related posts:
Integrate Spring 2015 Makeup Collection
Integrate Holiday 2014 Makeup Collection