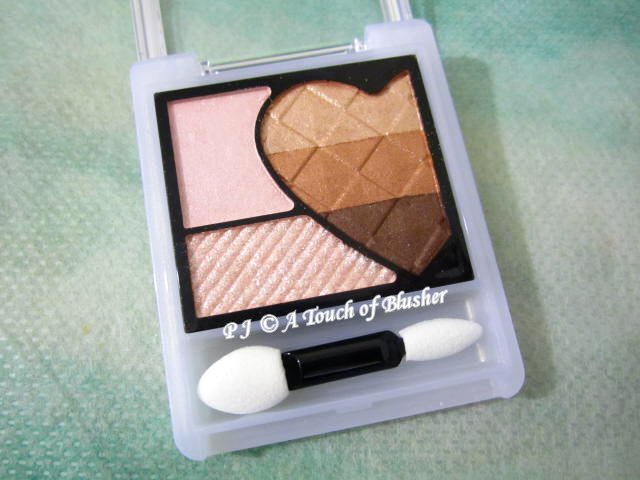 Back in 2010, I reviewed Integrate's Rainbow Grade Eyes in BE303. I got more variations from the Rainbow Grade Eyes series since then, and today I will be sharing my thoughts on 2 Summer Girl.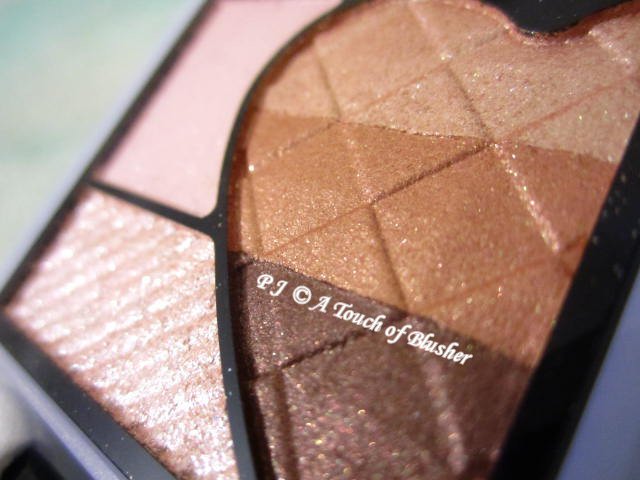 Shiseido Integrate Rainbow Grade Eyes in 2 Summer Girl (資生堂 インテグレート レインボーグラデアイズ 2/ 資生堂 絕色魅癮 彩虹甜心眼影盒 2, ¥1500) was released in summer 2014 as a limited-edition variation. It features an off-white pink ((top left) with pearly glow), a light warm beige (shimmery with soft sparkles), a bronze orange (with pearly shimmer), a dark brown (subtly shimmery) and an off-white pink ((bottom left) very sparkly). All the shades have multi-hued light-reflective particles. They are all very easy to apply and blend, and they all have a good staying power.
I prefer this palette to BE303, and there are two main reasons. One thing I found slightly disappointing about BE303 is that the three shades in the heart-shaped section did not create a very defined gradation. I wanted more definition from 2, and I certainly got it. The color depths of the three shades in the heart-shaped section are varied enough to create a defined lightening-shadowing-eyelining gradation.
The other reason why I like 2 more is that the finish of the main shadowing shade (the bronze orange) is more dimensional than the main shadowing shade of BE303 (the light warm beige).
The off-white pink on the bottom left is very sparkly, and I use it very light-handedly as a top coat on the middle parts of the upper eyelids to add extra dimension to the eyes.
Overall I like this palette. Even though the bronze orange goes on more orange-toned than it looks in the pan, it looks quite fresh and vibrant and it is just dark enough to work reasonably well as a shadowing shade. I just wish it were a little more bronze-toned and a little less orange-toned.
This palette was released in the summer of 2014, and the colors (particularly the bronze orange) are certainly summery. The eyeshadow shades on the pink-salmon-orange spectrum seem to be popular in East Asia at the moment, and the bronze orange in this palette is probably more on-trend now than it was two years ago. If you want to try a similar color combination, have a look at Integrate's Nudy Grade Eyes in OR366 (from summer 2016) and Majolica Majorca's Majolook (Illuminator) in BE300 (also from summer 2016). (Both palettes are limited editions.)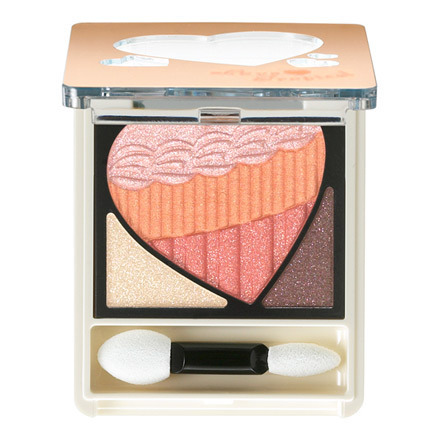 (Integrate Nudy Grade Eyes in OR366)
(image from www.cosme.net)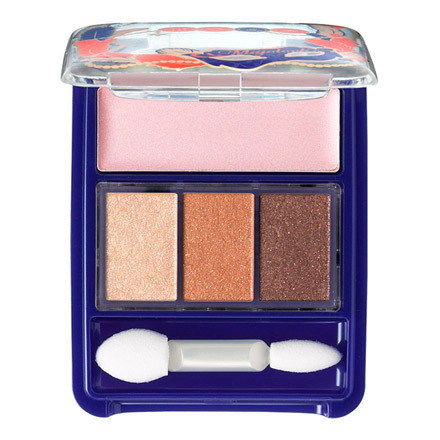 (Majolica Majorca Majolook (Illuminator) in BE300)
(image from www.cosme.net)
Related posts:
Integrate Spring 2016 Makeup Collection
Stash Focus: Integrate Pure Big Eyes in VI221