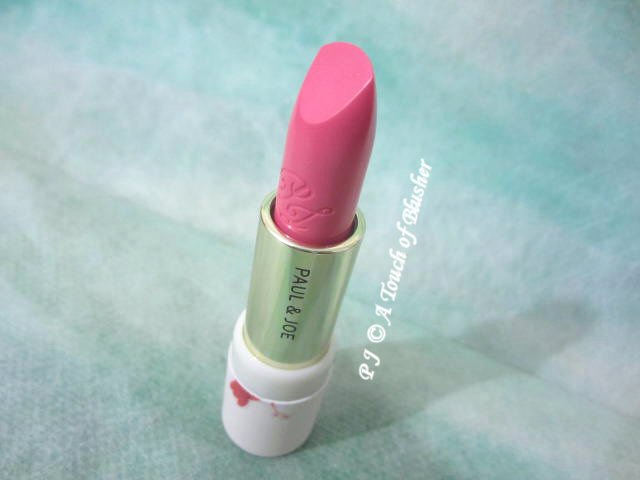 In fall 2014, Paul & Joe updated its Lipstick range by releasing 13 new (regular) shades and discontinuing 8 shades. All the 25 shades in the updated lineup are still available, and today we will be looking at 107 Rose Sorbet (one of the 13 shades from fall 2014). (104 Mademoiselle and 207 Grapevine, released in fall 2012, are still available as well.)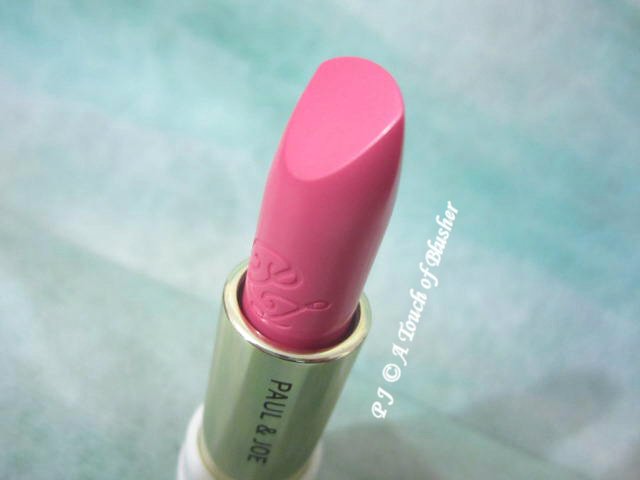 Paul & Joe Lipstick in 107 Rose Sorbet (Refill) (ポール & ジョー リップスティック 107 ローズソルベ (リフィル)/ Paul & Joe 巴黎訂製唇膏 107, ¥2000 in Japan (refill only), £12.50 in the UK (refill only)) is a medium-depth cool-toned pink with a light-to-moderate pigmentation level. It has a satiny finish with a soft shine and very fine pink-toned shimmer. (The shimmer is semi-sparse and looks very subtle on the lips.) It glides quite smoothly and feels fairly moisturizing on the lips, and it has a good lasting power.
(The shades in the Lipstick range fall into three categories: Clear (shades with numbers beginning with 1), Natural (those with numbers beginning with 2) and Full Pigment (those with numbers beginning with 3). 107 Rose Sorbet is in the Clear category.)
Even though it is in the Clear category, it is not overly sheer. You can wear a couple of layers for a natural look, and you can increase the intensity and the vibrancy of the color with additional layers.
(I am using Lipstick Case CS 017 for this lipstick. It was released in fall 2014.)
Overall I like this color. It is a fresh and girlie shade that is reasonably easy to wear and is suitable for spring and summer. I also like its versatility in terms of color intensity. (In comparison, Lipstick in 104 Mademoiselle (link above) is warmer and Lipstick CS in 085 Peony is sheerer and lighter.)
Related posts:
Paul & Joe Spring 2017 Makeup Collection
Stash Focus: Paul & Joe Lip Gloss Limited in 003 Confectionery Sugar (Holiday 2016)