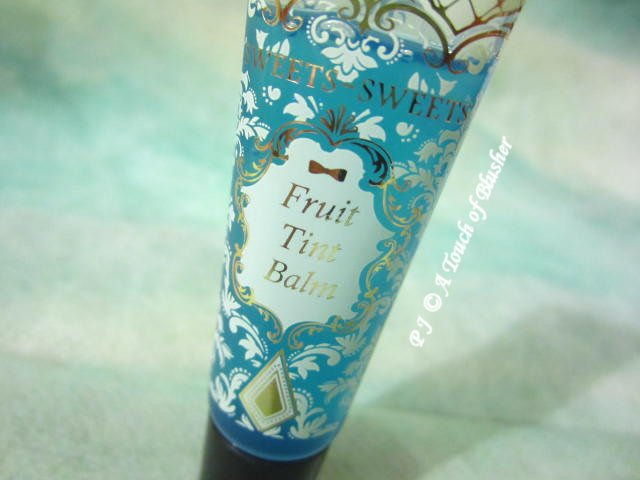 I love blue-tinted lip glosses (see this post and this post), and Sweets Sweets' Fruit Tint Balm in 02 Clear Blue caught my attention. I knew it would change into a pink shade on the lips, but I still decided to add it to my collection.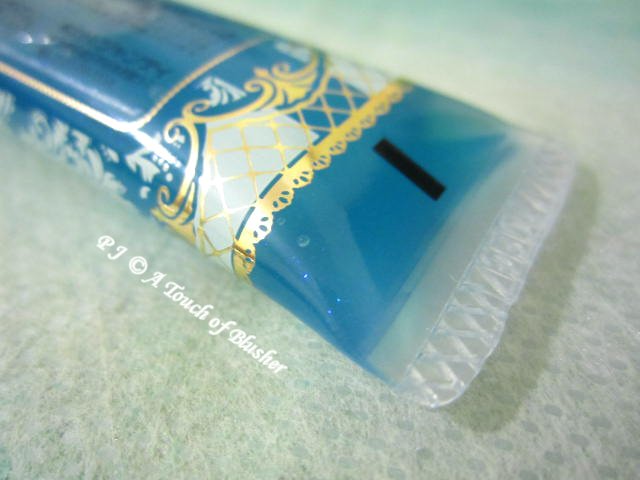 Sweets Sweets Fruit Tint Balm in 02 Clear Blue (スウィーツ スウィーツ フルーツティントバーム 02 クリアブルー/ Sweets Sweets 玩色果漿美唇蜜 02 晶透粉, 11g, ¥900) was released in Japan for the holiday 2016 season. (It is a regular shade and not a limited edition.) In the tube, it is a translucent warm blue with sparse blue-toned shimmer. When it is applied on the lips, it turns into a vibrant fuchsia-toned berry pink with a light-to-medium pigmentation level. It also tints the lips in the same color.
(According to Sweets Sweets' official Japanese website, the product reacts to the moisture level on the lips and the color change varies from person to person.)
One layer of the product creates quite a glossy finish, and the finish can be intensified with additional layers. The sparse blue-toned shimmer does show up on the lips. The glossy finish is decently long-lasting, and the tinted color on the lips lasts very well.
The gloss can travel outside the lower lip line a little bit when I apply more than a couple of layers of it, and this is particularly problematic since the product tints the skin fairly quickly. Also, the tinted look can look slightly uneven. (It can look a little darker in the inner-lip areas. This is probably because they have a slightly different (possibly higher) moisture level.) These issues can be minimized when I apply just one layer of the product (which does create enough color and gloss).
Even though the tinted color is very long-lasting, it is quite easy to take off. (I am currently using Garnier's Simply Essentials Soothing 2-in-1 Make-Up Remover. It is designed to be an all-over makeup remover (for face, eyes and lips) but I use it to remove eye and lip makeup items.)
Overall the product works fine for me as long as I am light-handed with it, but I do still have to be very careful and precise with the application. (I don't want it to go outside the lip lines accidentally since it tints wherever it goes on the skin.) The fuchsia-toned berry pink is a very bouncy shade and a nice shade for summer. It is too vibrant to be an everyday shade for me, but it is a fun shade to wear every now and then.
Related posts:
Sweets Sweets Summer 2017 Makeup Collection
Stash Debut (19): Sweets Sweets Silky Chiffon Cheeks in 01 Cranberry Chiffon