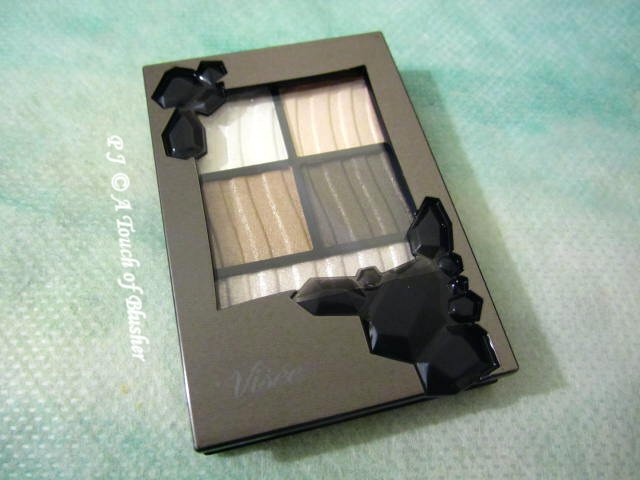 Kosé Visée had a major renewal in fall 2013, and I reviewed Glossy Rich Eyes in BR-5 Gold Brown and Blend Color Cheeks in PK-5 from the fall 2013 lineup. In 2015, the line released Shimmer Rich Eyes, and today I will be bringing you the review of Shimmer Rich Eyes in BE-1.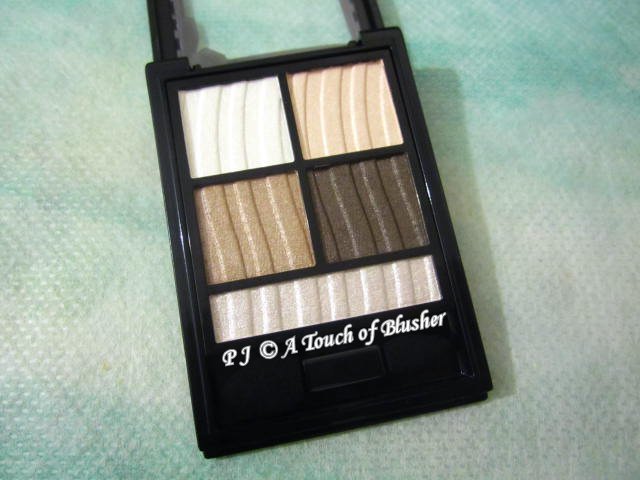 Kosé Visée Shimmer Rich Eyes BE-1 (コーセー ヴィセ シマーリッチ アイズ BE-1/ 高絲 Visée 深邃晶耀眼影盒 BE-1 自然裸, ¥1400) was released in Japan in fall 2015. The five shades in this palette are (clockwise from top left):
cream white, lightly pigmented, with pearly shimmer
pale beige, lightly-t0-moderately pigmented, with subtle pearly shimmer
dark brown, well-pigmented, with a pearly glow
off-white beige, lightly pigmented, softly shimmery
medium-depth gold-toned brown, moderately pigmented, with pearly shimmer
All the five shades have multi-hued light-reflective particles. All the shades are easy to apply and blend, and they all have a good staying power. (There is virtually no fallout from any of the shades during the application or throughout the course of wear.)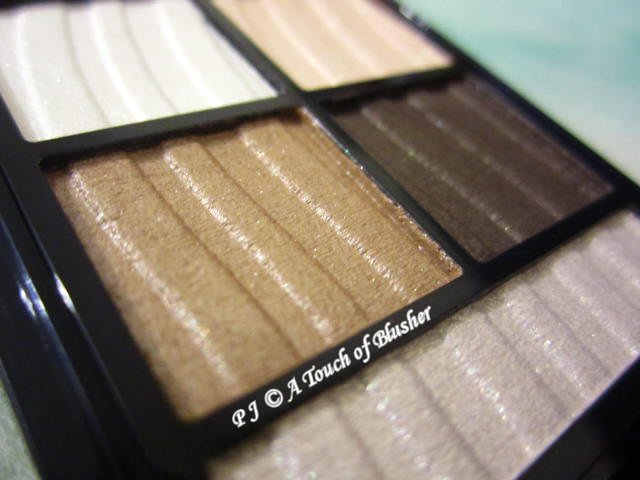 The cream white is not too shimmery or sparkly, and it works well as a base shade. The pale beige is skin-tonal, and I find that it also works well as a base. It adds a natural glow and brightness to the eyes without looking white-ish.
The medium-depth gold-toned brown is dark enough for me as a shadowing shade. It has enough warmth to suit my complexion, and it goes well with the pale beige. (It is slightly lighter and more yellow-toned than the bronze-toned brown in Coffret d'Or's Beauty Aura Eyes in 01 Yellow Brown.) It turns very slightly cooler overtime but it doesn't end up looking grayish or ashy. The dark brown is dark enough to work well as an eyelining shade, and, since it is well-pigmented, the application is fairly efficient.
The off-white beige at the bottom of the palette is designed to be used on the middle parts of the upper eyelids (as a shimmer top coat) and along the lower lashlines. I haven't used this shade along the lower lashlines as I prefer using the pale beige in the areas for a subtler look. For the upper eyelids, I find that the shade is very slightly too pigmented. I suppose the off-white pigment creates a highlighting effect, but, for shimmer top-coat shades, I prefer very sheer shades that are mostly light-reflective particles (which don't alter the color gradation I create with the other shades as much). On the other hand, it is not as shimmery or sparkly as many of the other shimmer top-coat shades I have tried, and this is not necessarily a bad thing.
Overall this palette works well for me. The four main shades are very well-coordinated, and they create a beautifully seamless gradation. Even though the range is called "Shimmer Rich Eyes", this palette is not really very shimmery (which, again, is not necessarily a bad thing). The overall look it creates is between pearly and shimmery without looking too shimmery or sparkly, and it should be a good everyday eyeshadow palette for most occasions for those who like warm-toned neutrals.
Related posts:
Visée Fall 2017 Makeup Collection
Visée Avant Spring 2017 Makeup Collection