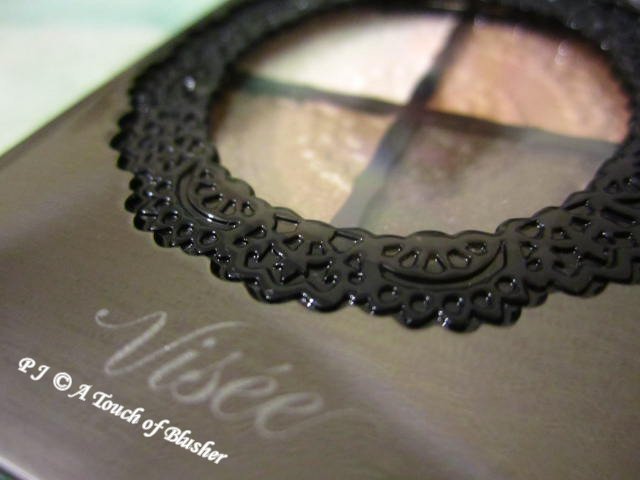 Kosé Visée had a major renewal in fall 2013. The line used to have an edgy vibe but it did start to release items with a more feminine look before the revamp. The new look, with dark cases and intricate details, appears to be quite popular. One of the three eyeshadow palette series launched in fall 2013 is Glossy Rich Eyes, and I decided to go for BR-5 Gold Brown.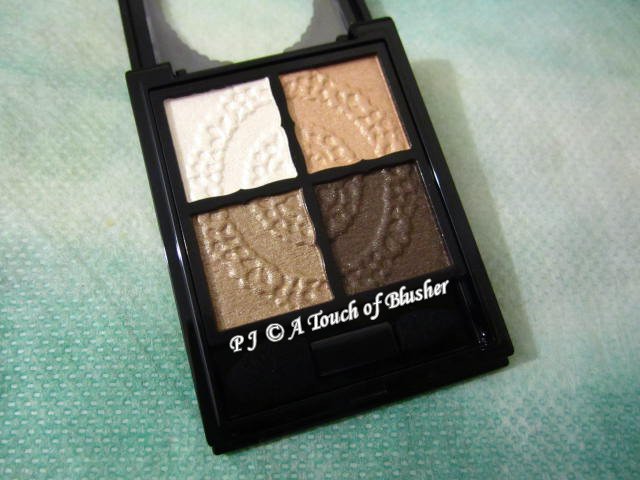 Kosé Visée Glossy Rich Eyes in BR-5 Gold Brown (コーセー ヴィセ グロッシーリッチ アイズ BR-5 ゴールドブラウン系/ 高絲 Visée 晶緞光漾眼影盒 BR-5 蜂蜜拿鐵, ¥1200) is one of the eight variations in the range. The four shades in this palette are (from the lightest to the darkest):
– cream white, lightly-to-moderately pigmented, with pearly shimmer
– peachy beige, lightly-to-moderately pigmented, with pearly shimmer
– medium-depth golden brown, moderately pigmented, with pearly shimmer
– dark brown, well-pigmented, subtly glowy with hints of shimmer
All the shades have multi-hued light-reflective particles. They all have a good staying power.
I find that the powder in this palette is quite firmly pressed. (You might need to reload your applicator/brush more often with this palette.) The powder itself is smooth and blendable.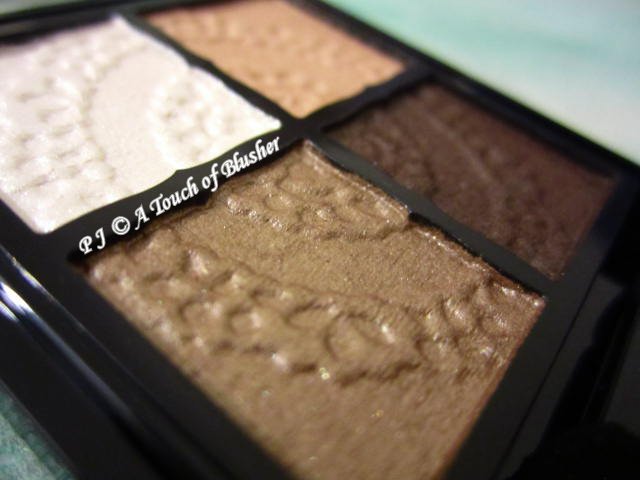 I like the fact that none of the four shades is too shimmery or sparkly. They have similar finishes, and they impart a pearly glow with fine and dimensional shimmer on the eyes.
The peachy beige is not too peach-toned when worn. It looks fresh but it also has a soft and sophisticated feel. The golden brown is among my favorite neutral-toned shadowing shades. Its yellow-gold tone suits me very well and the shade doesn't look reddish or orange-y. Also, it has the right depth for me as a shadowing shade.
I find the pairing of the peachy beige and the golden brown quite interesting. Fairly often, with tone-on-tone eyeshadow palettes from Japanese brands, a light peachy beige is likely to be paired with a warm orange-y brown and a (relatively more cool-toned) golden brown is likely to be paired with a pale yellow. I was slightly unsure whether this pairing would work, but it does. The subtle tone difference adds extra definition to the eyes, and the look is more interesting than a straightforward gradation.
(If you want a neutral-toned palette from the Glossy Rich Eyes range that is warmer than BR-5, try BR-1, which is on the whole more orange-toned.)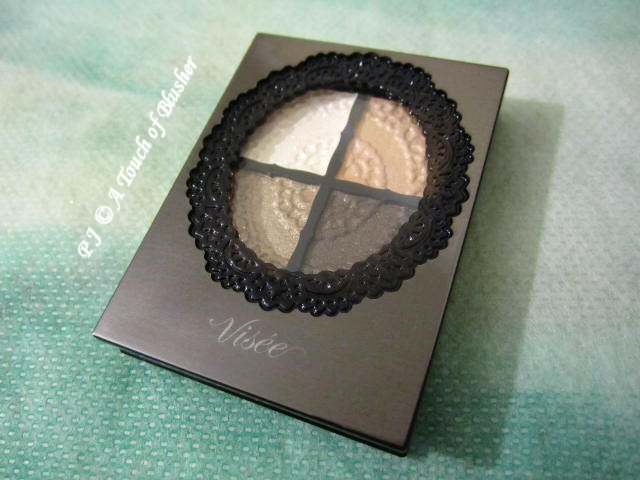 (I still like my Visée Glam Glow Eyes in BR-3. Even though its bronze brown is a lot warmer and its lightest shade is a lot more sparkly than their counterparts in Glossy Rich Eyes in BR-5, the palette still works well for me.)
I really enjoy using the palette and it is now among my favorite neutral-toned eyeshadow palettes, which include Coffret d'Or 3D Lighting Eyes in 05 Gold Variation, Coffret d'Or Beauty Face Shadow in 02 Cream Brown and Fasio Glass Reflection Eyes in BR-2. Now I am looking forward to the upcoming Shimmer Rich Eyes from fall 2015!
Related posts:
Visée Spring 2015 Makeup Collection
Stash Focus: Visée Glam Glow Eyes in GR-4