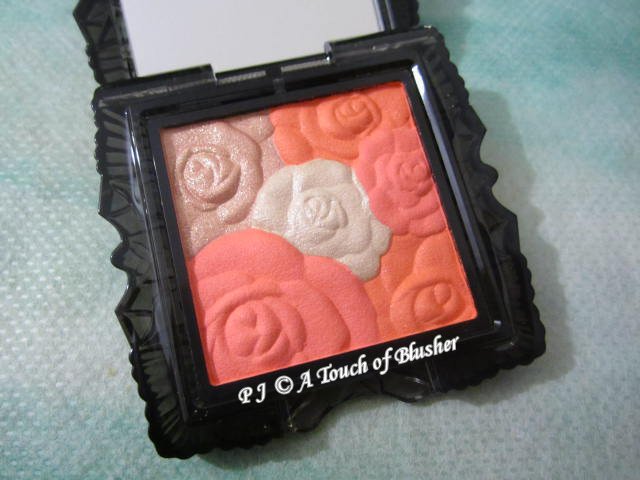 I started reviewing Anna Sui's Rose Cheek Color N with 303 a couple of months ago, and today I will be focusing on 602.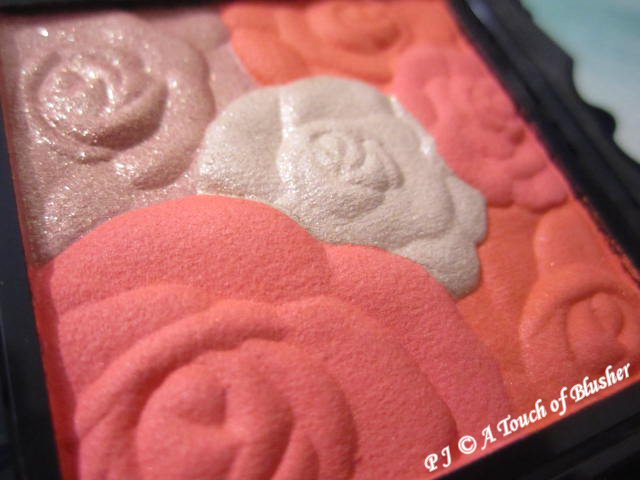 Anna Sui Rose Cheek Color N in 602 (アナ スイ ローズ チーク カラー N 602/ 安娜蘇 魔顏精靈薔薇頰彩 N 602, ¥3500) was released in Japan in summer 2014. The four shades in this variation are:
peachy orange, with an above-medium pigmentation level, with a velvety-to-satiny finish
tangerine orange, with an above-medium pigmentation level, with a velvety-to-satiny finish with a slight hint of glow
light warm peach, lightly pigmented, shimmery
off-white champagne, lightly pigmented, softly shimmery
The peachy orange and the tangerine orange are the two main blusher shades in this variation. They are both easy to apply and blend, and they both have a good staying power. (Between the two, the tangerine orange is very slightly more shimmery.) I prefer the peachy orange mainly because it is less orange-y. The tangerine orange does take on a peach tone over the course of wear, but it initially looks slightly too orange-toned for me. (When mixed, they show up as an orange with a peach tone.)
The off-white champagne is mainly for highlighting and doesn't look overly shimmery. The light warm peach looks quite beige-toned in the pan but it goes on peachier. It can work as a blusher shade but it can look quite shimmery. (The shimmer in the off-white champagne is multi-hued. The shimmer in the light warm peach is also multi-hued but it looks predominantly gold-toned under natural light and some artificial lightings.)
The color combinations of Rose Cheek Colors in 100, 300, 301 and 400 were available in the Rose Cheek Color N range (with the same numbers). Rose Cheek Color in 600 was discontinued and Rose Cheek Color N in 602 seems to be the replacement. (Rose Cheek Color in 601 was a limited-edition variation from spring 2014.)
Between Rose Cheek Color in 600 and Rose Cheek Color N in 602, I actually prefer 600 because I like the intense sun-kissed look the deep orange in 600 can create. It is a bold look (which I can only go for very occasionally), but at least the look has its intriguing appeal. For everyday looks, I tend to go for shades that are more pink-toned. The peachy orange in 602 (which is very similar to the peachy orange in 600) does work for me but I would still prefer shades that are a little less orange-y. It might be the case that 602 was designed to be more wearable than 600 (and I do think 602 is more wearable for most people), but, for me personally, while 600 is at least fun to wear occasionally, 602 isn't edgy enough or wearable enough for me.
Related posts:
Anna Sui Fall 2017 Makeup Collection
Stash Focus: Lunasol Contrasting Cheeks in 03 Light Orange