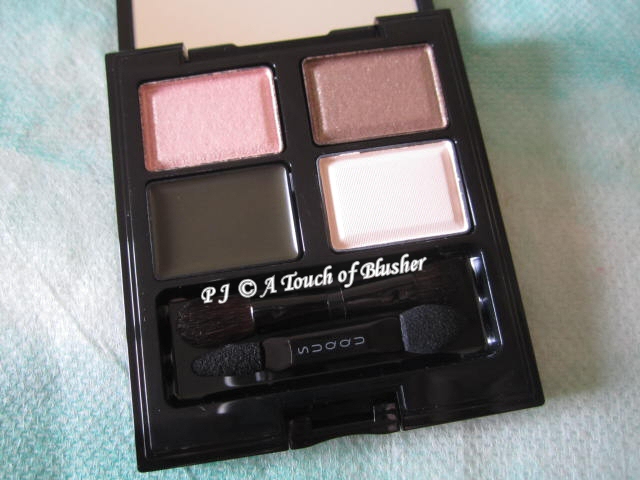 SUQQU's fall 2012 makeup collection incorporates a variety of soft pink and peach hues to create feminine and sophisticated looks. Today I am sharing my thoughts on Blend Color Eyeshadow in 14 Kosumosuiro and the limited-edition Gradation Cheeks in EX-01 Mizudaidai.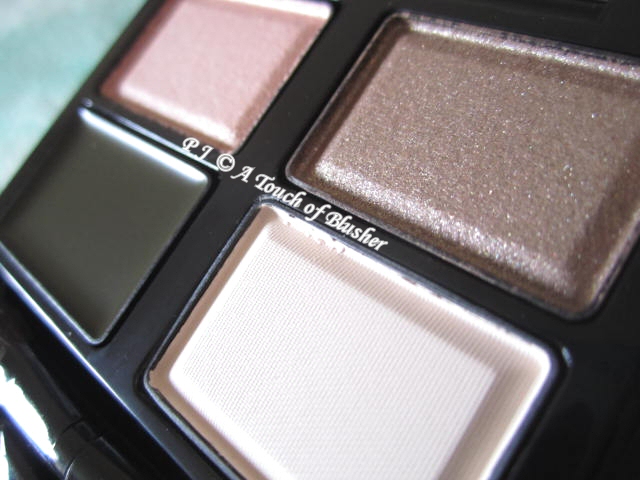 Blend Color Eyeshadow in 14 Kosumosuiro is one of the three new variations of Blend Color Eyeshadow for fall 2012. The four shades in this palette are (anti-clockwise from bottom right):
– ivory white, softly pigmented, velvety matte with no shimmer
– medium taupe brown, moderately pigmented, with soft pearly shimmer
– light peach, lightly-to-moderately pigmented, with high-toned pearly glow
– dark olive green with a subtle moss tone, pigmented, with a creamy sheen and a hint of shimmer
The three powder-based shades are soft, silky, and easy to blend. The cream-based shade has a very good slip and is very easy to apply. All the shades have a good staying power.
The light peach and the taupe brown are very similar to those in Blend Color Eyeshadow in 12 Konruri. (The taupe brown in 12 Konruri is marginally more red-toned.) The matte ivory white is also very similar to those in other Blend Color Eyeshadow palettes, including 01 Kakitsubata and 10 Kozuecha.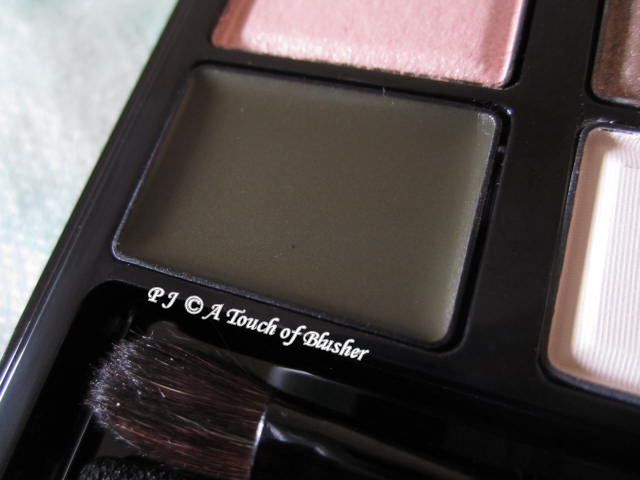 What is different about SUQQU's fall 2012 Blend Color Eyeshadow palettes from the previous ones is that each of these three palettes includes a dark cream-based color. 14 Kosumosuiro features a dark olive green.
I have mixed feelings about this cream-based shade. What I like about it is that its consistency is considerably lighter than what I expected. It goes on very smoothly and it doesn't crease or travel after an entire day of wear. I also like this dark warm-toned green as an eyelining shade. However, as opposed to some cream eyeshadows that dry up to a semi-smudge-proof finish, it doesn't dry up at all and remains moist throughout the wear. I tend to be very worried about the possibility that it might accidentally transfer to my clothes or other things.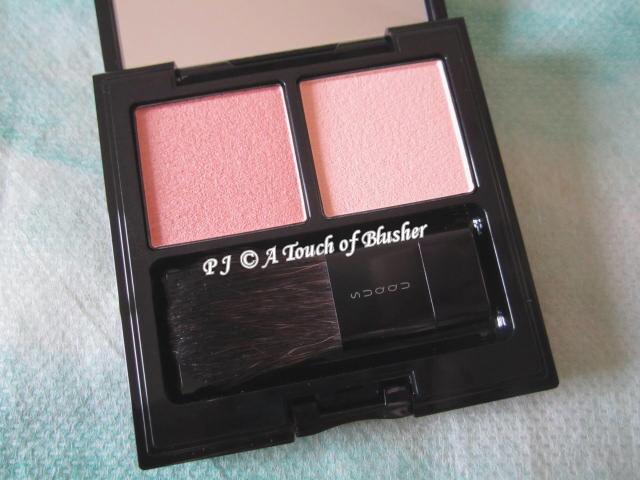 Available in two variations, Gradation Cheeks is a limited-edition product for this season. EX-01 Mizudaidai includes a lightly pigmented light muted peach with a subtly luminous finish and a sheer pale ivory peach with a velvety matte finish with a hint of glow.
Both shades are soft and easy to apply, and their staying power is decently good.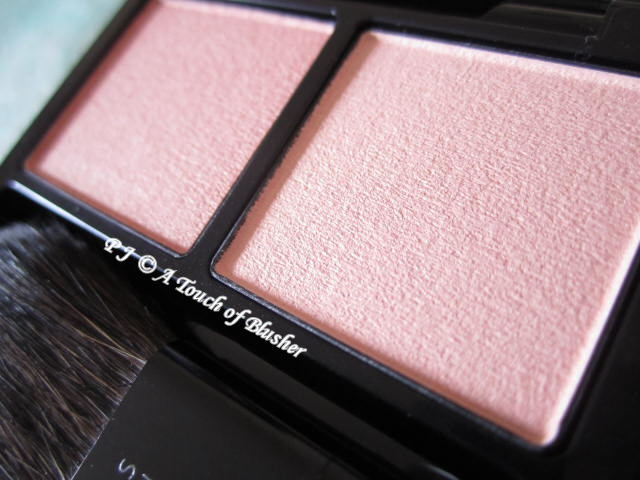 Very often, peach-toned blushers can look slightly orange on me, but the light muted peach on the left adds a natural wash of color and creates a low-key and elegant look. (It certainly doesn't look orange on me.) Also, it is not too pigmented and I don't have to worry too much about over-applying it. The pale ivory peach on the right can be used as a very subtle highlighter on top of the cheeks and the under-eye areas. It is a good everyday blusher for daytime wear, and its minimalistic look can also complement dramatic eye makeup for the evening.
(The products featured in this article are provided by SUQQU.)
Related posts:
SUQQU Nuancing Cheeks in EX-03 Akanemizu & Bright Veil Face Color in EX-01 (Spring 2012)
SUQQU Blend Color Eyeshadow in 08 Mizuaoi & Face Color Palette in EX-01 (Fall 2011)
SUQQU Blend Color Eyeshadow in 06 Ginbudou & Creamy Glow Lipstick in 01 Saebana