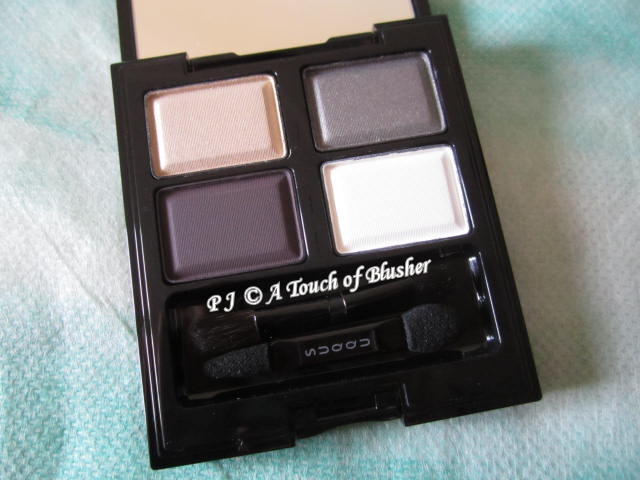 SUQQU's Blend Color Eyeshadow debuted in fall 2010 as part of the brand's product renewal. As more variations have been added to the range over the last few seasons, four of the original six have been discontinued in Japan (including the beautiful 01 Kakitsubata, replaced by 12 Konruri). 04 Keshizumi and 06 Ginbudou are the only two original variations still available in Japan, and today I am reviewing 06 Ginbudou. I am also featuring Creamy Glow Lipstick in 01 Saebana, also launched in fall 2010.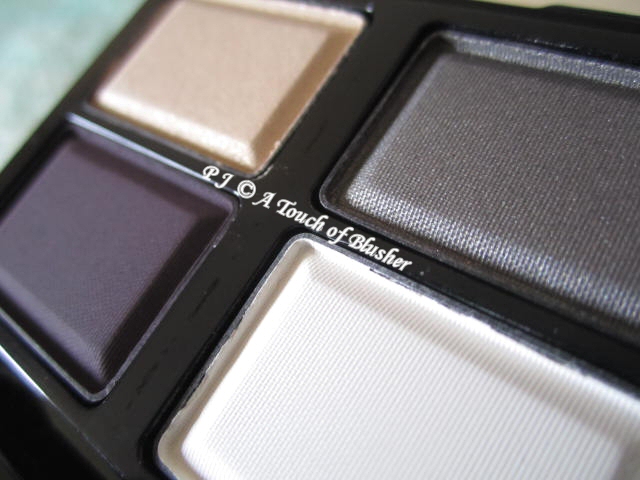 The four shades in 06 Ginbudou are (clockwise from bottom-right):
– ivory white, softly pigmented, glowy matte with no shimmer
– deep purple, pigmented, glowy matte with no shimmer
– pale beige gold, softly pigmented, with low-toned pearly shimmer and sparkles
– medium-to-dark gray, pigmented, with gentle pearly glow
All the shades blend easily and have a good staying power.
For me, this palette has a coupe of (very good) surprises, which really show how well the colors work together. First of all, this is one of the very few gray-toned palettes that suit me. My complexion is warm-toned and gray-toned eyeshadow palettes (which often include other cool hues such as silver and blue) generally don't suit me. However, in this palette, the medium-to-dark gray is paired with the pale beige gold as the palette's two main shades. The pale beige gold provides a fresh and subtly warm-toned backdrop for the gray so the overall look is not all cool-toned. (On the other hand, the beige gold doesn't contain peach or orange undertones, which can clash with the gray.)
I like wearing the beige gold all over the eyelids and the gray close to the upper lashlines as an accent color to provide shadowing. The soft shimmer in the beige gold and the shadow-creating gray add dimension to the eyes and create a sophisticated look.
Secondly, the deep purple also works very well with the gray. When swatched on the back of my hand, it shows up as a warm-toned purple with a plum undertone. (I do tend to like warmer shades for eyeshadows, but plum tones can be too warm (and too red) for me.) However, when layered over the gray, it shows up cooler with a hint of violet. As I like violet eyelining shades, I think it looks quite stunning. It also adds another slight touch of warmth (against the cooler gray) to the overall look.
Overall, I think the (seemingly ordinary-looking) color combination of 06 Ginbudou is actually very cleverly coordinated. It manages to harmonize the gray and the subtle touches of warmth, and the result is a gray-toned palette that can work well for both cool-toned and warm-toned complexions. Even though 01 Kakitsubata is still more suitable for me, the well thought-out 06 Ginbudou is a very pleasant surprise.
(I think there is a possibility that 06 Ginbudou will be discontinued in the next few seasons. If you are interested in this palette, do check it out in person when you can.)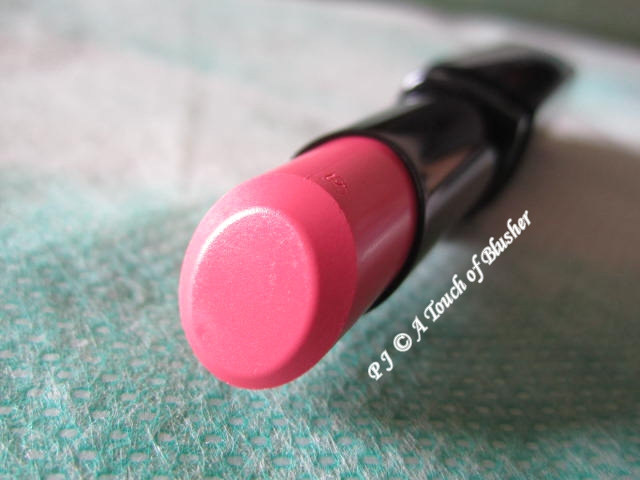 Also launched in fall 2010 in Japan (and spring 2011 in the UK) as part of SUQQU's brand renewal is Creamy Glow Lipstick (which replaced Creamy Lipstick). I am glad to say that all eighteen shades from the launch are still available, and today I am taking a closer look at 01 Saebana.
01 Saebana is a cool-toned light-to-medium cherry-blossom pink with a glossy glow and no shimmer. As with the three Creamy Glow Lipsticks I reviewed last year, it has a wonderfully smooth and buttery texture. It melts on the lips effortlessly and the lips feel moisturized throughout the wear. Compared with the other three, 01 Saebana is slightly less pigmented and opaque and the finish is slightly glossier.
It is a very elegant and feminine color that is quite suitable for spring and summer, and it is a good option for those who think the three shades I reviewed earlier are too warm.
(The products featured in this article are provided by SUQQU.)
Related posts:
SUQQU Blend Color Eyeshadow in 08 Mizuaoi
SUQQU Blend Color Eyeshadow in 10 Kozuecha & Creamy Glow Lipstick Moist in 01 Haruoto