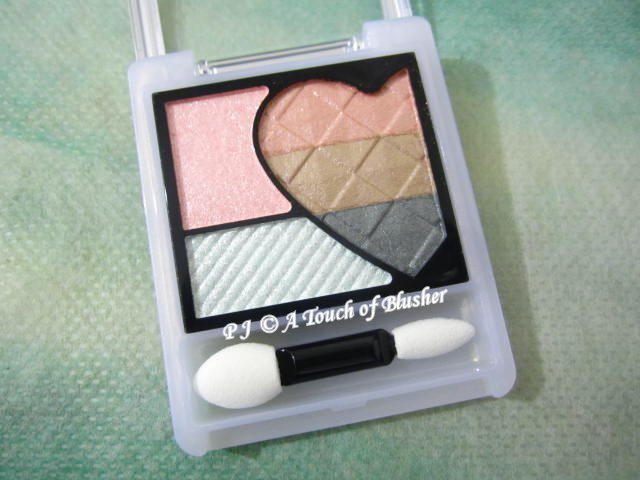 I have reviewed three variations of Shiseido Integrate's Rainbow Grade Eyes (in BE303, 2 Summer Girl & RD715), and today I will be focusing on 3 Shantung Dress.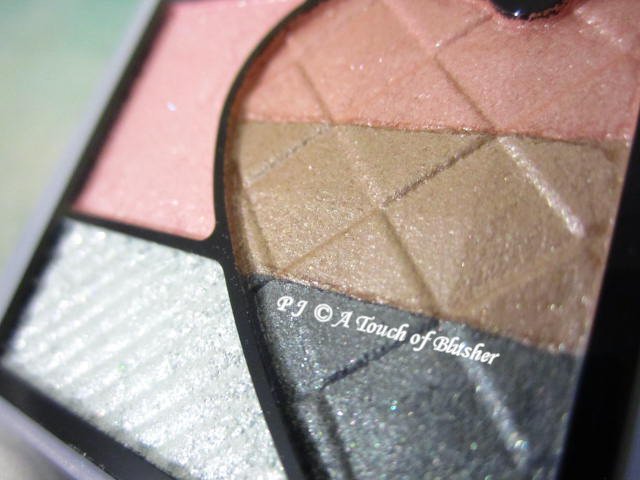 Shiseido Integrate Rainbow Grade Eyes in 3 Shantung Dress (資生堂 インテグレート レインボーグラデアイズ 3 シャンタンドレス/ 資生堂 絕色魅癮 彩虹甜心眼影盒 3, ¥1500) was released in spring 2015 as a limited edition. The five shades in this palette are (clockwise from top left):
off-white pink, softly pigmented, softly sparkly
light warm-toned pink, lightly pigmented, with pearly shimmer
light-to-medium (towards light) medium-to-warm beige, lightly-to-moderately pigmented, with subtle pearly shimmer
medium-to-dark steel blue, moderately-to-intensely pigmented, with a pearly glow
off-white blue, lightly pigmented, softly sparkly (very marginally more sparkly than the off-white pink)
All the shades have multi-hued light-reflective particles. They are all easy to apply and blend, and they all have a good staying power.
This variation is quite different from the other three I have reviewed in terms of the base shade and the top-coat shade. The base shade in this palette (the off-white pink) is considerably more sparkly than those in the other three, and the top-coat shade in this palette (the off-white blue) is slightly more pigmented and slightly less sparkly than those in the other three.
The light-to-medium beige is fairly light and creates a soft shadow for the eyes. It has a very subtle red undertone. The steel blue has an ashy tone, and it is the only shade in this palette that creates substantial depth. I use it as an eyelining shade.
Overall, I am not overly keen on this palette. For me, the steel blue doesn't harmonize well with the subtly warm beige, and the off-white blue has slightly too much pigment as a top-coat shade. Also, even though I don't dislike the softly sparkly off-white pink, I prefer a softly pearly base shade.
(Among the eyeshadow palettes I have tried with a beige or brown shadowing shade and a dark blue for lining the eyes, my two favorites are SUQQU's Blend Color Eyeshadow in 01 Kakitsubata and Coffret d'Or's 3D Gradation Eyes in 06 Beige Navy.)
Related posts:
Integrate Spring 2017 Makeup Collection
Stash Focus: Integrate Pure Big Eyes in BR337
Stash Focus: SUQQU Blend Color Eyeshadow in EX-26 Yuuaoi
Review: SUQQU Blend Color Eyeshadow in 12 Konruri