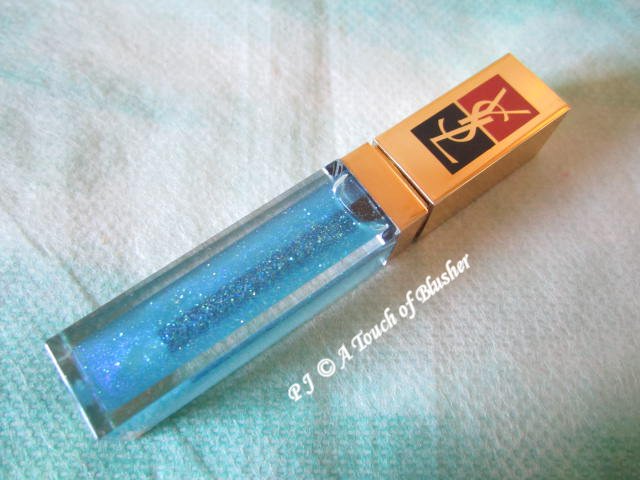 After YSL released Gloss Pur in 11 Icy Effect in summer 2011, I didn't think there would be another blue-tinted lip gloss from the brand anytime soon. However, YSL's holiday 2012 Northern Lights makeup collection, with an unusual blue color theme for the festive season, features Golden Gloss in 55 Arctic Blue. (It is called Blue Iceberg in Japan and perhaps other countries.) Yes, I had to have it.
YSL's Golden Gloss in 03 Golden Pink is one of my favorite lip glosses, and I was excited to see a blue shade from the range. Golden Gloss in 55 Arctic Blue (£22) is a sheer warm-toned blue lip gloss with sparse fine sparkles. The sparkles are predominantly blue-toned and green-toned.
Like 03 Golden Pink, it imparts a very glossy and mirror-like finish on the lips. One layer is enough to create a considerably glossy finish, and a second layer adds even more gloss and shine to the already juicy and dewy lips. The glossy finish lasts very well. I also like the sparse sparkles, which create additional dimension.
Both Golden Gloss and Gloss Pur feature a brush applicator, which appeals to me more than a sponge applicator.
Like the other blue-tinted lip glosses I have, it adds depth and transparency to the lips in a very subtle but effective way. If you haven't tried a blue-tinted lip gloss (or if you are already a fan), this one is certainly worth considering.
Related posts:
From My Treasure Chest (3): Chanel Lèvres Scintillantes Glossimer in 387 Wish
Guerlain by Emilio Pucci Terracotta Gloss in 12 Porto Azzurro (Summer 2012)