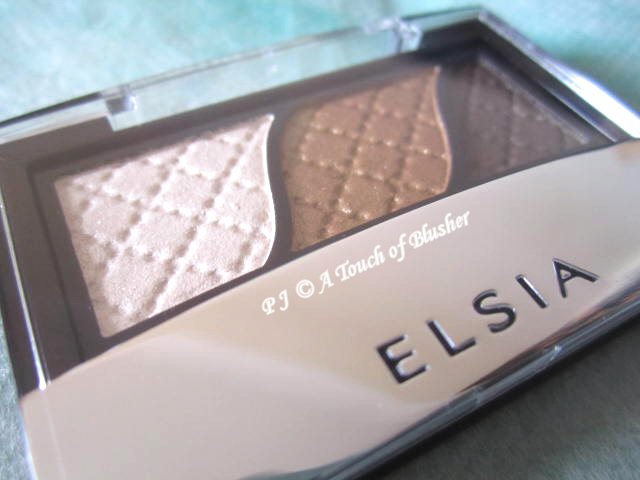 This year, Kosé's Elsia is one of the Japanese makeup lines that really caught my attention. Earlier I posted about the line's Luxe Shine Eye Color in E-5, which started my Stash Debut 2012 series. The Melty-on Eye Color range was lunched in spring 2012 and includes eight variations (¥945 each), and today I am sharing my thoughts on GD-1, my second purchase from Elsia.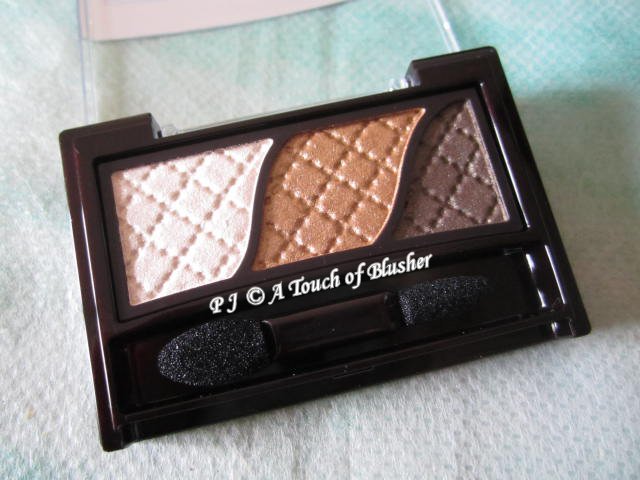 The three shades in this palette are (from left to right):
– pale cream beige, moderately pigmented, with pearly shimmer and fine sparkles
– bronze brown, moderately-to-well pigmented, glowy with pearly shimmer
– dark brown, moderately pigmented, velvety matte with very subtle shimmer
The shimmery particles in all three colors are multi-hued, and the colors have a very good staying power.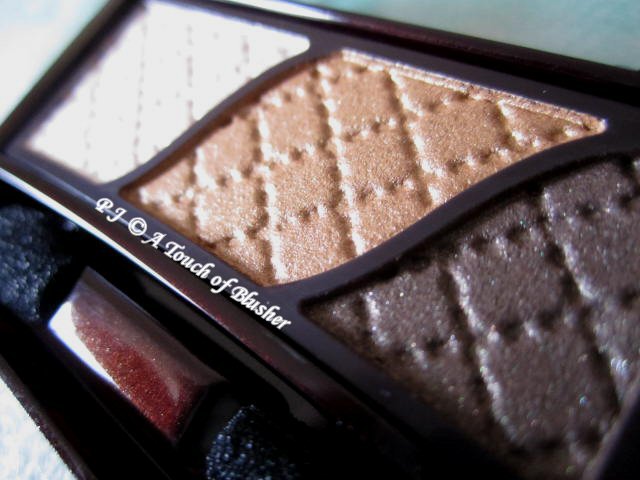 The main shade in this palette, the bronze brown, is essentially the same as the bronze brown in Visée's Glam Glow Eyes in BR-3 from fall 2011. (Not surprisingly, both lines are owned by Kosé.) This similarity is the main reason for the purchase, since I like the bronze brown in the Visée palette a lot. The shade is very warm-toned and is on the warm end of my preferred warm-neutral spectrum, but it adds an effective as well as natural depth to the eyes and I like its pearly shimmer.
The pale cream beige is also similar to the pale ivory beige in the Visée palette. They have similar pigmentation levels and finishes, and the Elsia one is only marginally less off-white than the Visée one. It is a good base shade for the entire eyelids and it doesn't look too frosty or sparkly.
The dark brown is my least favorite shade of the palette. The texture is quite dry and it is not as richly pigmented as I would like it to be, and it takes time to build up the color to make it work as an effective eyelining shade. (I don't have this issue with the dark brown in the Visée palette. Even though it is also slightly drier than the other shades in the palette, it is slightly darker and more pigmented.)
Overall this is still a very decent palette. It has the three essential elements you need for an eye makeup look (a lightening shade, a shadowing shade, and an eyelining shade), and the color tones and depths are well-coordinated. It is a basic (in a good way) tone-on-tone palette for a simple and effective eye makeup look, and it should suit those with warm-toned complexions.
Related posts:
Coffret d'Or Beauty Face Shadow in 02 Cream Brown
Fasio Glass Reflection Eyes in BR-2