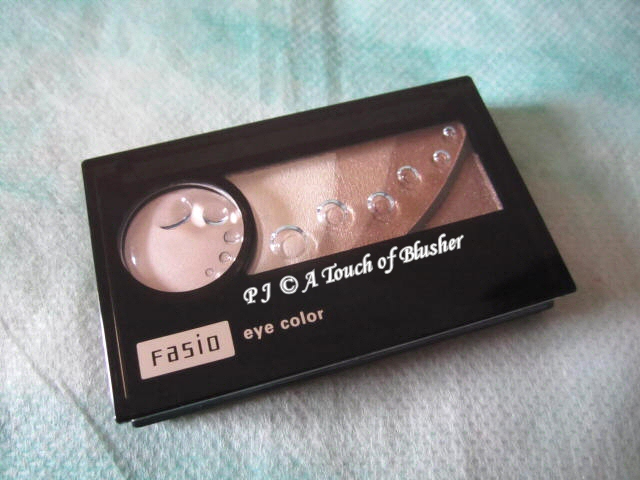 Today my Stash Debut 2012 series continues with Fasio's Glass Reflection Eyes in BR-2.
Like Elsia, which I featured in Part 1 of the series, Fasio is a drugstore beauty line owned by Kosé. It currently carries base makeup, point makeup, and suncare items. The Glass Reflection Eyes series (5 variations, ¥1575) was released in Japan on July 16th 2011 as part of the line's fall 2011 makeup collection, and I went for the gold-toned BR-2.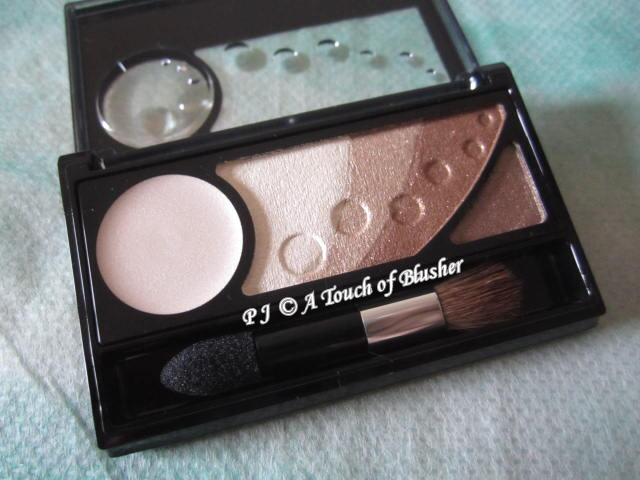 The five shades in this palette are (from left to right):
– off-white cream (cream base), moderately pigmented, softly shimmery
– cream white, softly-to-moderately pigmented, pearly
– light-to-medium beige gold, softly-to-moderately pigmented, pearly
– medium brown gold, moderately pigmented, pearly with soft shimmer
– medium-to-dark brown, moderately pigmented, pearly with soft shimmer
The light-reflective particles in all the colors are multi-hued. (The shimmery particles in the brown gold and the brown look predominantly gold-toned under natural light). All the colors have a smooth texture and a good staying power.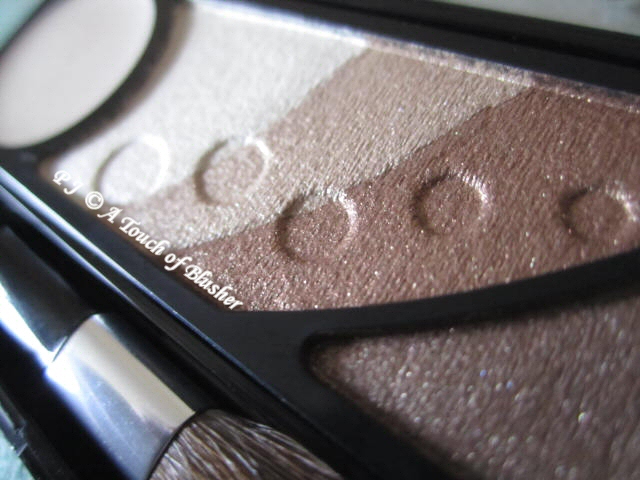 The off-white cream on the far left is a base color that has a cream-to-powder texture and is applied with fingers. It is very easy to work with, and it imparts a flattering veil of dimensional shimmer on the eyes that doesn't look frosty or overly sparkly.
The three shades in the middle of the palette work very well together, and their color depths are just right for me. The cream white works as a brow bone highlighter and it doesn't look too frosty or glowy. The light-to-medium beige gold creates a hint of depth for the eyelids, and the medium brown gold is a very natural (effective but not overly dramatic) shadowing shade.
The medium-to-dark brown is a relatively soft eyelining shade. I do wish that it were slightly darker (or slightly less light-reflective) so it could create more depth.
Apart from the depths of the colors, I like their tones. They don't contain peachy or orangy undertones, and they don't look grayish or ashy either. They are slightly cooler than some of the gold-toned eyeshadow shades I have, but they are still on the warm side of neutrals and they certainly suit me well.
I really like the dimensional look that all the colors create together. It comes from the well-coordinated tones and depths of the colors as well as their light-reflective pearly finishes with a hint of glow and shimmer.
This easy-to-wear (but far from boring) palette has become one of my favorite neutral palettes, which include Coffret d'Or 3D Lighting Eyes in 05 Gold Variation, SUQQU Blend Color Eyeshadow in 01 Kakitsubata, and Visée Glam Glow Eyes in BR-3.
Related posts:
Coffret d'Or Wide Gradation Eyes in 04 Deep Brown
Lunasol Aurorize Eyes in 02 Light Variation