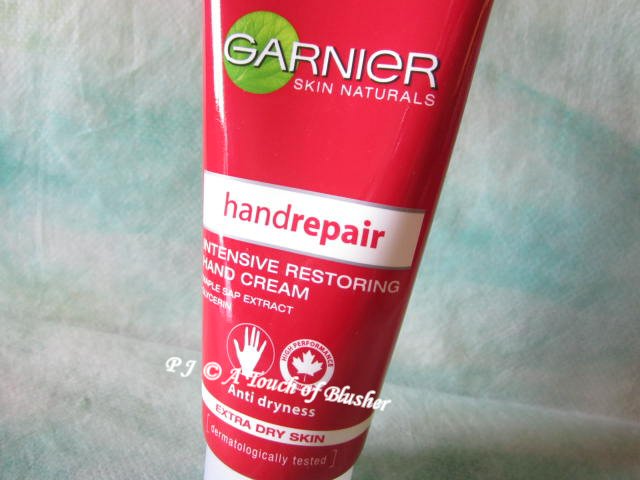 Garnier's Hand Repair Intensive Restoring Hand Cream, launched in 2008 (to replace Hand Cocoon), has been my daily hand cream for years. For a couple of times in the last few years, it was out of stock in all the retail points in my neighborhood for quite some time and I was suspecting that it was discontinued. It happened again a few months ago but it did come back in stock, and I bought a few right away.
However, when I opened and used one of the new ones, I immediately noticed that it was different. The consistency, the texture, and the scent were all different from what they used to be like. Looking at the ingredient lists, I found that the cream was substantially reformulated while the name of the product remained the same. Except the brand logo, the packaging is identical. (See this post for the previous logo. The (minimal) logo change, which probably took place some time ago, is unlikely to be related to the reformulation.)
The new version still contains maple sap extract and glycerin (as indicated on the front of the tube), but it is noticeably less thick and less smooth and it has a different scent. The scent is still faint and reasonably pleasant, but the cream is not as nourishing as the previous version, which I find quite disappointing. Even though, like the previous version, the new version doesn't contain potential skin irritants, it simply doesn't work as well for me as the previous version.
(For your reference, the previous version contained palm oil, coriander fruit oil, apricot kernel oil, and blackcurrant seed oil, while the current version contains shea butter.)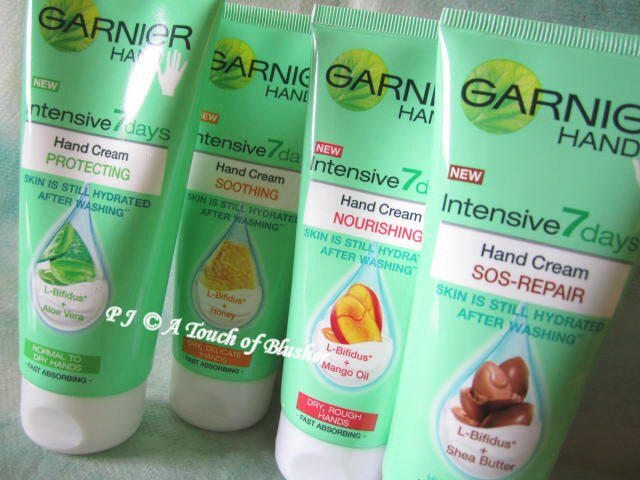 Around the time I purchased the current version, I also purchased four new hand creams from Garnier, which are from the Intensive 7 Days bodycare range. (I thought they might eventually replace Hand Repair.) There are four choices available:
– Protecting (with aloe vera)
– Soothing (with honey)
– Nourishing (with mango oil)
– SOS-Repair (with shea butter)
Their retail prices are lower than that of Hand Repair.
Generally, none of them is as good as the previous or the current version of Hand Repair. They are less moisturizing, and I find the scents (of all of them) to be a little too strong. I don't plan to repurchase any of them for the time being.
Even though the new version of Hand Repair doesn't perform as well for me as the previous one, it is still a decent hand cream and it has been my daily hand cream for a few months. However, I might start to be on the lookout for hand creams that work better for me and are just as reasonably priced. I will keep you all posted!
Related posts:
L'Occitane Shea Honey Hand Cream
Cath Kidston Wild Rose Hand Cream & Honeysuckle Hand Cream
All about B. B. Creams (Featuring My Review of Garnier Miracle Skin Perfector Daily All-in-One B. B. Cream in Light)