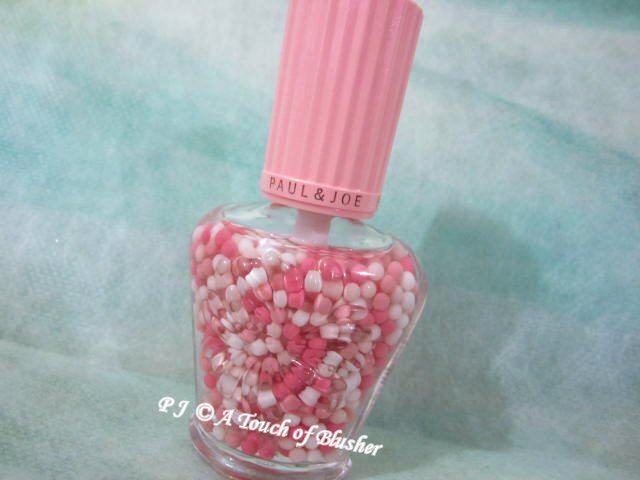 Paul & Joe's Pearl Foundation Primer in 001 Bonbon was first released in spring/summer 2012 and re-released in holiday 2012 (the year when the brand celebrated its beauty line's 10th anniversary). This year, Pearl Foundation Primer in 002 Sweet Bonbon was released as part of the brand's spring 2017 Les Petits Noms d'Amour makeup collection, which celebrates the beauty line's 15th anniversary. From the collection, I went for the beautiful Compacts and Lipstick Cases CS, which I wrote about earlier, and I also decided to add the primer to my collection.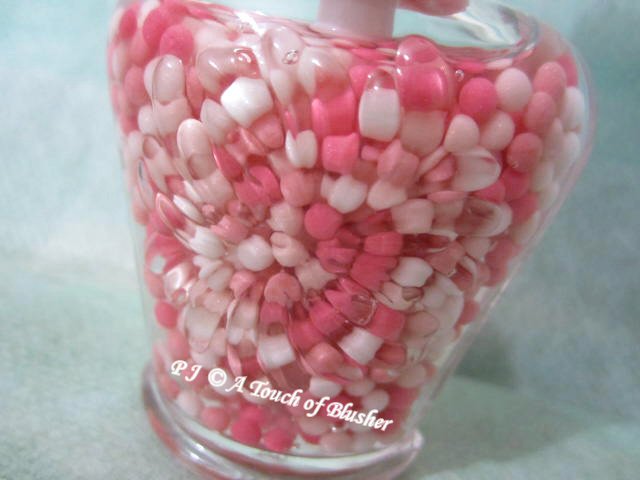 Paul & Joe Pearl Foundation Primer in 002 Sweet Bonbon (ポール & ジョー パール ファンデーション プライマー 002 スウィート ボンボン/ Paul & Joe 糖瓷絲潤隔離乳 粉紅珠光版, limited edition, 30ml, £3500 in Japan, £25 in the UK) has a gel base with small pearls of four shades (marshmallow white, off-white pink, soft pink and strawberry pink). The pearls are crushed into small pieces as the product is dispensed, and they further disintegrate during application.
Based on the testing I did at the counter, it is considerably less shimmery than 001 Bonbon. The shimmer is quite sparse, and the finish is almost entirely translucent.
It contains butylene glycol, hydrolyzed hyaluronic acid and sodium hyaluronate. It doesn't contain alcohol.
It contains orange flower water (third on the ingredient list) and fragrance (parfum), which can be potential skin irritants for some people.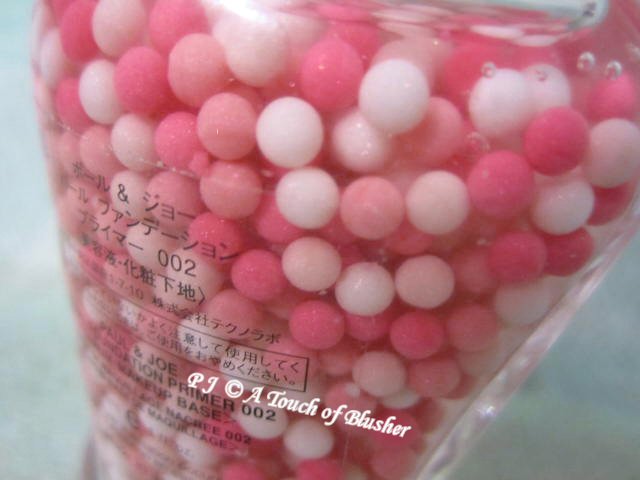 It is essentially a moisturizing primer that preps the skin with additional moisture before foundation application. It is not a primer designed to even out the skin tone, and it doesn't offer pore coverage or color correction.
(On the bottle and the outer box, it is specified (in Japanese, French and English) that the product is a serum and a makeup primer. This does make sense. However, according to the application instructions (on the back of the outer box), it is used before foundation application, and, as it contains shimmery particles, I would only recommend using it as a primer.)
I missed out on 001 when it was first released, and I was able to get it later only because it was re-released. I am certainly glad that I was able to add 002 to my collection five years later. I slightly prefer the look of 001 (with the various pastel shades in the bottle), but I prefer the less shimmery finish of 002.
Related posts:
Paul & Joe 15th Anniversary Makeup Collection
Stash Focus: Paul & Joe Foundation Primer N in 01