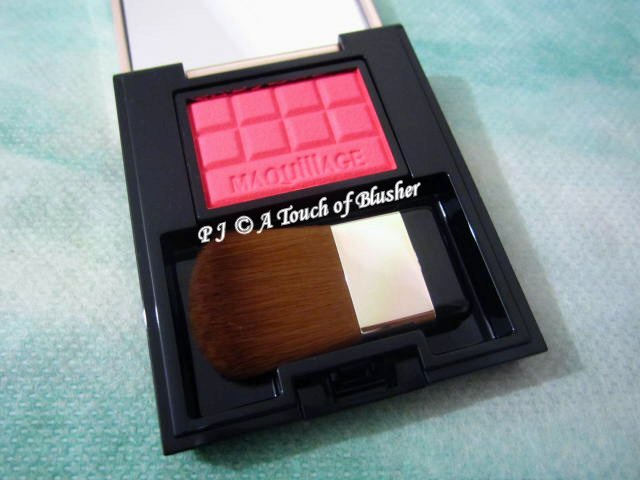 Shiseido Maquillage launched Cheek Color (Clear) with two shades in Japan in spring 2017. I have reviewed PK222, and today we will be looking at RD444.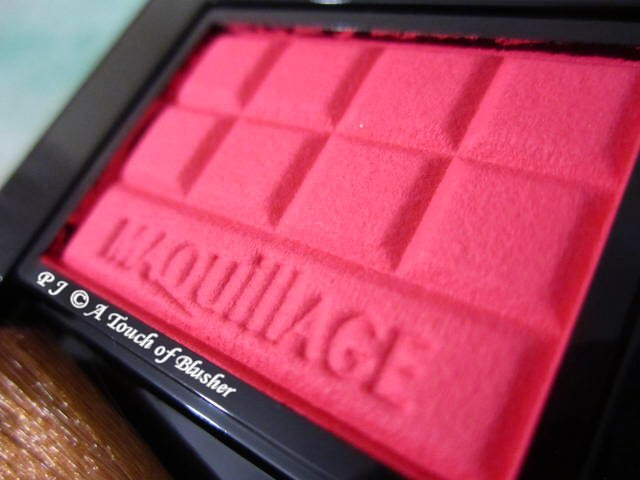 Shiseido Maquillage Cheek Color (Clear) in RD444 (資生堂 マキアージュ チークカラー (クリア) RD444/ 資生堂 心機頰彩 (微醺版) RD444, refill ¥1800, case with brush (Cheek Color Case N) ¥1000) is a moderately-pigmented raspberry red with a slight cool tone. (The shade goes on slightly cooler than it looks in the pan.) It has a velvety finish with fine and subtle shimmer. (The shimmer doesn't look obvious when worn.) It is easy to apply and blend, and it has a good lasting power.
As it is not intensely pigmented, it is easy to start with a soft veil of color and then build up the color intensity gradually. The product is designed to have a translucent finish, and RD444 does have it (even with some layering to create a more vibrant look).
I usually stay away from red blushers, but this red shade works for me mostly due to its cool tone and its translucency. A warm-toned tomato red would suit me less, and a more opaque red would look a little too dramatic and less natural on me.
Overall I like this shade. Its slight cool tone, moderate pigmentation level, velvety finish and translucency appeal to me, and it is fairly easy to create a natural look with a light-handed application. Between PK222 and RD444, PK222 is more wearable (as I can't be heavy-handed with RD444), but RD444 is still easy to work with and more than reasonably wearable.
Related posts:
Maquillage Holiday 2017 Makeup Collection
Stash Focus: Anna Sui Rose Cheek Color N in 400