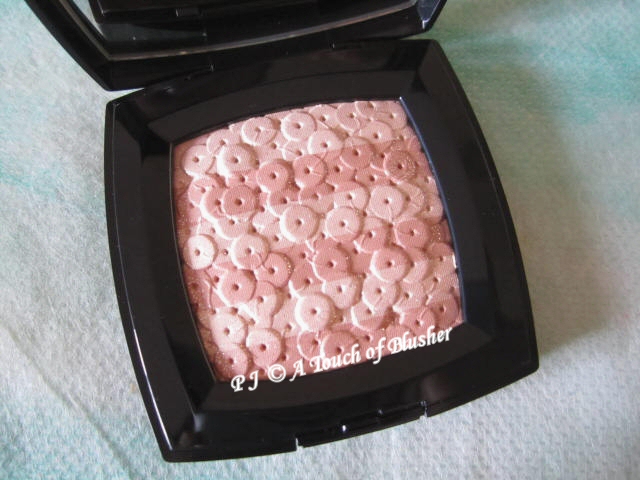 Chanel's fall 2012 makeup collection, compared with the brand's spring 2012 collection, features the same feminine shades but the overall color palette is slightly more low-key and demure. Today I am highlighting Lumière d'Artifices Beiges, Joues Contraste in 72 Rose Initiale, and Rouge Coco Shine in 74 Parfait.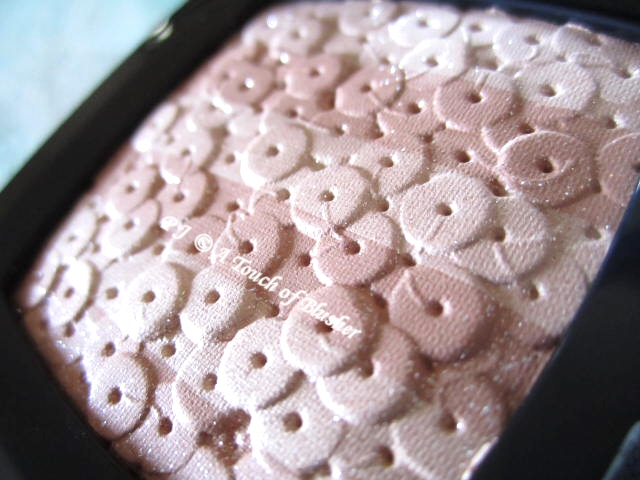 Lumière d'Artifices Beiges (£46) is the seasonal limited-edition star item of the collection. It is a highlighting powder that includes a pale beige with yellow-gold pearlescence and a warm peachy beige with a velvety finish. When the two are mixed together, the combined shade is a skin-tonal warm beige with a soft pearly sheen. The silver-toned sparkles (which look a little glittery) are a spray-on and they fortunately disappear after a few uses.
The product should suit those with warmer skin tones or those who want to add warmth to their complexions. It can be used as a light bronzer for those with a fair complexion. It doesn't look overly glowy or shimmery, but those with oilier skin types should still be light-handed with this product.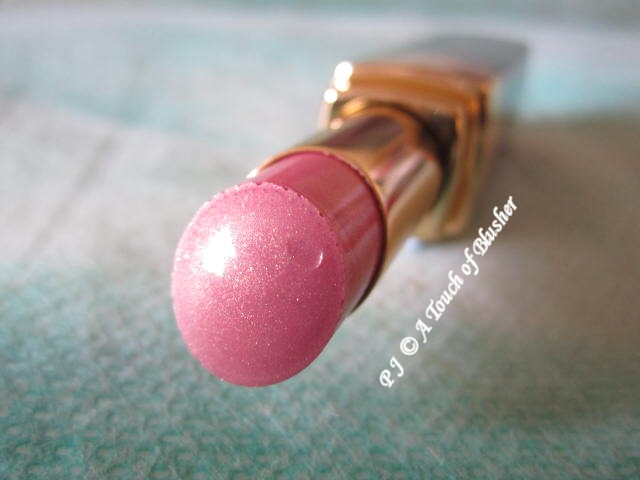 For fall 2012, two new shades of Rouge Coco Shine (£24) are added to the lineup. 74 Parfait is a softly pigmented light rose pink with a glowy sheen. It glides smoothly and imparts a soft veil of color on the lips. It has an emollient feel, and the staying power of the color is fairly good.
The sheen is predominantly gold-toned. Personally, I feel that the sheen can look a little frosty and can make liplines look more pronounced.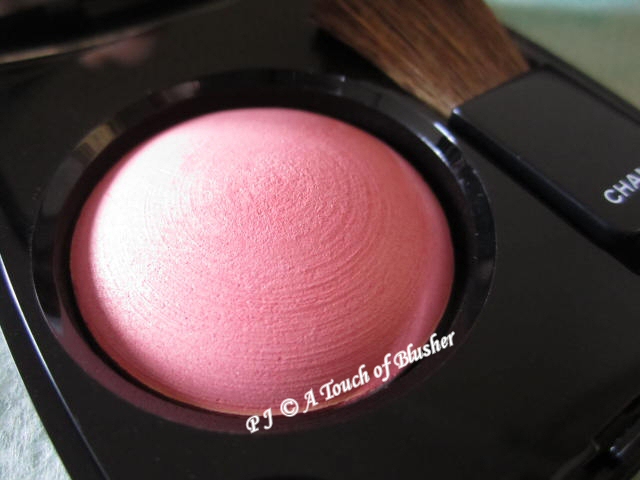 Joues Contraste in 72 Rose Initiale (£31) is a moderately pigmented medium-to-warm rose pink with a subtly glowy finish. It doesn't look too pearly on the skin. The lasting power of the color is good.
It goes on warmer and darker on my skin, which is also the case with Joues Contraste in 68 Rose Écrin. I suspect that they go on darker because both have a dry formulation. Even though the powder from both shades is soft and goes on very smoothly, neither contains any emollient. (Many (powder-based) blushers contain emollients. For example, Burberry Light Glow in 04 Peony Blush contains corn oil, and Paul & Joe Color Powder CS in 079 Les Tourtereaux contains mineral oil, apricot kernel oil, and jojoba seed oil. Also, Chanel's Irréelle Blush in 80 Tea Rose contains isopropyl lanolate, hydrogenated coco-glycerides, and lecithin. They generally go on as they look in the pans.) I find that the colors from the two blushers darken when the powder is applied on the cheeks and combined with the moisture on the skin, which is almost like how the color of dry sand darkens when it is mixed with water. This is not a defect and is simply the nature of the formulation, but it can make color selection slightly tricky. (The ingredient lists of 68 Rose Écrin and 72 Rose Initiale actually differ slightly, and the dry formulation may not be the case across the entire Joues Contraste range.)
I tend to prefer lightly pigmented blushers as I usually go for softer looks for the cheeks. For me, 72 Rose Initiale is quite a pigmented blusher and I have to be quite light-handed with it.
(The products featured in this article are provided by Chanel.)
Related posts:
Chanel Summer 2012 Makeup Collection
Chanel Rouge Coco Shine Hydrating Sheer Lipshine
From My Treasure Chest (3): Chanel Lèvres Scintillantes Glossimer in 387 Wish