(continued from Part 1 & Part 2)
3rd: SUQQU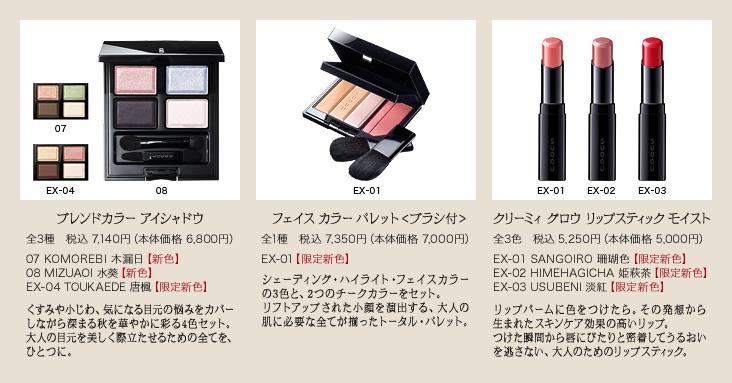 (image from www.suqqu.com)
SUQQU's fall 2011 makeup collection is a relatively small but perfectly formed collection. Earlier I reviewed Blend Color Eyeshadow in 08 Mizuaoi & Face Color Palette in EX-01, and they are both beautiful items. The eyeshadows are gorgeously creamy and Face Color Palette is a solid multi-purposed product.
When I reviewed SUQQU's Creamy Glow Lipsticks in April, I mentioned that I thought SUQQU would probably bring out a sheerer range of lipsticks in the next few seasons. It turned out that I was right. I tested the limited-edition Creamy Glow Lipsticks Moist at the SUQQU counter, and they are considerably sheerer than the very intensely pigmented Creamy Glow Lipsticks. (But they are not overly sheer.) They also have a glossy finish that appeals to me. I hope there will be a more permanent range of sheer and glossy lipsticks from SUQQU later on.
2nd: Lunasol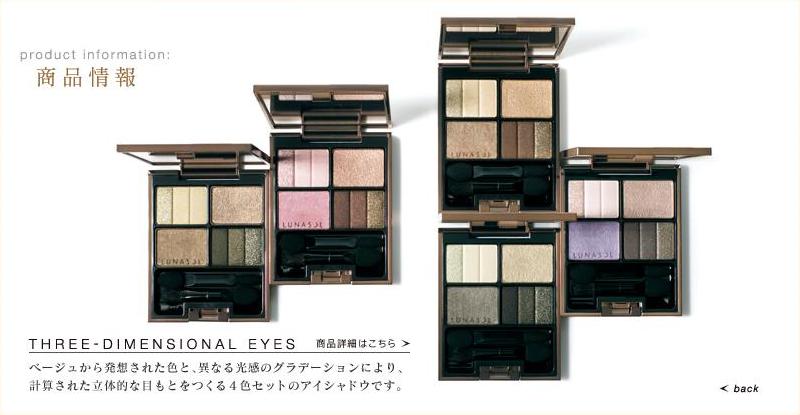 (image from www.kanebo-cosmetics.jp/lunasol)
The only reason why Lunasol's fall 2011 makeup collection is not on the top of my list is that I think the Three-Dimensional Eyes palettes are overall a little too muted for my liking. However, with wearable colors and subtly different hues and finishes in each palette (which technically has eight shades), I think these palettes will be very popular.
For me, the two colorful variations of Modeling Cheeks go well with the understated shades for the eyes. I have got Modeling Cheeks in EX01 Soft Pink, which I will be featuring a little later.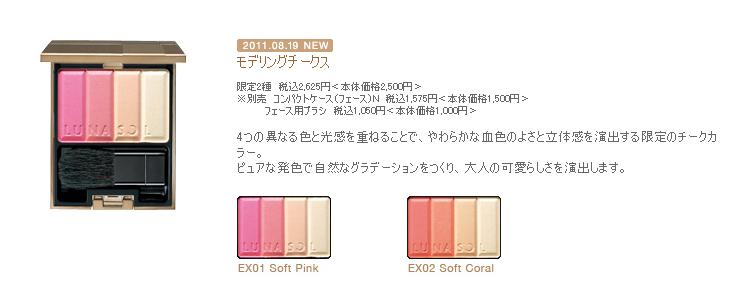 (image from www.kanebo-cosmetics.jp/lunasol)
1st: Visée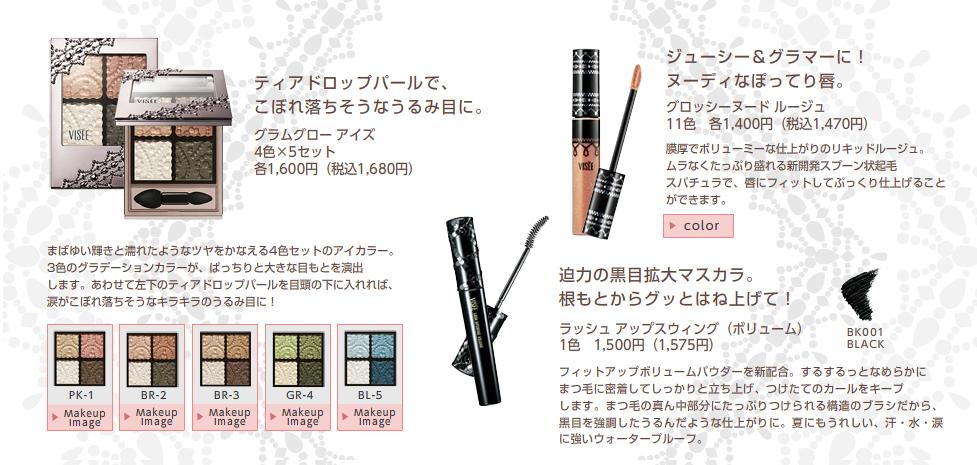 (image from www.visee.jp)
I think Kanebo's Lavshuca has some of the most appealing packaging among drugstore makeup lines in Japan, and it appears that Shiseido and Kosé might also be thinking that the girlie and elegant Lavshuca-esque look is worth experimenting with. For fall 2010, Shiseido's Integrate moved away from the clean-cut look and released Rainbow Grade Eyes and Kosé's usually edgy Visée released Blossom Eyes. Both have a Lavshuca feel to them (but in different ways) and both have been very well-received.
For fall 2011, Visée's Glam Glow Eyes series is also looking very feminine and elegant, and, for me, it is one of the prettiest ranges of eyeshadow palettes from Visée. I have got BR-3 and GR-4, and the packaging looks just as good in real life. The eyeshadows are performing well as well, and I will be reviewing them soon.
Related posts:
Stash Focus: Visée Glam Shade Eyes in GR-5
Stash Focus: Lunasol Ocean Scene Eyes in EX01 Shelly Ocean
Makeup Review: SUQQU Blend Color Eyeshadow in 01 Kakitsubata